You've successfully copied this link.
6 factors driving Chinese towards Japan real estate
By Juwai, 07 July 2016

5 million Chinese visited Japan in 20151 – a record-breaking number twice the 2.4 million recorded in 2014.
What's more, those 5 million Chinese travellers splurged $13.4 billion while in Japan during that period of time, accounting for 41% of total tourist spending in Japan.2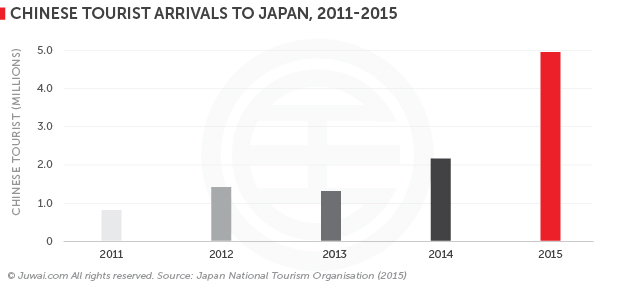 Clearly, Japan is fast becoming one of the favourite travel destinations for Chinese.
Japan ranks #4 on the list of top 10 most popular travel destinations for rich Chinese this year.
More importantly, this strengthening purchasing power of Chinese is rippling through the Land of the Rising Sun, spawning multi-billion dollar China-targeted investments that range from hotel chains3 to ski resorts4 to shopping malls5, and even giving birth to the new buzzword of 'bakugai', which means 'explosive buying' in Japanese.6
For property agents and brokers, this is nothing other than a bona-fide bonanza, as Chinese tourism tends to spur overseas property shopping. One such agent leveraging this trend is Tokyo-based Song Zhiyan, who markets his properties in China via WeChat. Song has been overwhelmed with Chinese demand, and is so confident in the market that he turns away mainland buyers who can't pay in cash.7
Chinese buyer interest in Japan skyrockets 191%
According to Juwai Data, Chinese buyer enquiries for Japanese properties on Juwai.com surged 191% y-o-y in 2015 – enquiries that are worth $532 million in terms of consumer enquiry value.
What's interesting to note, though, is that 73% of these Chinese buyers cited investment as their core motivations to hone in on Japanese properties, which most Chinese see as a promising and safe investment.
After all, apartment rental yields in Japan can reach close to 5%, as compared to a mere 2.6% in China.
What this means is that it's not just China's super-wealthy who are swarming into Japan's real estate market, but China's burgeoning middle-class and upper-middle-class investors as well – latest Juwai Data shows that over half of Chinese enquiries for Japanese property were for those priced at $500,000 or less.
And whilst most of these enquiries are for homes in the top three Japanese cities of Tokyo, Osaka, and Kyoto, Chinese buyers are not disregarding other Japanese cities as they remain open to more investor options and opportunities in the future.
6 compelling factors underlying Japan's appeal
While 'bakugai' might evoke a rapid and short-lived spending spree in mind, demand from China for property in Japan, however, is a long-term play being driven by the following fundamental factors:
Increasingly open visa policy: Across the globe, visa relaxation has driven a wave of investment from Chinese buyers, and this is no different in Japan. In fact, to attract further investment, Japan's government will follow up its move to ease tourist visa policy for Chinese in 20148 with an introduction of a new 10-year multi-visa from 2016.9

Convenient accessibility and connectivity: Besides the fact that Japan is closer to home – as compared to the US, Europe or Australia – an increase of new flight routes from industry giants like China Southern10 and Spring Airlines now link China and Japan like never before. Even hitherto unconnected hubs like Hangzhou11, Tianjin12, Harbin13, Zhengzhou14, Wuhan15, and Xi'an are now joining up with locations all over Japan, including more out-of-the-way places like Niigata and Fukuoka.

Tokyo 2020 Olympics investment value: Considering host cities in the past have seen dramatic price increases in the lead-up to the games – Beijing saw a 20% increase, while Athens recorded a 75% jump16 – savvy Chinese investors want in as well. What's more, they want to get into the market before new infrastructure projects and increased investment around the event will drive what JLL expects to be a 20% to 30% price increase between 2016 and 2020.17 This, combined with the fact that Japan is already considered a safe haven investment destination by Chinese property investors, is basically a shot in the arm for Japan's property market.

Tantalising lifestyle appeal: Beyond yields and value appreciation, Japan is immensely attractive for Chinese seeking to either emigrate or have a holiday home as well. After all, Japan is famed for its rich and diverse culture, exquisite cuisine18, celebrated customer service and efficiency19, high-quality food and products20, and rigorous consumer protection standards.

Emergence as a tourism giant: Japan is making a huge play to boost its tourist industry, targeting 40 million foreign visitors by 202021 – that's double the target of 20 million in 2015. This means major investments in resorts and transport infrastructure, making property in tourist hotspots an even more attractive proposition for Chinese.

Upsurge in Chinese purchasing power: The appreciation of the Chinese yuan between 2012 and 2015 has boosted Chinese buyers' purchasing power by 60%. Though the Japanes yen has strengthened somewhat recently, the Chinese yuan is still some 40% stronger than at the start of 2012. When coupled with the fact that OECD sees house prices in Japan some 20% lower than long-term averages22, Japanese property definitely looks like a steal for Chinese property hunters.
All these add up to position Japan as the next rising sun (pardon the pun) for Chinese buyers. And while Japan currently ranks as the seventh most-popular country for Chinese buyers on Juwai.com, we believe this number would shoot up in the ranks in future, especially as more and more Chinese are increasingly looking to diversify beyond conventional investment destinations.
Sources: 1. Nippon: Japan sets new record with nearly 20 million international arrivals in 2015; 2. SCMP: Konnichiwa, China: Japan's tourism industry says hello to Chinese investment; 3. CRI English: Spring Group to launch chain of hotels in Japan; 4. Japan Times: Chinese firm to acquire ski resort in Hokkaido; 5. China Go Abroad: Greenland Group and Laox to open new outlet mall in Japan; 6. SCMP: Bakugai! Japan's new term for 'explosive' Chinese shoppers; 7. Bloomberg: The Chinese descend on Japan's property market; 8. Centre for Aviation: Japan relaxes Chinese visas to stimulate visitor & airline growth, following Southeast Asia success; 9. China Daily: Japan to issue 10-year multi-entry visas for Chinese; 10. Routes Online: China expands Harbin-Japan flights; 11. Routes Online: China Eastern adds new Hangzhou-Japan routes in late Oct 2015; 12. Anna Aero: Tianjin to Osaka; 13. Xinhua Finance: Direct Flight links China's Zhengzhou with Osaka; 14. Routes Online: China Southern adds new Shanghai-Japan routes; 15. China Southern adds new Wuhan-Japan routes from mid-May 2015; 16. The impact of staging the Olympics on Beijing property prices; 17. China Daily: Rush for properties in Tokyo seen ahead of 2020 Olympics; 18. 21 things you should know about Japanese food; 19. WSJ: How Japan has perfected hospitality culture; 20. Food Safety Magazine: Japan's food safety success is built on quality; 21. Nanfang: Japan opening the floodgates to Chinese tourists; 22. OECD: Focus on house prices;
Loved this article? Sign up for free to get Juwai China Market updates!