You've successfully copied this link.
Juwai Report: Foreign Buyer Restrictions 2018-19
By Juwai, 25 June 2018

Juwai report examines foreign buyer restrictions in various countries in 2018-19.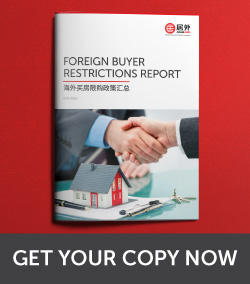 Over the years, a number of countries have introduced foreign buyer restrictions and taxes in an attempt to control investment from foreign investors in real estates, particularly in markets with fast rising Chinese investment.
In a recent study of six key Chinese property buying destinations, we discovered that there is relatively low risk through 2019 for new buyer restrictions or taxes. In fact, in our view, new foreign buyer restrictions are probably likely in only 5% of countries and regions evaluated.
The outlook for the year ahead is far better than for the years recently past.
We have seen new restrictions or taxes in multiple locations, including New Zealand; the Canadian provinces of British Columbia and Ontario; the Australian states of South Australia, the Australian Capital Territory, Victoria, Queensland, and New South Wales.
However, in some locations, we already know new restrictions are in place as the government has already adopted the policies, such as in Western Australia where foreign buyer tax will be increased from 4% to 7%, but doesn't officially go into effect until 1 January 2019.
In other areas, like New Zealand, legislation is being considered but has not yet passed by Parliament. With that said, New Zealand is the sole country or region among those evaluated where we think new foreign buyer restrictions are likely to be introduced in the coming year.
Another positive worth shining some light on is the lack of restrictions in the US still, where the real estate market is the most open to foreign investment. Although, it's of course uncertain whether any new legislation will impact foreign investment in real estate.
What impact will new policies have and what's the future of foreign buyer restrictions in property markets in 2018-19? Access the full report to read up on restrictions in key regions for Chinese investment.
Loved this article? Sign up for free to get Juwai China Market updates!