You've successfully copied this link.
China ready to double trade with Poland over five years
By Juwai, 27 May 2012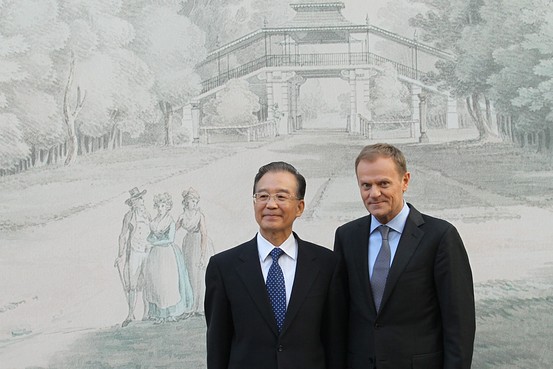 Polish Prime Minister Donald Tusk (right) and Prime Minister of the People's Republic of China Wen Jiabao pose prior to their joint dinner at the Palace on the Water in the Royal Lazienki Park in Warsaw, April 25, 2012.
April 26, 2012
-- China is ready to double bilateral trade with Poland over the next five years, Chinese Prime Minister Wen Jiabao said Wednesday.
Marcin Sobczyk reports for The Wall Street Journal.
Mr. Wen and Polish counterpart Donald Tusk met in Warsaw. It is the first of a two-day visit and part of the Chinese premier's trip to Europe. "Over the past years, in the face of challenges brought by the international financial crisis and the euro debt crisis, Poland has experienced stabilization and growth, became the world's 20th-largest economy, and enjoys growing influence in European and international matters," Mr. Wen said, adding that his country is ready to consider ways to cut Poland's trade deficit with China. China was Poland's third-biggest source of imports last year, shipping EUR13.2 billion worth of goods to the country. China doesn't rank as one of Poland's top 10 export destinations. Poland hopes China and its companies will invest more in central Europe, Mr. Tusk said. Other topics discussed included cooperation on alternative energy sources, including shale gas, and infrastructure construction, he added. China Overseas Engineering Group Co., or Covec, had to abandon its Polish highway building projects last year amid controversy. Mr. Tusk alluded to China's human rights record. "I said that our experience shows building a modern state and civic society is very strongly linked with protection of civil rights and freedoms," Mr. Tusk said. Mr. Wen's visit is the first by a Chinese prime minister in 25 years. The leaders said the Chinese and Polish governments would hold bilateral consultations every two years.
Loved this article? Sign up for free to get Juwai China Market updates!