You've successfully copied this link.
4 top trends to leverage in China's overseas education rush
By Juwai, 20 June 2017

9.4 million – that's how many Chinese students who recently took China's infamous gaokao (高考) exam.1
China's notorious gaokao exam, or 'National Higher Education Entrance Exam', has been labelled the world's toughest school exam, and for a good reason.2, 3
A two-day-long process exam for students in China, the gaokao exam is (usually taken in the final year of secondary or high school) not only determines which university a student will go to, but can also set the course of his or her life.2, 3
The stakes are high, and acing this life-changing exam is crucial (and brutal) for Chinese students, as China's best universities only select one in every 50,000 students.2, 3
This means an incredibly intense competition to secure placement in China's top colleges and universities, and a whole load of pressure on Chinese students that is beyond fierce.
In this survival of the fittest scenario, it's no wonder that 2016 saw 664,993 Chinese students heading overseas to the US, UK, Canada, and Australia for higher education instead of sitting for the gaokao entrance exam.4, 5, 6, 7
That's an 8.9% y-o-y increase, which propelled Chinese students to account for 33.5% of total international students in higher education in those countries in 2016.4, 5, 6, 7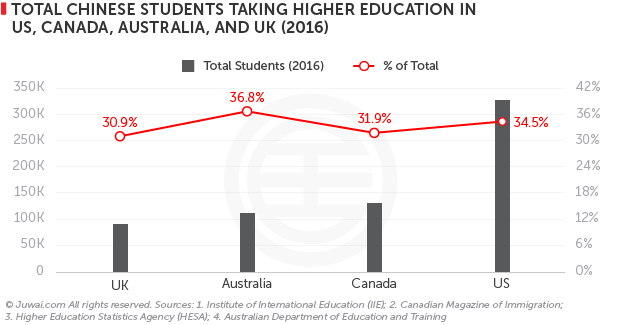 China's harsh enrollment qualifications in top schools
The higher education picture is a microcosm of attitudes toward overseas education across all school ages, driven by the gruelling competition for education placements in China, which begins even at elementary or primary school level.8, 9
China's tough standards for getting a place in the best schools are not only a challenge for the students but their parents and family as well.
For example, recent media reports pointed to ratios of 70 students to each school place in some of Shanghai's elite, private schools. However, nabbing a coveted spot in these prestigious schools doesn't just depend on the student's academic credentials and talents – even parents and grandparents fall under the school's scrutiny during the strict enrollment process.8, 9
From parents having to undertake a math quiz to grading of parents and grandparents according to their educational status, one school in Shanghai even screened students via a 'fat parent' criteria with the reasoning that overweight parents indicate poor self-management skills!8, 9
And while China's authorities have stepped in to put a halt to such vetting, this controversy puts the spotlight on the severe stress and pressure faced by parents in their fervent attempts to enroll their children into China's top schools, which is usually prestigious private schools generally believed to offer a better education.
The growing Chinese quest for an international education
It's such overwhelming pressure that has seen more and more Chinese parents seek alternative curriculums that is less stressful and more enriching for their children, and the answer they have found is international schools in China, which were once limited to only foreign children of expatriates in the past.10
But it's also more than just finding schools that give less academic pressure on their children – far-thinking Chinese parents are increasingly choosing to send their children to international schools from a young age because it's also the best way to prepare their children ahead for their future studies abroad.11
Over 80% of Chinese high net worth individuals (HNWIs) intend to send their children for an overseas education.12
In fact, as more and more Chinese grow in terms of wealth – particularly amongst the mainland's fast-burgeoning wealthy upper-middle-class and middle-class population – Chinese parents become increasingly discerning about where to send their kids to provide them the best in Western education, and subsequently, improve their chances of getting into elite overseas schools and universities.13
Such voracious desire has led to a huge upsurge in demand for international schools in China over the recent years10, especially with prestigious UK names such as Harrow School, Dulwich College, and Malvern College – all which have expanded rapidly in China.14
By the end of 2015, international schools in China saw a two-fold increase to 597 with total enrollment growing to 236,400 students.14
Demand is so great that some private international schools that offer kindergarten early childhood centres see Chinese parents placing their children on waiting lists the moment they are born, according to the ISC China Report.13
Ultimately, their end goal is for their children to study overseas, particularly in top English-speaking countries like the US and the UK – the #1 and #2 education destinations for rich Chinese, respectively – as well as in popular picks such as Canada and Australia.15
It's against this backdrop that the steady flow of Chinese students seeking an overseas education looks set to continue growing.
After all, foreign institutions are not only much more accessible than domestic options, but have higher quality rankings, come with stronger prestige, and offer complete immersion in overseas language and culture, broader curriculums, a more liberal approach to research and discussion16, as well as a tried and tested route to emigration.
4 underlying trends in key markets
80% of Chinese studying overseas went to English-speaking countries, such as the US, the UK, Canada, and Australia, according to China's Ministry of Education.17
This correlates with data from Hurun Report, which ranked the top 4 education destinations for wealthy Chinese as the US (37%), the UK(25%), Australia (13%), and Canada (12%).18
We take a look at another recent survey on 3,632 families sending their children for overseas education by China's New Oriental Education, Visa and Millward Brown to uncover underlying trends in demand for overseas education by country.

#1 US sees Chinese parents keen on early-years education come to the fore
8 out of the world's top 10 universities are in the US, so it's easy to see why the US ranks as the #1 education hotspot for Chinese.19
The latest trend, though, shows that American elementary schools (or primary schools) and high schools (secondary schools) are rising fast in popularity with Chinese parents as well.20
Chinese elementary students in the US leapt from 500 in 2011 to 2,450 in 2015, while Chinese students in American high schools soared from 17,914 to 46,028 over the same period.20
Applications from mainland parents have been increasing fast, as many believe are adhering to the growing mentality that by giving their children maximum immersion into the US curriculum from an early age, it would hone their English and boost their chances of scoring into top universities in the US.
This is a sound idea, as an earlier foray into studying in the US would not only enable Chinese students to acclimatise faster to life overseas, but also promote independent thinking and expand their horizons as children are known to adapt to changes as well as learn a new language faster compared to adults.

#2 UK a hotspot for Chinese students' postgraduate plans
The 2015-2016 fiscal year saw 91,215 Chinese students heading to the UK for their higher education, making them the largest group of non-EU international students in the UK.21
In fact, there are more Chinese students enrolled in UK postgrad degrees than British students, and it's because UK postgrad degrees are typically one year long, offering a shorter, cheaper, and more intensive experience compared to other countries, which makes it a popular choice with Chinese students.22
Interestingly, top postgrad destinations in the UK – London, Birmingham, Manchester, Oxford, and Edinburgh23 – have all seen prominent Chinese buyer presence as well, whereby many invest in property either for their own children or to rent out to this huge inflow of students.
Ironically, the post-Brexit depreciation of the pound last year has also generated an extra surge of Chinese interest in UK education, so we expect to see the UK remain a popular pick with Chinese students in 2017.24
Already, recent data from the UK's Office for National Statistics and the Home Office revealed that the number of study visas issued to students from China hit 77,290 in the year to March 201725 – a 10% increase that bodes well for the UK indeed.

#3 Australia's Vocational Education and Training (VET) a huge draw
As of March 2017, there are over 140,000 Chinese students in Australia, accounting for 30% of Australia's international student population.26
That's way ahead of the next-largest population – India, the second-largest group, only make up 11%, followed by Malaysia, Vietnam, and Nepal who each account for 4% of foreign students in the land down under, respectively.26
And while Australia is a longtime favourite education hotspot for mainland students when it comes to primary and postgraduate study, it's now coming up strong as for its world-class Vocational Education and Training (VET) as well.
54% of international students in Australia enrolled for higher education in March 2017, followed by 23% who enrolled for VET.26
In part, this can be credited to a growing demand from Chinese students who are keen to get a skill-focused education, plus the chance to apply for the 457 visa – Australia's Temporary Work (Skilled) visa, which offered a pathway to an Australian Permanent Residency (PR) after two years.27
However, the Australian government recently axed the 457 visa in April 2017, and replaced it with an entirely new Temporary Skill Shortage (TSS) visa28, 29, and this may somewhat impact the Chinese VET trend.
This is because the new TSS visa will have tightened requirements, such as an IELTS (or equivalent) English language proficiency score of 5 and a minimum two-year work experience in their selected occupation, as well as 216 fewer skilled occupations to choose from.29, 30
More importantly, the new TSS visa will offer Permanent Residency (PR) after three years, and ONLY to applicants granted the Medium-Term stream visa of up to four years30, compared to the previous 457 visa that offers PR after two years to approved applicants.
All these new changes could potentially render the VET to be somewhat less attractive in the eyes of Chinese students, but only time would tell.

#4 Canada high schools and universities both in focus
Like in the US, Chinese children studying in Canadian high schools have spiked – total respondents applying for secondary schools in Canada doubled in 2016, and this could be attributed to the steady decline in the Canadian dollar against the RMB in 2015 and 2016.
Lower required scores on IELTS tests for Canadian schools relative to the US and Canada, as well as affordable costs are also compelling factors31, and this explains huge increases in demand for school places in Toronto32 and Vancouver33 that, incidentally, are also proven hotspots for property investors from China.
What's more exciting about Canada for Chinese students, though, is the fact that the Canadian government has made significant changes to its points-based Express Entry immigration system, which enables people with skilled work experience immigrate to Canada.
Last November saw Canada revamp the Comprehensive Ranking System (CRS) for the Express Entry to allocate 15 to 30 extra points for graduates of Canadian universities when applying for a Canadian Permanent Residency (PR).34
In other words, Chinese students and graduates who studied in Canadian educational institutions (enrolled in full-time study or courses for a minimum of eight months), and were physically present in Canada for at least eight months will be eligible for these extra points.34
Most recently, Canada amended the CRS again on 6 June 2017 to award 15 additional points if the applicant (or spouse) has a sibling (aged 18 years and above) who is already a citizen or PR in Canada.35, 36
These unprecedented changes mean Chinese students and graduates now have a simpler pathway to obtaining PR in Canada, and could likely attract more Chinese in the coming years.
Leverage education in your pitch for better success with Chinese
Education trends like these are helping to shape demand for both overseas education and property, and with the total number of Chinese heading overseas being supported by a range of fundamental attracting factors, it's essential to factor education into your China marketing strategy.
One way to do so is to detail local education options with your listings, and we're not just talking about colleges and universities. Seeing as the ages of Chinese students going overseas are dropping younger and younger each year, educational offerings for students of all ages are all within Chinese buyers' sights.
From nurseries and primary schools to secondary schools and even vocational schools, be sure to highlight them so long as they are within the vicinity. At the same time, be sure to give prospective clients as much information as possible, including past awards, credentials, and Chinese student population, to name a few.
Another tip is to keep a list of contacts at local schools, because visiting Chinese buyers will often want to check out the school campus and facilities, as well as enquire about entrance requirements and qualifications.
By compiling a list of contacts from local schools and universities ahead of time, you can utilise it as part of an enhanced personal service to help your Chinese clients on their quest for an international education for their children.
Last but not least, do your best to help Chinese ride the wave of education-related demand. Considering the flow of outbound Chinese students is seemingly relentless, this makes for a huge potential market of tenants for Chinese property investors.
So, don't forget to educate your Chinese clients on how they can harvest a steady stream of tenants with well-placed investments in education hotspots, such as London, Los Angeles, Seattle, and New York.
Sources: 1. China's Ministry of Education; 2. The Guardian: Is China's gaokao the world's toughest school exam?; 3. SCMP: Gaokao: how one exam can set the course of a student's life in China; 4. Institute of International Education (IIE): Open Doors Data; 5. Canadian Magazine of Immigration: Canada International Students by Source Country – 2016; 6. Higher Education Statistics Agency (HESA): Higher education student enrolments and qualifications obtained at higher education providers in the United Kingdom 2015/16; 7. Australian Department of Education & Training; 8. SCMP: Inside the Shanghai schools so competitive that even parents are quizzed; 9. The Telegraph: Top China schools test parents for IQ, ancestor's grades, and 'obesity' on enrollment; 10. SCMP: In a class of their own: Chinese has 'insatiable' demand for expensive international schools; 11. BBC: Asia drives demand for international schools; 12. Hurun Report "Immigration and the Chinese HNWI 2015"; 13. Global Times: Stakeholders in China's education sector ponder the future of and competition surrounding international schools in Beijing; 14. SCMP: British boarding schools journey to the East to give Chinese elites a taste of prestige and privilege; 15. Hurun Report "Chinese Luxury Consumer Survey 2017"; 16. SCMP: Top Chinese researcher's move to US sparks soul-searching in China; 17. Gbtimes: Gaokao just one option for Chinese students; 18. Hurun Report "Immigration and the Chinese HNWI 2016"; 19. Times Higher Education World University Rankings 2016-2017; 20. WSJ: More Chinese are sending younger children to schools in U.S.; 21. UK Council for International Student Affairs (UKCISA): International student statistics: UK higher education; 22. Daily Mail: There are now almost as many Chinese students on postgraduate courses at English universities as British students; 23. Wikipedia: List of universities in the United Kingdom by enrolment; 24. Financial Times: Chinese students and political uncertainty drive rise in applications for financial courses; 25. Times Higher Education: Student visa data highlight UK's dependence on China; 26. Australian Government Department of Education and Training: International Student Data Monthly Summary March 2017 ; 27. News.com.au: 457 abolished: How the Temporary Skill Shortage Visa works; 28. SBS: New Temporary Skill Shortage visa to replace 457 visa; 29. Australian Government Department of Immigration and Border Protection: Abolition and replacement of the 457 visa – Government reforms to employer sponsored skilled migration visas; 30. LegalVision: How will the 457 visa changes affect my business?; 31. WSJ: Canada, eh? Chinese students flock to Canuck high schools; 32. CBC News: Back to school 2015: International student numbers surge in Toronto; 33. Vancouver Sun: Chinese K-12 students a booming demographic for B.C. schools; 34. Government of Canada: Notice to Express Entry candidates; 35. Government of Canada: How Express Entry works; 36. Government of Canada: What changes have recently been made to Express Entry;
Loved this article? Sign up for free to get Juwai China Market updates!