You've successfully copied this link.
How will the Catalan vote impact Chinese demand for Spain?
By Juwai, 09 October 2017

Q3 2017 saw Spain climbing up two spots to rank as the #9 most popular investment destination for Chinese buyers on Juwai.com.1
Spain, one of the world's most popular travel destinations, has been on the rise as a property investment destination, too, largely thanks to the spill-over effect of its robust tourism industry.
In fact, Spain welcomed 76 million visitors in 2016 alone, becoming the #3 most-visited travel destination last year.2 Most notably, Chinese arrivals in Spain grew 77% last year.3 This could also be a contributing factor to Spain's booming property market, as Chinese have shown a marked penchant for property hunting while travelling abroad.
After all, Spain is famed for its lifestyle appeal, Golden Visas, and robust economy. Add on the fact that most of its property is affordable compared to other European countries, such as the UK, and it's easy to see why Spain would strike the fancy of Chinese rich investors and immigrants alike.
Spain is the 8th most popular emigration destination for Chinese high net worth individuals (HNWIs), according to Hurun Report.4
However, some have called into question whether the recent independence referendum in Catalonia could bring about winds of change to Spain, and its popularity with property investors from China.
We spoke with two Spanish and European solicitors about this issue. Thomas Mateos and Marga Mateos – partners at Werner Capital LLP – shared insights and expertise on Chinese buyers in Spain, as well as their take on the Catalan situation.

Juwai: How has Spain's property market performed so far in 2017?
Werner Capital: "Before the current political situation, Spain showed promise as a booming property market, as the economy and property prices were both recovering. First, the domestic developers invested, and then came the international developers, so the underlying trend of the property market here is very positive.
"In addition, the tourism growth in Spain has also helped improve the property market here. Spain is competing amongst others with Greece, Southern Italy, Portugal, and Turkey for tourists, but Spain's biggest advantage is that Spain is the most financially stable of all these South European countries.
"New direct flights launched between Spain and China earlier this year have also boosted the influx of inbound Chinese tourists, which in turn, brought in quite a lot of Golden Visa investment, in which we have seen strong growth since the 2015 Golden Visa reform.
"Last but not least, Spain is a popular hotspot for the aging population in Central and Western Europe – Germany, Sweden, Norway, and the UK – seeking second homes for retirement purposes, and this has helped drive up the property market too."

Juwai: In your experience, how do the Spanish perceive the Chinese?
Werner Capital: "Chinese immigration to Spain is mostly confined to trading, as Chinese mainly cover the lower-end retail trade in Spain. Often, the Chinese are seen by Spaniards as hardworking people who offer good-value products.
"The scale of Chinese immigrants in Spain is still small, though, so it's still not big enough for the Spanish to build up a solid perception on them yet. However, Spain is an open country, as tourism is a big component of Spanish economy.
"For example, Spain saw a large influx of Russians a few years ago, so Spain is used to receiving foreign people. Last year, 800 of Spain's Golden Visa applications came from China alone, so we can expect to see more Chinese in Spain in the near future."

Juwai: How will the Catalan referendum vote impact Spain's property market?
Werner Capital: "The current political situation is complex. Nevertheless, we believe this uncertain situation will normalise in the future, although there may be some difficult months ahead. We also do not believe this referendum will result in a divided Spain – a thought that is still shocking to us – but in the end, we hope that sanity will prevail here, and that the unity of Spain will endure in the end.
"We can borrow Brexit as an example – the UK/London property market is still booming even after Brexit, and while it will take weeks to recover from volatility, normality will ultimately resume."
Conclusion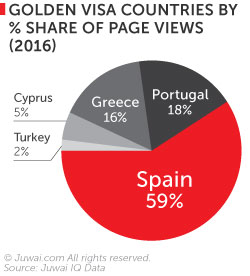 With uncertainty still surrounding the Catalan vote, it remains difficult to gauge how the situation would fare in the end.
However, a likely outcome maybe that, just like Brexit in the UK, there would be very little (if any) immediate change. Most buyers, and industry experts, would likely wait and need time to assess how the Spanish government and the rest of the EU will react in response.5
As for Chinese buyers, Spain still holds much appeal in terms of affordability, investment value and Golden Visa.
Spain accounted for 59% of Chinese buyer views for Golden Visa countries on Juwai.com last year, compared to 18% in Portugal and 16% in Greece.6
Chinese property investors are also generally big on safety and risk aversion, though, so we may see some Chinese property investors holding off on buying decisions in Spain till they are sure of the aftermath of the Catalan independence referendum.
Nevertheless, with Barcelona – the cosmopolitan capital city of Catalonia – being one of biggest cities in Spain, as well as the top pick for Chinese real estate investors, we'll continue to keep an eye on this situation and its possible outcomes.
About Werner Capital
Werner Capital was first incorporated in London back in 2008. Today, Werner Capital is a multi-family office specialising in residential real estate developments in London and prime holiday locations across Europe, with a special focus on Spain. Beyond managing client investments in high quality residential developments, whereby Werner Capital acts as the developer to execute projects from start to finish, Werner Capital also offers Golden Visa application services as well to cater to high consumer demand growth following Spain's Golden Visa reform in 2015.
Sources: 1. Juwai IQ Data Q3 2017; 2. United Nations World Tourism Organiation (UNWTO): World Tourism Barometer Report; 3. Ctrip, Huyuan MNB and China Tourism Academy Report; 4. Hurun Report: Immigration and the Chinese HNWI 2017; 5. MarketWatch: 5 things investors need to know about Catalonia's independence referendum; 6. Juwai IQ Data 2016
喜欢这篇文章?免费注册,获取居外亚洲市场的最新资讯!