You've successfully copied this link.
Massive transfer of wealth to Australian property owners
By Juwai, 18 November 2013

Chinese developers place a higher value on Australian development sites than do local builders...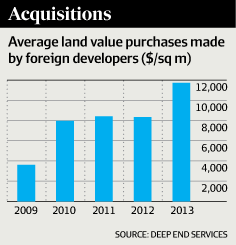 ...and as land prices rise and Chinese investments increase, the result is a massive transfer of wealth to Australian landowners who sell properties acquired for much smaller initial investments.
Since 2010, the underlying land value in the central business district of Melbourne has leaped 44%, according to Mark Wizel, director of CBRE.
Private developers are the most active, as they try to diversify their portfolios out of China.
Chinese are keen to diversify their portfolios internationally, while Malaysian and Singaporean developers are attracted to the cyclical and currency shifts, as well as Australia's transparent legal system in Australia.
喜欢这篇文章?免费注册,获取居外亚洲市场的最新资讯!