You've successfully copied this link.
New Juwai.com global home page!
By Juwai, 04 June 2014

We've just launched our revamped Juwai.com with fantastic, enhanced features!
Incorporating feng shui principals for a brighter and more streamlined look, the new home page gives international agents better exposure to Chinese consumers, while new features are designed to help Chinese buyers more easily navigate the site and find the information they need.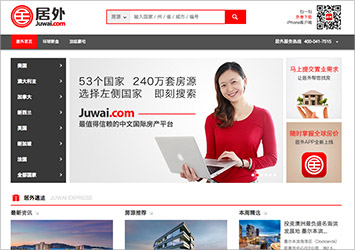 More access to property listing pages
It's now even easier and faster to search for homes on Juwai.com – fulfilling the need for speed and swift access that modern Chinese nowadays demand.
Global news & advertorials
We've also made the latest topics, featured news, guides and FAQs all accessible right from the home page, giving consumers quicker access and further empowering Chinese buyers with information about real estate markets worldwide.
Dedicated sections also feature advertorials placed by agents looking to drive attention to their listings and brand on Juwai.com.
We'll be launching more features and tools in the coming months, so stay tuned for more.
In the meantime, check out our new Juwai.com global home page now or read more on our website featured on OPP Connect!
喜欢这篇文章?免费注册,获取居外亚洲市场的最新资讯!