You've successfully copied this link.
5 culture tips you need to succeed with Chinese buyers
By Juwai, 18 March 2015

Chinese have become synonymous with the sound of cash rolling in, and now everyone – especially those from the West – wants to woo the Chinese.
However, to achieve success in selling to Chinese investors, you may need to first overcoming some hurdles. For starters, many perplexed agents and brokers worldwide may be wondering: Language barrier aside, what makes or break a Chinese deal?
The answer is CULTURE. After all, international business does not only cross borders, but also crosses culture.
Today we are more globalised and connected than ever, yet the world holds so much cultural diversity that the differences remain a permanent conundrum.
Savvy agents already know that gaining a proper understanding of Chinese culture is crucial when dealing with Chinese buyers. However, many still overlook or trivialise the importance of culture, which often leads to futile (or even disastrous) results that leave them wondering why.
Why culture matters in international business
A core aspect of international marketing, culture impacts every aspect of your marketing campaign.
What do they buy? Why do they buy? Where, when, and how do they buy?
All these choices made by consumers differ based on location and culture, which in turn are influenced and defined by their own distinct set of values, beliefs, customs, religions, ideologies, preferences, and economies.
So before you even think about selling to Chinese, you must first develop your cultural awareness and sensitivity in order to learn how to appreciate and respect Chinese culture.
Cultural faux pas with Chinese
A recent cultural gaffe by British Transport Minister Baroness Susan Kramer, who unknowingly gave a precious watch to Taipei Mayor Ko Wen-je as a gift last January, is a good case in point.1
From a British perspective, a watch is valued as a precious gift in the UK. Kramer noted that "Nothing is more important than time". However, Chinese culture dictates that giving a clock – or a watch, which many Chinese similarly associate with time – as a gift is a major taboo.
The phrase of 'gifting a clock' (送钟; sòng zhōng) in Chinese sounds horribly similar to the Chinese funeral ritual of 'seeing someone off to his end' (送终; sòng zhōng). In short, giving someone a clock is akin to hastening someone to his or her death.
Upon receiving the watch, Ko responded with a controversial quip, which launched a flurry of criticisms from foreign affair experts. Many felt Ko was flouting diplomatic decorum.
And while Baroness Kramer laughed it off and tried to play it down, the damage was already done – resulting in some embarrassment and "loss of face" for both parties due to this diplomatic faux pas.
Click here to learn more about the gift-giving culture in China.
Cultural diplomacy at its finest
Another British ambassador, however, is doing it right when it comes to his diplomatic dealings with Chinese.
HRH Prince William's recent 3-day trip to open the GREAT Festival of Creativity in China saw him actively using this rare – and real – chance to cultivate new diplomatic connections, deepen cultural ties, and forge vital business opportunities between Britain and China.
China and Britain charted a record-breaking US$80 billion worth of bilateral trade in 2014.2
As the royal family's first official visit to China in nearly 30 years since Queen Elizabeth II's visit in 1986, the Duke of Cambridge's visit was to be a major historical event for both countries.3
Knowing this, the prince skillfully used a sport revered by both countries to promote better ties between Britain and China – football (or soccer in America).
And it worked.
In China, where football culture is deeply rooted, Prince William's football diplomacy resonated well with local citizens, who all seemingly have football fever.
Football is believed to have originated 2,200 years ago in China.4 Today, the English Premier League has the biggest fan base in China, with Arsenal and Manchester United ranked as the two most popular teams with Chinese.5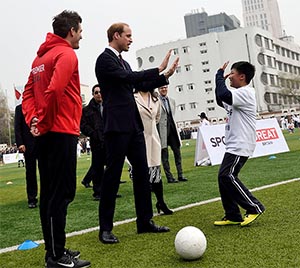 From discussing with Chinese President Xi Jinping his passion for the beautiful game, to watching Chinese students train with English Premier League-trained coaches at the Nanyang Secondary School in Shanghai, the second in line to the British throne handled his football diplomacy with aplomb.
By kicking off his official tour with this popular activity, Prince William garnered favour with Chinese President Xi Jinping, and set a positive tone for later discussions as well.
This later set the playing field for productive conversations about sensitive topics, such as advocating for a permanent ban on ivory trade and illegal wildlife trafficking.
Chinese netizens were actually singing his praises for his eloquent effort on conservation.
Brilliantly done, Your Royal Highness.
How Chinese culture concerns you as an agent
While news appears rampantly about Chinese buying overseas property sight unseen, Chinese buyers are also very cautious when investing in overseas properties.
After all, like a fish out of water, everything is different and unfamiliar for them in a foreign country. So, trust is essential in working with Chinese buyers. Yet, how do you earn their trust?
Like HRH Prince William, having an understanding or at least a familiarity of their culture can pave the way, as well as help build their trust and confidence in you. Subsequently, this shapes you and your business for more successful transactions with Chinese.
That said, here are five cultural tips to help you when working with Chinese investors:

Adopt a Chinese name
Adopting a Chinese name will make you stand out from the rest, and make it much easier for Chinese to remember. Just think of how difficult it can be for you to remember Chinese names.


Learn some basic greetings
Efforts in learning their language to better communicate with them will not only convey your sincerity, but also put them more at ease. It also shows respect for their culture, and would help nail your first meeting with them.


Present/Receive business card with both hands
Chinese business card etiquette dictates both hands are necessary when exchanging cards as a gesture of respect. Upon receiving their card, be sure to make a show of perusing it, and then tuck it away carefully.


Refrain from cracking jokes or speaking in slangs
Even if you're fluent in Mandarin, Western humour may not translate well or worse, accidentally offend them. Similarly, slangs or figure of speech may cause confusion or miscommunication, so sticking to simple English is the best.


Practice the concept of "face"
Unlike Westerners who tend to be more direct and blunt. Chinese believe in "giving face" – an act of giving deference to someone else – as a show of respect. Equally important is to make sure you don't accidentally cause your Chinese buyers to "lose face".

We hope these five cultural tips would go a long way in helping you gain a competitive advantage in selling to Chinese buyers.
Remember, knowing your audience is half the battle. The more aware of Chinese buyers and their cultural background, the more you'll be able to tailor your marketing tactics and strategies to suit their needs.
For more tips on Chinese culture, sign up for our monthly newsletter and never miss a beat, with easy and quick insights from our "Learn Chinese" segment.
Sources: 1. SCMP; 2. SCMP; 3. SCMP; 4. FIFA (Federation Internationale de Football); 5. Conventry University's Centre for the International Business of Sport (CIBS)
喜欢这篇文章?免费注册,获取居外亚洲市场的最新资讯!