You've successfully copied this link.
Juwai launches Juwai IQ data service
By Juwai, 23 October 2015

We've just introduced the world's first and most comprehensive Chinese consumer data service tracking ethnically Chinese buyers worldwide, providing invaluable insights into their consumer behaviour.
Aptly named Juwai IQ, this innovative data service draws on the online habits and custom surveys of our 2.6 million monthly Chinese visitors – hailing from over 403 cities in China or 165 countries throughout the world – to provide standard and custom data products to such customers as corporations, banks, property developers, governments and academics.
The data offers, for the first time, intelligence on Chinese consumers' behaviour and preferences in four critical areas: location, intent, motivation, and budget.
In short, Juwai IQ will enable relevant customers to better understand the Chinese mindset and fathom how Chinese consumers think, shop, travel, buy, and bank.
Watch Bloomberg's Rishaad Salamat's interview with Andrew Taylor to hear about "How 'Juwai IQ' Helps Decipher the Chinese Consumer."
The rapid rise of Chinese consumers
Ethnic Chinese consumers, along with their colossal and still growing financial clout, have been making headlines in recent years as key influencers in international real estate markets, as well as power players in the global luxury, education, and tourism sectors.
How rich are the Chinese?
For context, local dollar-millionaires in China alone are estimated to possess US$20.3 trillion worth of assets1, while non-mainland Chinese dispersed around the world account for around US$2 trillion in total assets.2
That number is remarkable, but the outlook for Chinese buying is stronger still:
Global assets held by mainland Chinese are projected to undergo a stunning six-fold growth, driven by China's continued liberalisation of its capital controls.3
Until now, the Chinese consumer has largely remained an enigma, lacking in strong data and research to enlighten global brands, major corporations, and international agents and brokers about how to properly address and target this largely untapped potential.
"Juwai IQ provides the ability to drill down into market segments, uncover what motivates consumers, measure their spending power, and learn how and when to reach them," notes Juwai.com Co-CEO Andrew Taylor.
Not all Chinese are the same
One of the most common missteps many international marketers take is assuming that all Chinese are cut from the same cloth.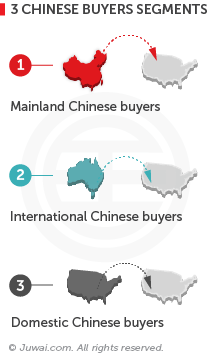 We cannot even begin to stress how misguided this presumption is. Here at Juwai, we look at three main segments of Chinese international real estate buyers:
TYPE 1: Mainland Chinese buyers located in Mainland China looking for overseas property (e.g. Chinese buyer in China looking for property in Australia)

TYPE 2: International Chinese buyers located in other countries looking for property abroad (e.g. Chinese buyers in France looking for property in the US)

TYPE 3: Domestic Chinese buyers located outside of China looking for property in the current country of residence (e.g. Chinese buyers in the UK looking for property in the UK)
While members of the Chinese diaspora living internationally share similarities with mainland Chinese buyers – including motivations, family ties, and commercial links – they remain distinct and varied in their own right.
"In our survey of more than 30,000 consumers, 54% of Chinese diaspora living internationally report purchasing for immigration and only 9% for education. Among mainland Chinese, 39% report purchasing for immigration and 23% for education," revealed Taylor.
Juwai IQ: Chinese buyer motivation intelligence
Given such a diverse and powerful consumer market, it has become quite clear in recent years the need for more data on the purchasing behaviour and needs of Chinese buyers around the world, which is what Juwai IQ aims to deliver.
"For all the excitement about Chinese consumers, precious little data and factual knowledge about their behavior has been available until now. Juwai.com is in a unique position to change that, because of our 2.6 million monthly users from around the world," shares Juwai Co-CEO Andrew Taylor.
With Juwai IQ, customers – ranging from government bodies and corporations to property developers, banks, and academics – will have the information needed to drill down into these unique Chinese market segments to understand their motivations, measure their spending power, and refine the methods and channels in which they market to and reach them.
Learn more about Juwai IQ here.
Sources: 1. Bain & Company; 2. Greater Pacific Capital; 3. Bank of England;
喜欢这篇文章?免费注册,获取居外亚洲市场的最新资讯!