You've successfully copied this link.
Get set for "Fly'n Buy" Chinese – Golden Week is here!
By Juwai, 17 February 2016

Their bags are packed, their tickets are confirmed – Chinese buyers are starting to jet off for Chinese New Year Golden Week 2015 travel!
From 18 – 24 Feb 2015, droves of affluent Chinese will be flying out for their week long holiday.
Aside from some relaxation and luxury retail therapy, property shopping is often on the agenda for many Chinese travellers during this time.
That's because it's the perfect time to travel and view property.
Better known as "Fly 'n Buy" customers, these Chinese property hunters generally have limited time but plenty of cash, and are able AND willing to make snap decisions on buying a property.
Where do rich Chinese go for holidays?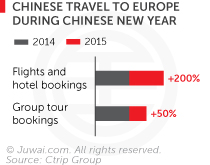 The US and UK5 remain favourite destinations for China's wealthy, as well as recent darlings like Maldives4, Japan, and South Korea.5
However, a new contender has come into play – Europe is fast becoming the new top travel destination this Chinese New Year.
According to data from Ctrip Group – China's largest online travel agency – Chinese flights and hotel bookings to Europe have increased twofold, while group tour bookings leapt as much as 50%.1
Apart from the UK, other European holiday destinations trending with Chinese HNWIs (high net worth individuals) are:
France – a 500% rise in Chinese arrivals have been predicted5
Italy – Chinese tourists are expected to triple5
Germany – 2.2 million Chinese travellers are expected by 20208
Switzerland – Chinese interest is rising, thanks to its active marketing of its beautiful ski resorts6
Why Europe beckons cash-rich Chinese
Europe's simplified visa application procedures have caught the attention of Chinese consumers around the world. However, another definitive allure is its attractive exchange rates.
The Euro's more than 15% decline against the RMB since May 2014 offers more value for money.1
This puts luxury products at even more appealing prices – music to the ears of China's wealthy, who are aficionados of European luxury brands such as Chanel, Louis Vuitton, Dior, Prada, Gucci, and more.2
Luxury homes are another kind of luxury shopping that cashed-up Chinese are also eyeing during their travels abroad.
This is because property hunting while travelling has become a norm with Chinese HNWIs (high net worth indivduals), who consider it an efficient way to kill two birds with one stone.
This 2015, up-and-coming European investment destinations for Chinese buyers are Portugal, Greece, Spain, Hungary, Bulgaria, and Italy. Find out why these countries are so hot with Chinese buyers!
Your move, agents
We can't stress enough the potential of Golden Week around the world – if Chinese buyers are what you're after, Golden Week is a must-have on your radar.
For those who came in late this year, learn about how to prep for the next Golden Week. For those of you already geared up for this year's imminent influx, kudos and good selling!
Here at Juwai, we're wishing you good luck and prosperity with your prospective Chinese buyers.
May the Year of the Goat bring you great fortune and success!
See what the Chinese zodiac has in store for you this 2015 here, then pick up some quick Chinese New Year 101 tips and advice!
Sources: 1. Ctrip Group; 2. SCMP; 3. Knight Frank; 4. SCMP; 5. CLSA Brokerage & Investment Group; 6. Gary Bowerman "The New Chinese Traveller: Business Opportunities from the Chinese Travel Revolution"; 7. Juwai Data; 8. ICC Portal; 9. Ctrip Group & Ly.com
喜欢这篇文章?免费注册,获取居外亚洲市场的最新资讯!