You've successfully copied this link.
Chinese students' growing impact on global economy
By Juwai, 05 March 2016

What makes the world go 'round and drives luxury travel, overseas property purchases and emigration for China's high net worth individuals?
According to Hurun Report, it's education.1
Sending a child abroad is often the first step of greater investment for most of China's super-affluent,3 and 4 of 5 millionaires in China consider sending their child overseas to study.2
Each year, there are nearly 750,000 applicants from China to study abroad,3 so you can imagine the trickle effect this can have on overseas property spend. So where, you may be wondering, are the preferred education destinations for Chinese studying abroad?
According to China student recruitment agency EIC Group, the US continues to reign as the crowd favourite, while the UK comes in at a close second.4 26.8% of Chinese students picked the US as their top education destination, giving the US a 9.5% lead over the UK, with "education quality" as the driving factor.
In Australia, universities received their largest pool of applicants last fall since the global financial crisis. Australia had 346,965 international students last year, of which a quarter came from China.9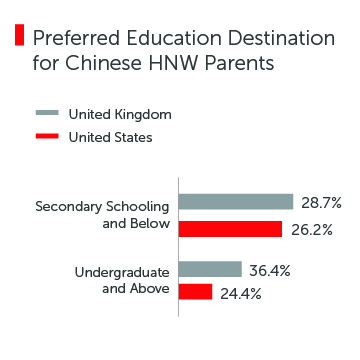 Extraordinary price growth in a range of up-and-coming suburbs in Melbourne's east has been attributed to Chinese families' focus on desirable homes near prestige schools.
And some are pushing up values by knocking down existing homes to build grand new ones.10
However, the picture is not so simple. As Chinese consumers become increasingly sophisticated about international brands and markets, so does their appetite for various opportunities.
The popularity of the US for education, for example, actually waned slightly this year with Chinese.4
According to Jin Ran, Chief Marketing Officer of EIC Group, this could be attributed the increasing diversity in terms of education opportunities overseas, as well as the fact that specific majors in certain countries offer more value and expertise, such as hotel management in Switzerland.
Other countries increasingly favoured by Chinese students4 include:
Another issue to consider is that there are differences in where Chinese students are looking based on what level of education they're looking for.
Hurun reveals that 28.7% of Chinese ultra-rich actually prefer the UK for high school education (compared to 26% who voted for the US), while 36% favour the US for undergraduate and above education.4
The burgeoning global economic impact of Chinese students is no joke indeed – 29%5 of the $24 billion brought by international students to the US economy in 2013 was from China6, and Education New Zealand reports China as its single largest source of international students, with 24,400 paying-students at the end of 2012.7
Some countries are actively pursuing this opportunity with a long-term vision for economic benefits from international students. Canada, for example, recently unveiled a new international education strategy aiming to double its foreign students from 265,000 to 450,000 by the year 2022.
Sources: 1. Hurun Report "The Schools Guide Series"; 2. Hurun Report "Chinese Luxury Consumer Survey 2014"; 3. Higher Education Advisor; 4. China Daily; 5. International Student Voice; 6. US Department of Commerce; 7. New Zealand Education; 8. Live Leak; 9. News.com.au; 10. Canberra Times
喜欢这篇文章?免费注册,获取居外亚洲市场的最新资讯!