You've successfully copied this link.
Juwai welcomes Australia's CommercialVIEW aboard
By Juwai, 22 March 2016

New partnership with CommercialVIEW.com.au allows Chinese buyers to easily search for Australian commercial real estate.
As one of the largest commercial real estate portals in Australia, CommercialVIEW.com.au is expanding access and exposure for its commercial listings to Chinese investors with its latest step to join Juwai.com.
In addition to bringing expanded commercial property selection to Chinese investors on Juwai.com, CommercialVIEW.com.au also provides vital insights and data to help interested investors complete their commercial property research faster and more efficiently.
This alliance goes hand-in-hand with the rising Chinese demand for international property, and gives all CommercialVIEW listings access to the largest and fastest-growing market – China.
Chinese commercial investment in Down Under
Chinese invested $3.34 billion (A$4.5 billion) in Australian commercial real estate in 2015 alone, and that was merely between January and September.1
This makes China the biggest group of foreign investors by value, according to the Foreign Investment Review Board (FIRB).
Now, with the Chinese yuan performing strongly against the weak Australian dollar, more and more savvy Chinese investors are eyeing Australian properties – both residential and commercial.
"Activity since January suggests Chinese acquisitions could beat the 2015 total by year-end. The year is still early, but in February our users made 39.7% more buying enquiries to property sellers than a year earlier," says Juwai.com CEO Charles Pittar.
Why Chinese adore Australia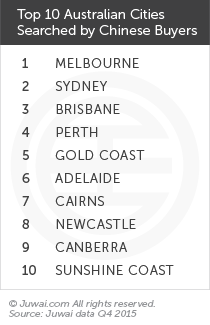 For the third year running, Australia has sustained its popularity as the second most enquired country by Chinese buyers on Juwai.com.2
Beyond its beautiful nature, wildlife attractions, and vineyards, there are many more factors that deeply entice Chinese to the Land Down Under.
Firstly, Australia is one of the top investment markets in the world, thanks to its safe and low-risk business environment, world-class R&D opportunities, diverse labour workforce, and its deep and strong economic and cultural ties with the Asian-Pacific region.3
Secondly is Australia's top-notch education, which had made it a long-time favourite education destination of rich Chinese who aspire to provide their children a global education.
126,834 Mainland Chinese students enrolled in Australian schools and universities last year – a whopping 400% jump from the 35,695 Chinese students recorded ten years back in 2005.4
Thirdly, Australia's renowned sunny blue skies and top environmental quality promises clean, fresh air. At the same time, its strict food safety and hygiene system ensures quality food that is safe and wholesome for the entire family.
Let's not forget its large and vibrant Chinese population, which makes Chinese buyers feel more at home in a new country, as well as the quality Australian lifestyle that offers a high level of satisfaction and safety to its people.5 Need we say more?
With Australia being such hot commodity with Chinese investors, which are the Australian cities on Chinese radar now?
Juwai Data reveals it's Melbourne, Sydney, Brisbane, Perth, and Gold Coast.2
Yet, while these currently reign as the five hottest Australian cities most searched by Chinese property investors2, Juwai Data further shows that Adelaide, Cairns, Newcastle, Canberra, and the Sunshine Coast are coming up fast in terms of Chinese investment interest as well.2
CommercialVIEW partnership
As a Juwai partner, CommercialVIEW now gives advertisers access to the largest market out there for commercial investment.
All listings on Juwai.com are accessible on Juwai's mobile app and mobile site, and are supported by our Chinese Consumer Support Centre in Shanghai as well.
"Chinese demand for commercial property will remain strong through the end of the decade at least. The only constraint is supply. The partnership with CommercialVIEW.com.au makes it as easy as possible for Chinese to find and invest in Australian commercial real estate," says Charles Pittar, CEO of Juwai.com.
According to Daniel Bignold, CEO of CommercialVIEW.com.au, "FIRB regulations permit Chinese to invest in developed commercial property up to $252 million in value, without needing to seek special permission. The majority of our listings fall under that cap, and Chinese are the fastest-growing market for our advertisers."
"Juwai.com is by far the leader in enabling Chinese to invest in Australia's real estate market, with a monthly audience of 2 million per month. Our listings will be exposed to the biggest qualified audience in China," he adds.
Here's wishing all CommercialVIEW members a warm welcome aboard Juwai.com!
Need help activating your Juwai account? Contact us here.
Sources: 1. Juwai Data Q4 2015; 2. CBRE; 3. Australian Trade Commission; 4. Tourism Research Australia (TRA); 5. OECD: Better Living Index
喜欢这篇文章?免费注册,获取居外亚洲市场的最新资讯!