You've successfully copied this link.
What the Cannes Festival tells about Chinese consumers
By Juwai, 19 May 2016

This year's Cannes Film Festival has unveiled a slew of new movies that will see China remain the world's most lucrative film markets.
Even as mainland superstars – most noticeably Gong Li and Li Bingbing1 – followed the footsteps of past Cannes fashion and media darlings Fan Bingbing and Zhang Ziyi to make a big splash on Cannes' famed red carpet last week, film companies from China and those targeting it have made a different splash by revealing a roster of up-and-coming blockbusters.
China's middle-class drives movie market boom
Interestingly, all these are either China movies produced in collaboration with global partners, international movies backed by Chinese powerhouses, or international movies featuring famous Chinese actors, actresses or directors.
Clearly, these new movies are at the front-line in meeting the surging demand for foreign content in China's movie market – a market hailed as the fastest-growing and most lucrative movie market in the world.
China's movie market is set to generate $8.2 billion in box office sales forecast for 2016 – a 28% y-o-y increase from 2015.14
And with China's middle-class-powered consumer market slated to generate $6.3 trillion by 2020, we predict this figure to skyrocket in future.
More importantly, beyond the fact that these international and Chinese collaborations on increasing numbers of Chinese-centric films are yet another indicator of China's rising status globally, it's also another telling sign of the growing spending power of Chinese consumers, as well as their rising demand for content and entertainment products.
Upcoming China-powered movies to watch
With international studios scrambling to capture China's silverscreen audiences, Chinese moviegoers are set to be pampered with a host of exciting new movies. Here are some of the most notable projects unveiled so far:
L.O.R.D.: Legend of the Ravaging Dynasties2: The first 3D motion capture film from China3, L.O.R.D stars Fan Bingbing – one of China's most famous actresses and fashion icons, as well as the world's fourth highest-paid actress in the world.4 Backed by Lionsgate5 – the firm behind Hunger Games and Twilight – L.O.R.D is scheduled for a release in September to capture the crowds during the National Day Golden Week that starts from 1 October.

The Great Wall: Starring Matt Damon and with Zhang Yimou in the director's chair, The Great Wall is a $160-million collaboration between China-based LeVision and Legendary Entertainment. Telling the story of the construction of China's Great Wall – a great source of national pride – this movie has been scheduled for a late-2016 release and is bound to resonate with Chinese movie fans.6

Time Raiders: Featuring China A-listers Jing Boran and Ma Siming, as well as Bollywood star Mallika Sherawat, this China-based adaptation of a Chinese adventure bestseller generated a press frenzy in Cannes as the film was unveiled before its mainland release in July.7

Robinson Crusoe: A take on Daniel Defoe's classic tale, Alibaba and Shanghai-based Linmon Pictures will release the film on the mainland in August8, just in time for the school holidays. This is timely, as animated films – most notably Zootopia and Kung Fu Panda – have seen great success in the mainland in recent years.

Sheep & Wolves: An animated film that pits a herd of sheep against a pack of wolves, Sheep and Wolves marks a collaboration between Wizart Animation and China-based Flame Node Entertainment. Coming to Chinese audiences in August 2016, Flame Node is also partnering with Chinese e-commerce giant Alibaba as merchandising partner for the release in China.9

Inversion: Produced by Facing East – a Hong Kong & China-based joint venture10 – Inversion is a sci-fi epic that will begin filming in Shanghai this September and star Travis Fimmel – star of Vikings and the upcoming blockbuster Warcraft..

A Prayer Before Dawn: A Thai-based action film funded by China-based film investment company Meridian Entertainment, A Prayer Before Dawn was announced at the festival and is set for a late-2016 release.11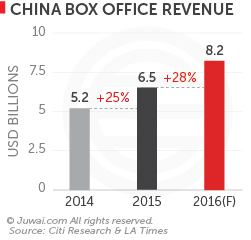 These upcoming blockbusters follow earlier announcements coinciding with the festival of an impending revival of the Teenage Mutant Ninja Turtles funded by Wanda12, and the imminent production of a Chinese superhero series by The Russo Brothers, who created Marvel's 'Captain America' franchise.13
These themes underlying this year's festival – growing outbound investment from Chinese firms, increasing output from Chinese creative teams, and the adaptation and construction of specially adapted movie productions and franchises – are but another indication that the world's movie industry is slowly but steadily pivoting to the China market to capture the imaginations (and share of wallet) of the world's most lucrative audience..
Impact on Chinese global real estate investment
Besides the silver screen, other business sectors are also seeing the value and necessity of engaging with China, and are already preparing for a future where the middle kingdom overtakes the US to reign as the largest and most lucrative consumer market in the world.15
And one industry that is well-positioned to receive the fringe benefits of China's movie market boom is real estate. After all, it's not the first time that movies, dramas, or celebrities have influenced Chinese consumer trends.
Judging from past examples, such as Seattle, which experienced a surge in Chinese property investments following the movie Finding Mr. Right, or Yorkshire, which experienced a surge in Chinese interest thanks to Chinese superstar Jay Chou's wedding, one would do well to keep an eye on locations related in the movies mentioned above.
From Thailand (A Prayer Before Dawn) to Bollywood in India (Time Raiders) to islands in the South Pacific (Robinson Crusoe), would these become prospective destinations to garner a surge in Chinese tourism and subsequently, potential property investment in the future? Only time will tell.
Sources: 1. CCTV: Gong Li and Li Bingbing on red carpet in Cannes; 2. China Film Insider: Cannes: Lionsgate Selling 'Now You See Me 3,' 'My Little Pony'; 3. Wikipedia: L.O.R.D: Legend of Ravaging Dynasties; 4. China Daily; 5. Wikipedia: Lionsgate; 6. Hollywood Reporter; 7. Daily Mail: Stars of China's "Time Raiders" gather in Cannes; 8. Hollywood Reporter; 9. Hollywood Reporter; 10. Hollywood Reporter; 11. Screen Daily; 12. Hollywood Reporter; 13. Variety
喜欢这篇文章?免费注册,获取居外亚洲市场的最新资讯!