You've successfully copied this link.
Juwai releases 'One Belt, One Road: Malaysia' Report
By Juwai, 09 November 2017

With China's 'One Belt, One Road' offering bright prospects for 65 countries along its route, we examine what this means for Malaysia in a report we've just released.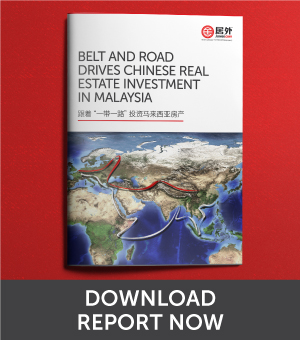 While most of the world was concerned about China's capital controls crackdown in late 2016 impacting Chinese property investment, we saw some areas of the world basking in the prospects of China's One Belt One Road (OBOR) project.
Sure, there has been negative influences from capital controls, but for some countries, those have been at least partially offset by the positive influence of OBOR. That's because China supports investment in OBOR related countries as part of its 'Going Out' strategy.
Malaysia is one of the gem countries well-positioned in this project. As a crucial link with China and one of the 65 countries on the OBOR route, Malaysia is expected to see increased real estate investment.
We pull some highlight snippets from our report to show you why:
48 percent of Chinese corporate investment in Malaysia today is already in real estate
Chinese residential real estate buying enquiries in Malaysia have more than tripled since 2015
Demand has at least doubled on a year-on-year basis every quarter since January 2016
On Juwai.com, Malaysia has grown from 15th most popular country for Chinese residential property buyers in 2015, to be among the 10 most-enquired countries for Chinese buyers in 2017
Kuala Lumpur, Malaysia's capital city, receives more enquiries than other locations, accounting for more than 40 percent of all buyer enquiries so far this year
It's not unrealistic to expect Chinese investment in Malaysian residential real estate to at least double by 2025.
Contact us now for your copy of the full report.
喜欢这篇文章?免费注册,获取居外亚洲市场的最新资讯!