You've successfully copied this link.
Juwai announces first China Agent Summit of 2018: April, Beijing
By Juwai, 28 December 2017

This is your chance to gain VIP access into the Chinese market, and build connections with local agents in China.
We're just days away from a brand-new year, but we're already prepping for our first Juwai event of 2018 – the Juwai China Agent Summit in Beijing.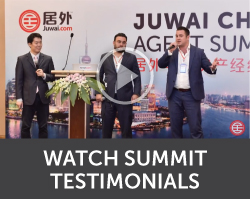 Regularly hosted since 2014 in both Beijing and Shanghai, the Juwai China Agent Summit is a unique event that offers international real estate professionals a significant opportunity to explore and gain a better understanding of the Chinese market.
Special guest speakers from various related industries will impart invaluable insights, latest trends, and their expertise in an engaging half-day session of presentations and panel discussion wholly focused on the China market.
Past Summit speakers include Mingtiandi Founder Michael Cole, and Erik Coffin, Founder and CEO of Gotham Corporate Group.
The latter half of the Summit will be a face-to-face networking session enabling global property agents and developers the chance to meet and network directly with local Chinese agents from the property industry, as well as other sectors such as education, immigration, and financial wealth planning – all which have high relevance to Chinese overseas property buyers.
The networking session also serves as the perfect occasion for international property professionals to scope out and identify compatible local on-the-ground allies to develop future partnerships that may help broaden their reach into China.
Hop over here for a detailed peek into the Summit, or check out the video testimonials of some of our past Summit attendees.
Don't miss out, secure your seat now!
If you're looking to market to Chinese buyers, this is the event for you. Slated to be held on 18 April 2018 in Beijing, the first Juwai China Agent Summit of the year will have close to 150-200 select Chinese agents expected to attend.
Seats are limited though, so contact us now for more details on the upcoming Beijing Summit on 18 April 2018. Be sure to ask us about our Summit early-bird pricing as well – available till 28 February 2018!
喜欢这篇文章?免费注册,获取居外亚洲市场的最新资讯!