You've successfully copied this link.
Juwai teams up with Noah as exclusive overseas real estate partner
By Juwai, 25 April 2018

We're excited to announce that Juwai.com has been appointed the exclusive overseas real estate partner of Noah Holdings!
As China's leading wealth and asset management service provider, Noah Holdings Limited (NYSE: NOAH) specialises in global investment and asset allocation services for Chinese high net worth (HNW) individuals and enterprises.
The alliance with New York-listed Noah will see the two companies joining forces to bring international real estate investment to Noah's more than 160,000 HNW customers at events throughout China, as well as offer access to a targeted segment of investors with total investments of over US $67.5 billion.
According to Noah CEO Wang Jingbo, this alliance with Juwai will help Noah fulfill their vision of serving their customers' need for wealth management through globalised and diversified products and portfolios.
"We are pleased to be working with Juwai.com because it is the true international property authority in China. We are glad to be joining the ranks of other Juwai.com partners, such as Tencent, and the Association of Family Offices of Asia," said Wang.
"Our partnership with Juwai will give our customers access to exclusive overseas property investment opportunities that complement the other asset classes and investment types we already make available."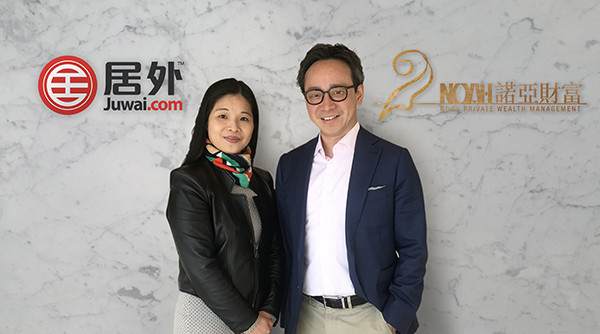 Juwai.com CEO Carrie Law and Noah Holdings Group President Kenny Lam

More about the Noah partnership
As exclusive overseas real estate partner, Juwai.com will provide property expertise and investment opportunities to Noah customers, so they can fulfill the full spectrum of their investment goals.
Juwai.com will also serve as exclusive international property partner for Noah Regional Leadership Events, of which there will be 18 throughout China in 2018 alone.
Beyond that, Juwai will source exclusive, world-class property investment opportunities for Noah's high net worth Chinese investors as well.
"We are grateful to Noah for entering into this mutually beneficial partnership with Juwai. The agreement represents our ongoing campaign to further extend the comprehensive solution set we offer to property developers and project marketers," said Carrie Law, CEO of Juwai.com.
"Through Noah, Juwai.com can offer property marketers exclusive access to a large, qualified audience of buyers throughout China. The Noah partnership gives us an opportunity to provide the Chinese high net worth investors in Noah's network with access to real estate investment opportunities they otherwise could not obtain."
"This partnership will ultimately mean that more high net worth investors from China and other parts of Asia can successfully source and acquire property overseas through Juwai and the international property marketers who rely on us," said Law.
"For the real estate industry, this will create new opportunities for asset sales and joint ventures for development and investment. Noah's investors are in the market for everything from single apartment units to entire blocks of units, developable land, trophy homes, and commercial property."
Law further cited some recent findings from Financial Times Confidential Research, which revealed that over 60% of Chinese overseas investors intend to make new overseas real estate investments by 2020, and that close to 60% of Chinese consumer demand for foreign exchange is related to overseas real estate purchases.
"More than half of Chinese households plan to hold at least 10% of their wealth in foreign assets, and this share is growing," Law shares.
"Chinese investor wealth has been growing rapidly, and there are now 1.6 million U.S.-dollar millionaires in mainland China, more than at any time in history. Wealth per adult in China has more than quadrupled over the past six years."
喜欢这篇文章?免费注册,获取居外亚洲市场的最新资讯!