You've successfully copied this link.
Panama set to shine with Chinese buyers in 2018
By Juwai, 24 April 2018

Nearly a year after Panama established diplomatic ties with Beijing, how has Chinese interest in Panama changed?
For starters, Chinese attention on Panama property has definitely risen – Chinese buyer enquiries for Panama real estate grew 100% y-o-y in 2017 on Juwai.com, compared to in 2016.1
Most recently, Panama – already designated as an 'Approved Tourists Destination' by China in December 2017 – also picked up a tourism award in China sometime in March 2018, yet another indication of mounting Chinese interest in Panama.2
We examine what's behind this rising Chinese awareness in Panama below.
5 reasons Chinese interest in Panama is growing

#1 Relaxed visa limits for Chinese
In a move to boost tourism and investment from China, the Panamanian government relaxed its visa policies for Chinese visitors in October 2017, allowing mainland travellers to enter Panama with just an electronic visa stamped in a consulate.3
Prior to this, Chinese travellers were required to obtain a restricted visa via a lawyer in order to gain entry into Panama.3
Chinese citizens holding valid visas for the US, Canada, and Australia are also allowed entry into Panama for up to 30 days.2
This is a strategic move, seeing as China currently dominates as the biggest outbound tourism market in the world – a record 130.5 million mainland Chinese travelled overseas in 2017, up 7% from 2016.4
With Chinese travellers being increasingly adventurous5 and keen on diversified travel experiences abroad, Panama – famed for its ecotourism, San Blas islands (made up of over 400 pristine islands), distinctive regions with myriad cultures, and its famous Panama Canal – could be well positioned to benefit from this loosened visa rules.6

#2 New investment visa option
2017 saw Panama amending its Self Economic Solvency Visas – an investment visa option that enables wealthy foreigners to secure permanent residence in exchange for property investments in Panama.7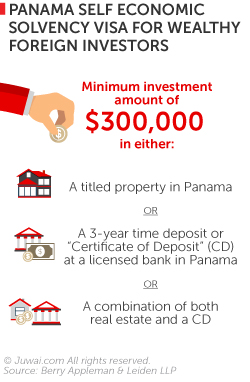 The Self Economic Solvency Visa is eligible for foreign investors who invest in one of the following7:
Invest a minimum amount of $300,000 in a titled property in Panama;
Invest a minimum amount of $300,000 for at least three years in a Certificate of Deposit (CD) at a licensed Panamanian bank; OR
Invest a total minimum amount of $300,000 in both real estate and a CD
What's most intriguing is that Panama's Self Economic Solvency Visa now allows real estate investments to be made through a private foundation or a corporation as well – a move aimed to boost foreign direct investment in Panama.7
Considering holders of a Self Economic Solvency Visa will be eligible to seek citizenship after five years of residence in Panama7, this could be an attractive option for Chinese looking to migrate abroad.

#3 New flight link connectivity
Air China, China's national carrier, has just launched a new flight route from Beijing to Panama City via a technical stopover in Houston.8, 9
The new Beijing-Houston-Panama City flight, launched on 5 April 2018, is an important milestone expected to substantially improve transportation links between both countries, as well as deepen their bilateral trade, investment, and tourism connections.8
With Panama aiming to be the gateway for the much-coveted Chinese tourism market into Latin America, thanks to it being strategically set in the heart of the Americas10, perhaps more flight connections between the two countries may be added further into the future.

#4 Belt and Road Initiative (BRI)
Panama is a great supporter of China's Belt and Road Initiative (BRI), with Panamanian President Juan Carlos Varela voicing out at the eighth Summit of the Americas that Panama is a 'firm believer' in the BRI.11
Already, the first Panamanian infrastructure project commenced under the BRI is underway – a 450km high-speed train linking Panama City to the border with Costa Rica first, before being extended further to connect the whole of Central America.12, 13
This willingness to cooperate between both countries bodes well for Chinese investment in Panama, particularly as over 70 Chinese companies already currently have operations in Panama, including China telecom titan Huawei Technologies.12

#5 Large and growing Chinese community
As unlikely as it may seem, Panama is already home to roughly 300,000 Chinese, which accounts for about 5% of Panama's entire population of 4.3 million.14
With an immigration legacy of 160 years15, it's no surprise that Panama already has the highest proportion of ethnic Chinese in Latin America.16
And as the BRI continues to spur Chinese projects and investment into Panama, the Chinese population in Panama looks set to grow. After all, many Chinese are long-term investors who often seek to build deep roots.
Momentum is right for Panama
Although Panama remains a relatively unfamiliar and obscure country to most mainland Chinese, we believe that would change soon.
After all, the above factors driving more Chinese interest to discover Panama could very well translate into more Chinese buyers in Panama's real estate market as well, particularly as Panama allows foreign buyers to own freehold property there.
Panama's affordable property prices are also a downright steal when compared to property prices in China, which will undoubtedly appeal to China homebuyers.
With all these factors in place, it appears that Panama is well set to reap the benefits of switching its diplomatic ties to China last June.
Sources: 1. Juwai Data 2016-2017; 2. Xinhua: Panama's tourism award in China shows growing Chinese interest in Panama; 3. SCMP: Panama lifts visa limits for Chinese visitors; 4. Ctrip & China Tourism Academy on Caixin: China outbound tourism hits record high in 2017; 5. Ecns.cn: Adrenaline junkies: Chinese becoming more adventurous; 6. The News Lens: Panama braces for Chinese tourists boom; 7. Berry Appleman & Leiden LLP: Panama adopts new investment visa option for foreign nationals; 8. Travel Pulse: Air China to launch new Beijing-Houston-Panama City route; 9. Airline Geeks: Air China begins fifth freedom route between Houston and Panama City; 10. Xinhua: Interview: Panama aspires to be gateway to LatAm for Chinese tourism; 11. Xinhua: Panamanian president advocates further boosting global trade; 12. Executive Intelligence Review: Panama's President: We did the right thing in forging ties with China; 13. Xinhua: Panama seeks to be part of China-proposed B&R Initiative: president; 14. CGTN: Panama's Chinese community welcomes establishment of diplomatic ties; 15. Global Times: Guangdong's Panama Village exemplifies immigration legacy of 160 years; 16. Sixth Tone: For Chinese in Panama, ethnicity eclipses cross-straits politics;
喜欢这篇文章?免费注册,获取居外亚洲市场的最新资讯!