You've successfully copied this link.
Thailand survey shows property agents expect foreign buyers to make more purchases in the year to come
By Juwai, 18 May 2020

Juwai IQI's first "Residential Property Index – Thailand" survey reveals how agents are reacting to the coronavirus pandemic that has slowed buyer activity in the real estate sector.
Juwai IQI "Residential Property Index – Thailand" was carried out to track the evolution of industry expectations for prices, rentals, and market activity trend of the Thai real estate sector. It is based on a survey of 196 Thai real estate agents between 12 February and 2 March 2020.
At the time of the survey, the coronavirus outbreak was already a concern but had not yet dramatically impacted travel to and from Thailand or the Thai economy itself. Thailand confirmed its first death from COVID-19 on 1 March 2020 and by 2 March had 43 confirmed cases. On 4 March, Thailand began advising travellers arriving from nine countries — including China — to self-quarantine.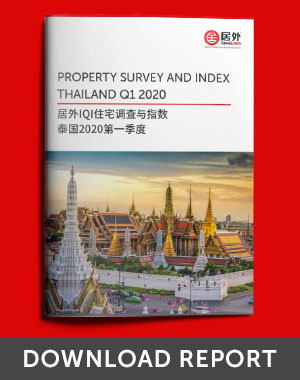 SOME HIGHLIGHTS OF THE SURVEY:
• The industry has a generally negative outlook for residential prices over the coming year, but a positive outlook thereafter that suggests a strong recovery between now and 2022.
• Nationally, the industry expects prices to drop by 2.4% by the end of 2020 and to have climbed by 5.6% by the end of 2021.
• Chiang Mai has the biggest projected price gains by 2022. The industry expects prices to climb 12.8% by the end of 2021.
• The forecast for rentals is generally negative. Nationally, results are expected to be 2.6% lower by the end of 2020, although agents believe rents should recover that loss and then gain 2.5% off current levels by the end of 2021.
• When it comes to nationwide new home sales, the industry reports that foreign buyers account for 31%, or nearly one-third, of transactions. Foreign buyers have the largest share of the market.
• Foreign buyers nation-wide account for 31% of new home purchases and 31% of the secondary market.
• Nationwide, 35% of agents report that foreign buyers will make more purchases in the year to come compared to 2019. Thirty-one per cent of agents nationwide expect local investors to increase the number of transactions they make in the coming year. Twenty-nine per cent of agents expect first-time local buyers and local upgrade buyers to be more active in the coming year.
• Bangkok has the strongest forecast for transaction growth across all categories of buyers. Forty-five percent of agents in the capital expect first-time local buyers to complete more transactions in the coming year.
Note: Since the completion of the survey, Thailand has declared a nationwide state of emergency which took effect on 26 March 2020. The nation's borders will be closed to foreign visitors, social gatherings will be banned, domestic travel restricted and all but essential shops shut until the end of April.
喜欢这篇文章?免费注册,获取居外亚洲市场的最新资讯!