You've successfully copied this link.
Why Malaysian real estate will be a good investment post COVID-19
By Juwai, 03 December 2020

The country is expecting to see an increase in foreign purchases in the next 12 months
After some nine months into the Covid-19 pandemic, it has become painfully clear that many industries in Malaysia have been severely affected by the outbreak. The property sector is no exception. It has taken a hard hit, with consumption sentiment wearying and regional tourism experiencing a considerable slowdown.
Before COVID-19 restricted international travelling, there was an influx of interest in Malaysian properties by foreign property investors with the emergence of some bargain hunting opportunities in Malaysia's soft property market.
Since 2002, Malaysia has been a top destination for many affluent foreign property investors, especially those from China. Foreigners love the country's diverse culture, the year-round warm climate, the friendly people, and its food. Malaysian cuisine is often cited as the reason tourists visit the country repeatedly.
According to Juwai IQI's data, based on buying enquiries made by Chinese property buyers in over 90 countries, Malaysia ranked 7th in the third quarter of this year amongst the world's most preferred destination by Chinese property buyers, ahead of & Greece, Germany and the Philippines which placed 8th, 9th and 10th, respectively.
Current state of Malaysia's property sector
Before COVID-19, Malaysia's real estate market has been recovering, since the third quarter of 2018, from more than two years of price correction, according to a Juwai IQI's report - Malaysia: A Cross-Border Buyer's Guide - which was released in March this year. The report revealed that investor confidence was positive and transaction volume had risen. Home prices had bottomed out. National average home prices rose 0.9 per cent year on year in the second quarter of 2019 and transaction volume and value grew 6.1 per cent and 9.5 per cent from a year ago, respectively, in the first half of 2019.1
However, since the onslaught of COVID-19, the real estate sector has been hobbling. The country's partial lockdown has delayed property listings and stalled processes like completing documentation and progress payments as financial institutions scaled down operations. Developers and builders are also unlikely to meet their completion deadlines as supply chains have been interrupted.
With the dependence on foreign buyers to help clear the property overhang which has been plaguing the country, there is cause for concern. Property agents say overseas investors have to postpone site visits until further notice due to border closures.
In Juwai IQI's Property Survey and Index Malaysia Q3 2020, the report highlighted issues faced by the property sector:
COVID-19 is expected to push down residential prices by -4.8 per cent over the next 12 months before climbing again to post 10.6 per cent growth over the next two years. States with the strongest forecast price growth over the next two years are Penang and Perak while Kuala Lumpur and Selangor are expected to experience the lowest forecast price growth.
Expectations of foreign buyer transaction growth are expected to be significantly lower in the coming 12 months. Home transactions by foreign buyers are expected to fall by -7 per cent.
The foreign buyer outlook is highest in Penang where 43 per cent of industry respondents expect an increase in foreign buyer transactions over the next 12 months.
How are agents and developers coping
With customers unable or reluctant to leave their countries, sellers have shifted the emphasis to online marketing including livestreaming of seminars, more virtual tours and use of social media platforms to promote their offerings.
At present, many developers are engaging local and overseas agencies, along with a series of digital marketing initiatives to market their products to continue to leverage the interest shown by foreign buyers. For example, prospective buyers can use VR (virtual reality) to tour showrooms or destinations from the comfort of their computer or mobile phones.
Chinese enquiries about Malaysian real estate saw a V-shape trend between Q1 and Q3 this year, according to Juwai IQI's data. This could suggest that perhaps online promotions are working. Enquiries plunged by -30.2 per cent from Q1 to Q2 and then pivot upwards by +57.3 per cent from Q2 to Q3.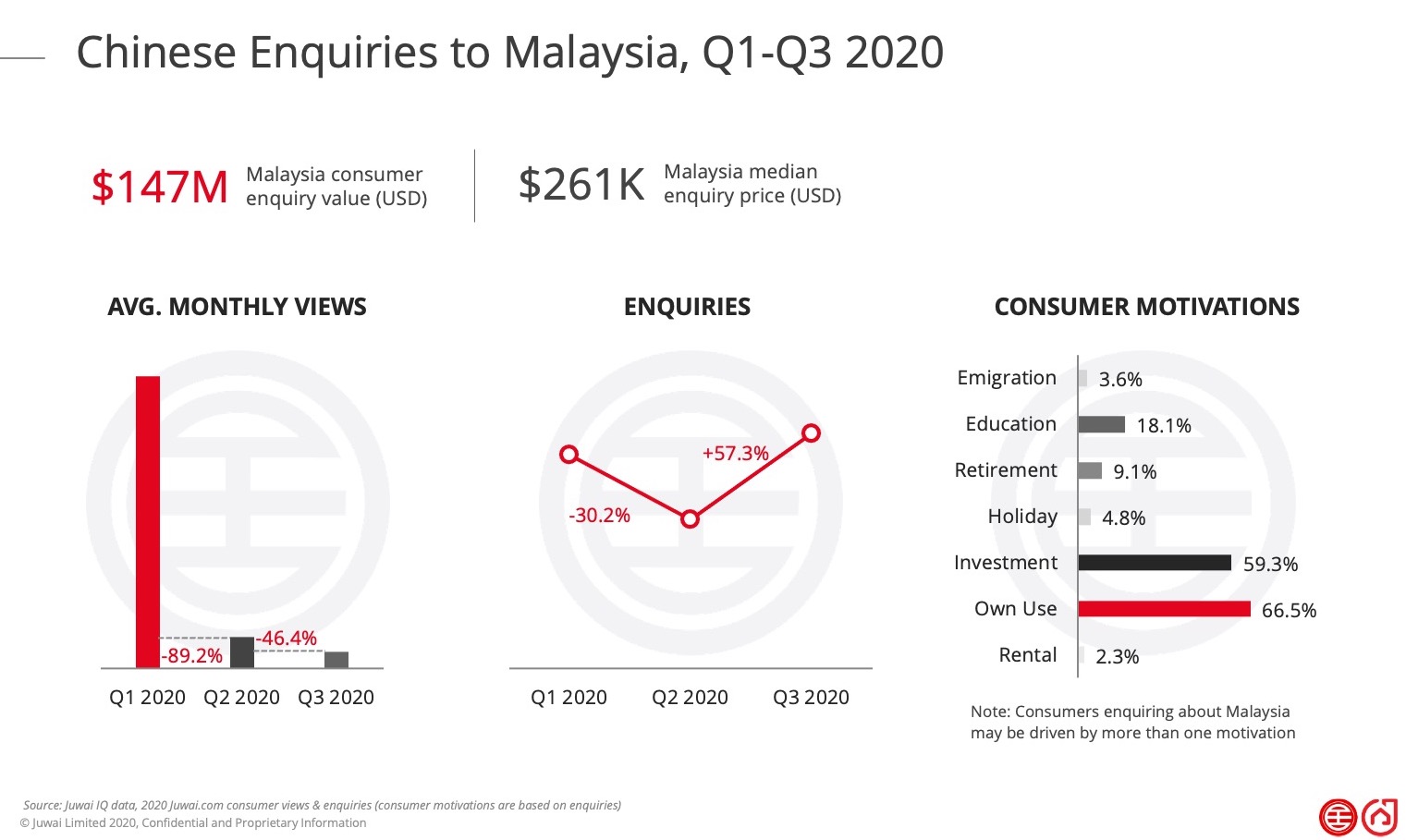 Chinese demand for Malaysian real estate
It is estimated that mainland Chinese buyers accounted for MYR 8.4 billion (USD2 billion) of total residential property sales, about 12.1 per cent of the total by value in 2018. Approximately MYR4.3 billion (USD1 billion) of new residential building construction in Malaysia takes place due to Chinese buyer demand.2
Although foreign buyers' interest has been waning due to the pandemic, one hotspot that has maintained its momentum in attracting foreign property buyers is Kuala Lumpur City Centre (KLCC). Agents say KLCC will continue to depend heavily on foreign buyers due to its price points and amenities while Malaysians tend to live on the fringes of the KL City area.
According to the Malaysian Institute of Estate Agents (MIEA), foreign ownership of property in Malaysia is about 5 per cent to 7 per cent in the KLCC vicinity and 3 per cent in Selangor.3
Other locations favoured by Chinese investors, according to Juwai IQI, include Penang, Johor Bahru, Malacca in Peninsular Malaysia and Kuching in the East Malaysian state of Sarawak.
Why Malaysia will still be attractive to foreign buyers post COVID-19
Relaxation on foreign homebuyers
Malaysia is one of the most foreign-friendly countries in Southeast Asia for real estate investors. Here, anyone can have access to almost any kind of property types including buying land. Until Covid-19 curbed international travel, most foreigners get an automatic three-month visitor's visa on arrival. Investors can literally go buy a property as soon as they step off the plane. There aren't many places in the world that allow you to do that. Overseas nationals are also permitted to own both leasehold and freehold properties in Malaysia.
Furthermore, to entice foreign property investors into the country and to combat the large overhang of properties across the country, the Malaysian government lowered the foreign ownership price threshold for high-rise buildings to RM600,000 (USD147,293) from RM1 million (USD245,489) starting from 11 June this year and valid for one year, although state governments have jurisdiction over their own price caps.
For instance, Selangor retained its MYR2 million minimum threshold for foreign buyers whilst Penang has reduced its price threshold by up to 40 per cent. For stratified properties, ceiling prices will be reduced to MYR800,000 (USD196,391) from MYR1 million (USD245,489) in Penang and to MYR400,000 (USD 98,196) from MYR500,000 (USD122,744.57) on the mainland in a 20 per cent reduction. The revised pricing included reducing the ceiling price of landed properties to MYR1.8 million (USD441,880) from MYR3 million (USD736,467).4
Attractive prices
In Malaysia, you can purchase landed properties for a fraction of the price commanded in neighbouring Singapore or Hong Kong which are among the most expensive housing markets in the world.
COVID-19 has further exacerbated price declines in Malaysia with some property developers projecting that the industry may see a decrease in prices of between 10 and 15 per cent. Malaysia's average house price stands at MYR 423,179 (USD 97,070).6 This is much cheaper compared to the average price of a home in the UK at £239,196 (USD320,786)7 or S$1,183,375 (USD874,372)8 in Singapore, for example.
Right now, an investor can buy a luxurious three-bedroom condominium of around 1,200 square feet in a new development right in the middle of Kuala Lumpur's business district, near a monorail stop, for approximately MYR 900,000 (USD220,000). Furthermore, upscale waterfront homes and villas in the country, such as those in Johor and Langkawi, can be had from just MYR1,600,000 (USD 393,000) onwards.9 Other such global prime properties would command exorbitant prices in the millions of dollars.
Experts say that as a result of the COVID-19 crisis, the Malaysian real estate market will shift to a buyer's market from a previously seller's market.10
Malaysia offers myriad of higher education options
Malaysia is well-positioned to attract more international students from China as a result of the current political spat between China and Australia, and while the US and the UK continue to wrestle with the impact of the pandemic. In 2019, there were over 13,450 students from China studying in Malaysia.11
There are currently 12 international branch campuses (IBCs) in Malaysia that originate from host universities in Australia, China, Singapore, the UK and Ireland which award degree (undergraduate and postgraduate), diplomas and curriculum identical to that of the parent universities but are usually more affordable. 12
This is vital for agents and developers to note because China's fast-growing student population seeking an international education is one of the principal drivers of outbound real estate investment from China.
Great place for retirees
Cost of living, healthcare system, climate, ease of setting up residence has earned Malaysia a seventh placing in the 10 best retirement destinations worldwide by a new survey by the American online guide International Living. Being in the top 10 could attract wealthy Chinese buyers to spend their golden years in Malaysia.13
China has an ageing population. There were 241 million people aged 60 and above at the end of 2017, and the number is expected to hit 487 million by 2050. Older Chinese people travelled to 74 countries in 2018, according to a report from leading online travel company Ctrip, and as this group becomes more comfortable with travel, settling down somewhere foreign becomes less daunting.14
This category of senior citizens will bring new opportunities for real estate marketers as Malaysia, with a multi-cultural population where Chinese form about 30 per cent of its total population, tick all the right boxes as a second home for rich Chinese retirees.
Future outlook
Malaysian real estate saw its worst slump in over a decade as movement curbs aimed at containing the coronavirus crippled private consumption and hurt most business activities. But the economy has since shown tentative signs of a recovery driven by a pick-up in manufacturing and exports in the third quarter, as businesses resumed operations after the government began easing some restrictions but analysts worry that a continuing surge in coronavirus cases could hurt outlook.
The country is currently facing a second wave of infections and borders remain closed.
Sources:1 &2: Juwai IQI: Malaysia: A cross-border buyer's guide; 3. FMT: KLCC property market relying heavily on foreign buyers; 4. Edge Weekly: Lowering of foreign buyer price thresholds could boost property sales; 5. Juwai.com: COVID-19 is expected to push down residential home prices over the next 12 months in Malaysia; 6.GPG: Malaysia's great house price boom is over; 7. Knight Frank: Monthly UK Residential Property Market Update: October 2020; 8. Today: S'pore's private property second-most expensive in the world: CBRE report9. Star Property: Top 5 waterfront developments in Johor; 10. The ASEAN Post: Malaysia's property market in a pandemic slump; 11. Statista: Number of international students studying in higher education institutes in Malaysia in 2019, by country of origin; 12. Wikipedia: International branch campus; 13. Malay Mail: Survey ranks Malaysia as seventh best place to retire in 2020; 14. China Daily: Aging population brings business for travel sector
喜欢这篇文章?免费注册,获取居外亚洲市场的最新资讯!