You've successfully copied this link.
Property Survey and Index - Thailand 2021 Q3
By Juwai, 16 July 2021

Will Thailand reach herd immunity and reopen the prospect of travel and investment? Find out about Thailand's market through a survey of over 100 Thai real estate agents - conducted in October and November 2020.
Download the report now to learn about the industries future in Thailand.
Here are some highlights from the report:
Thirty-five per cent of agents believe that, by next year, 2022, foreign buying will have already rebounded to the levels of 2019.
Thirty per cent of agents expect foreign buying to have made up lost ground by 2023, and 23% of agents expect foreign buying to have returned to its pre-pandemic levels by 2024.
Thai real estate agents are guarded about future gains in property prices and rentals.
The leading buyer group in the new home market is first-time local buyers, who account for 28% of transactions.
For more details of the report, sign in and download it HERE.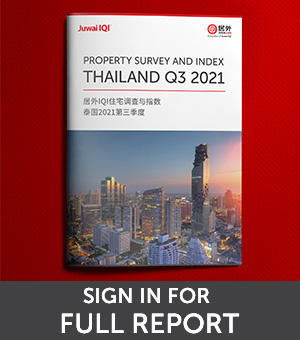 喜欢这篇文章?免费注册,获取居外亚洲市场的最新资讯!