You've successfully copied this link.
Chinese Residential Investment: Will It Be Back? | Q3 2021
By Juwai, 22 September 2021

Has the pandemic contributed to the disinterest of UK property among Chinese investors?
This report reveals the factors likely to determine if and how quickly Chinese demand for UK property bounces back.
Download the report now to learn about the future of the UK property industry.
Here are some highlights from the report:
Chinese demand for UK property has remained remarkably stable since 2014.
Chinese investor mortgage interest rates have been pushed to be 15% higher than comparable loans for first-time buyers.
London does not have the fastest-rising home prices during the pandemic, but the UK's national market performance nonetheless makes it a global leader.
UK home prices began climbing rapidly in the second half of 2020 and have soared even more in 2021.
For more details of the report, sign in and download it HERE.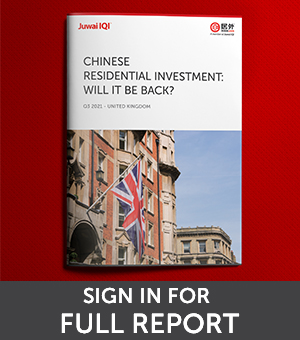 喜欢这篇文章?免费注册,获取居外亚洲市场的最新资讯!