You've successfully copied this link.
3 things Chinese buyers love about New York
By Juwai, 31 March 2016

We take a closer look at New York, one of the top two American cities most searched by Chinese property hunters.2
Chinese buyers in a New York state of mind
Chinese are certainly no strangers to New York, which is aptly and often hailed as The City That Never Sleeps.
Ranked the second favourite American city for Chinese property investors2, New York City is also the third most popular emigration destination in the world for China's ultra-rich, after Los Angeles and San Francisco.3
The US is the #1 emigration country for Chinese HNWIs3, and Chinese buyer enquiries on the EB-5 scheme soared 400% within the first eight months of 2015.2
In fact, Chinese buyers outstripped the Russians to become the largest group of foreign property investors in New York, which is food for thought indeed.
3 main reasons why Chinese favour New York
It's not hard to see why Chinese are drawn to New York. We break it down to three driving factors why the Big Apple has become a popular stomping ground for Chinese buyers:
#1 Huge Chinese community
New York City is home to the biggest Chinese population out of Asia4, enough said. Just take a walk in Flushing, sometimes referred to as 'Chinese Manhattan' nowadays, and you can see why.5
At just a 45-minute subway ride away from Manhattan itself, Flushing has outstripped Manhattan's Chinatown to boast the largest Chinese community in New York.5 From local Chinese-Americans to new Chinese immigrants, Flushing is definitely hot on their list of places to shop for a home in New York.
The demographic range there is so wide that even the Chinese elderly are choosing to move to Flushing for better convenience, especially those whose children had flown the coop.5
With such thriving Chinese communities in New York, Chinese property investors would feel more comfortable about purchasing or emigrating to there, as they will feel more at home surrounded by fellow Chinese who speak the same language and share a familiar culture, albeit in a new and foreign city.
#2 Attractive investment haven
New York City's reputation as a gateway city is well deserved, and its property market, which offers strong returns on investments (ROIs) and relative affordability, is undeniably enticing to Chinese investors who are always on the lookout to make a killing.
However, its investment appeal goes beyond that; it's the diversity of New York that attracts Chinese to purchase – be it for live-in, holiday home, or purely investment purposes.
For Chinese buyers who are bona fide city urbanites, Manhattan's metropolitan allure and convenience is heady. Tired of concrete jungles and in search of nature? The Hamptons in Long Island and Staten Island are perfect options.6 You get the picture.
Even Chinese business and financial enterprises know a great deal when they see it – Chinese developers, insurers, and corporations invested a whopping $5.78 billion in total in New York, beating London, Melbourne, and Sydney to become the top destination for Chinese commercial investment in 2015.7
#3 Quality education hub
It's a well-established fact that education spurs Chinese international property investments, and the New York State offers a wide array of elite private schools and Ivy League institutions, such as Columbia University, Cornell University, and New York University (NYU).
83% of China's well-heeled intend to send their children overseas for studies, and the US is their #1 education destination.3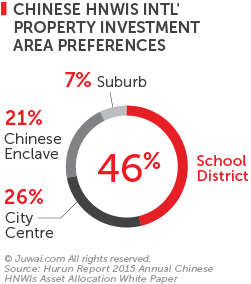 These prominent schools reinforce New York's appeal to wealthy Chinese buyers as well – most who desire their children to attain the prestige and academic prowess gained as a student there.
And more often than not, these affluent Chinese parents would spare no expenses in purchasing the perfect home for their children to live in while they pursue their international education there.
46% of rich Chinese will take a first look at school districts when surveying where to purchase property, compared to 26% who opt for downtown, 21% who seek Chinese enclave, and 7% who prefer the suburbs.8
What else?
Asides from these three factors mentioned above, let's not forget about New York's extensive public transport accessibility, vibrant cultural diversity, and its urban conveniences yet close proximity to beautiful national parks.
All these come together to depict why New York is much sought after by Chinese buyers, and why – whether it's from Manhattan to Brooklyn or New Jersey – Chinese will ramp up their property shopping in New York.
Capitalising on the Chinese investment wave
Considering the US reigns as the top country of choice for Chinese buyers – the largest group of foreign property investors in the US1 – taking advantage of this upsurge in Chinese real estate investment is a natural step to take for property agents and brokers.
Nevertheless, capturing the Chinese market is easier said than done. One way to achieve this though, is to partner for profit to leverage the power of allies who knows how to navigate the China market, such as NY State MLS (NYSMLS), who teamed up with Juwai last September.
Covering all 62 counties across the New York state, this partnership between NYSMLS and Juwai.com will boost exposure of all NYSMLS listings, offering better access to Juwai's monthly audience of 2 million Chinese HNWIs (high net worth Chinese).
"Syndicating listings directly to Juwai.com will be a true benefit for our members, because it is the number one source of Chinese buyers. [...] Many agents are hearing directly from sellers that they want their property marketed in China," said NYSMLS President Dawn Pfaff.
According to Juwai.com Co-Founder Simon Henry, NYSMLS will enjoy the advantage of reaching the largest possible audience of Chinese investors not just in the US, but globally as well.
"Only on Juwai.com can agents be sure that Chinese buyers can actually see their listings, as our site is hosted not in the US but in China, and thus is not blocked by what's been called the Great Firewall of China," he adds.
Sources: 1. National Association of Realtors (NAR); 2. Juwai Data Q4 2015; 3. Hurun Report "Immigration and the Chinese HNWI 2015"; 4. NYC Department of Planning; 5. China Daily; 6. The Street; 7. Knight Frank "Chinese Outbound Real Estate Investment: New Waves, New Destinations" 2015; 8. Hurun Report "2015 Annual Chinese HNWIs Asset Allocation White Paper"
喜欢这篇文章?免费注册,获取居外亚洲市场的最新资讯!