You've successfully copied this link.
Will Xi Jinping's visit drive a Chinese buyer boom to Florida?
By Juwai, 25 March 2017

Florida has been on a winning streak with Chinese buyers lately, and China President Xi Jinping's visit may just extend that streak.
The Chinese President is meeting US President Donald Trump in Florida for a two-day summit on 6 and 7 April 2017 at Trump's Mar-a-Lago estate – referred to by Trump as the 'Southern White House' – in Florida's Palm Beach.
Chinese spotlight on Palm Beach and Mar-a-Lago
Regardless of how the summit may turn out for this first meeting between the US and China Presidents, one thing's for sure, and that is millions of Chinese eyes will now be riveted on Florida – especially on Palm Beach, which is already a rising hotspot with Chinese real estate investors.
Chinese average monthly views for Palm Beach on Juwai.com were up 293.5% from 2015 last year.1
According to Juwai.com CEO Charles Pittar, Chinese President Xi Jinping's visit is also set to turn Mar-a-Lago resort – whose membership costs $200,000 per year – into a status symbol among China's high net worth individuals (HNWIs).
"Unless the summit goes wrong, Mar-a-Lago had better have an application form in Chinese. They should expect a spike in Chinese applicants to emulate their President and be members of the club where he conducts his state visit to President Trump," said Pittar to Property Portal Watch.
In a live interview with CNBC earlier today, Pittar shared that China President Xi Jinping's visit "sends a strong message to China's domestic audience that (Florida) is a wonderful destination in which they should have confidence."
"A huge amount of interest already (exists) for Florida from our Chinese audience, and I would agree that the (Chinese) President's visit today would only increase that," said Pittar.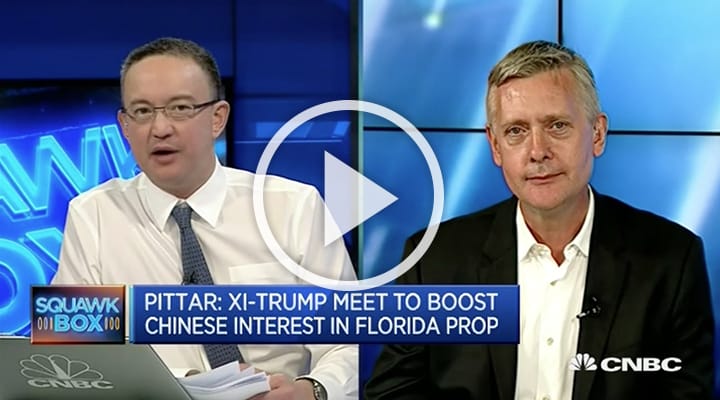 Why do Chinese buyers love Florida?
2016 was a great year for Florida, the Sunshine State, which saw Chinese buyer enquiries growing 63% y-o-y. It was the #2 most enquired US state by Chinese property investors on Juwai.com last year.1
Orlando actually shot up to become the #1 most enquired US city for Chinese buyers on Juwai.com, which was a 199% increase in demand from 2015.1
Besides Orlando, Fort Lauderdale was another Florida city that saw a meteoric rise in popularity on Juwai.com, with Chinese enquiries increasing by 894%.1
This surge in Chinese interest is no surprise, given that Florida is an eminently attractive market that offers strong returns alongside relatively affordable prices.
"There are many individual and corporate investors buying in Florida, but Chinese developers are also exploring the state looking for good opportunities to build," Pittar tells Forbes.
That said, with the Chinese President's visit looking set to drive more Chinese attention on the Sunshine State – similar to how it did when President Xi visited the UK – agents and developers in Florida should start hustling to get ready for an influx of interest from Chinese homebuyers in the coming months.
Keen to know more? Find out 4 other reasons why Florida is the next big thing for Chinese buyers in 2017.
[Updated on 7 April 2017]
Source: 1. Juwai IQ Data 2015-2016;
喜欢这篇文章?免费注册,获取居外亚洲市场的最新资讯!