You've successfully copied this link.
5 ways the UK just got more enticing for Chinese buyers
By Juwai, 15 December 2015

China President Xi Jinping's visit to the UK1 was a short one, but its effects on the UK property market will be long-lasting.
Here we give you five reasons why:
#1 UK travel visas will be more Chinese-friendly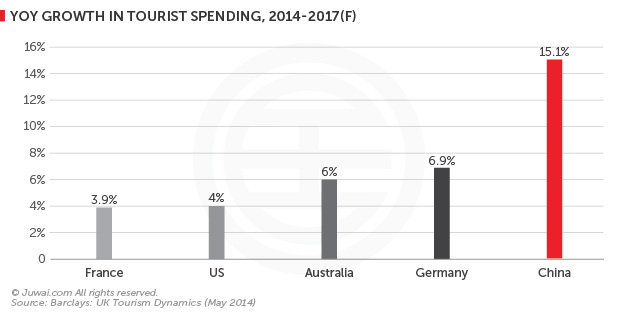 In a monumental move that is bound to attract more Chinese travellers, the UK government has agreed to extend the maximum length of a visa to 2 years2, prepare for 10-year multi-entry visas in the future, cut fees from £325 to £853, and increase the number of processing centres in China from 10 to 50.
Longer stay time means the prospect of buying property and living long-term in the UK becomes a more realistic option. Also, more processing centres in lower-tier cities will tap into the fastest growing and most adventurous markets for outbound property investment from mainland China
Expanding the visa processing network will ease the application burden for students looking to move to the UK too, especially as Chinese high net worth individuals (HNWIs) see the UK as the second most favourite education destination for their children.
UK government statistics show 68,294 new Chinese students travelled to the UK in H1 2015 alone4, a significant increase compared to the 58,810 new Chinese students accounted for the whole of 2014.5
By making visa application centres more accessible, as well as giving parents and students easier access to the UK, the British government has further solidified the Chinese investment case for UK property.
#2 Higher UK profile = stronger spending by Chinese tourists
Chinese interest in the UK is riding high on the back of President Xi Jinping's trip, particularly after the effusive – and almost royal – welcome he received there.
That said, we can expect more Chinese travellers jetting over to the UK, many who would undoubtedly loosen their purse strings while there.
Barclays Research estimates that Xi's trip will increase the UK's allure for Chinese globetrotters. So much so that together with the relaxed UK visa rules and China's growing purchasing power, Chinese visitors will splurge a whopping £1 billion (US$1.89 billion) per year in the UK by 2017.
That's a 73% increase from £577 million (US$867 million) spent in 2013.
With an extra 15.1% being spent per year in the UK by the Chinese, its growth will massively outperform forecast spending growth by tourists from other major markets, such as the US (4.0%), Australia (6.0%), and Germany (6.9%).6
Considering overseas trips are also often a gateway to property investment for Chinese buyers, international agents should get set to meet a boost in Chinese investment interest in UK properties as well.
#3 Chinese companies will invest an extra £126 billion in the UK by 2025
£126 billion (US$191 billion) – that's how much the UK's Centre for Economics and Business Research (CEBR) estimates new Chinese investments following Xi's trip would be worth by 2025.7
Chinese companies are in a foreign investment drive, and are increasingly attracted by the UK's reputation as a top location for corporate investment and positioning as a strategic entry point for exports to Europe.8
Based on strong expectations for population growth and a continued lack of supply to meet demand in the UK market, real estate investment will feature heavily – CEBR estimates £30.2 billion (US$45.3 billion) worth of Chinese investment in UK property by 2025.
As in other main markets, Chinese developers, such as Dalian Wanda9, Shanghai Greenland10, and Fosun11 will continue to lead the charge in the UK, investing in projects12 such as Greenland's Hertsmere development and ABP Group's Asian Business District scheme, which will be targeted at mainland China investors.13
Top projects include Dalian Wanda's luxury One Nine Elms development in Battersea and Vanke's The Stage project in Shoreditch, two areas that are expected to benefit from the construction of new infrastructure projects – such as the Northern Line Extension and the Crossrail project – which have provided a boost to investors because they will provide rapid transport links between these fast-developing areas of London and the rest of the metropolis.
#4 China-led infrastructure improvements will open new markets
The CEBR also estimates that approximately half (£69 billion or US$103.6 billion) of the £126 billion UK FDI splurge by Chinese companies will fund infrastructure projects.
Most notable is the HS2 (High Speed 2)14 railway project15 linking London, Birmingham, Leeds, and Manchester that (in the case of Birmingham to London) will cut travel time from two and a half hours to 50 minutes.16
These projects give Chinese companies a chance to expand abroad, prove their mettle through delivering high-quality, high-profile transport, and promote regional development and migration in the UK by linking cities more efficiently – killing three birds with one stone.
The trend of improving infrastructure, exampled by the cases of the multi-city HS2 project and London's Crossrail17, is drastically changing the outlook for the UK property market by opening up more opportunities for Chinese buyers.18
London suburbs, as well as smaller cities in the UK like Birmingham, Leeds, and Manchester are more keenly priced than in the centre of London19, and the added convenience of fast, reliable transport links is making them attractive for real estate investors.
#5 Chinese buyers will target emerging UK property markets
With the above factors in mind, Juwai's most recent search data shows that Chinese investors are voting with their feet and their website clicks.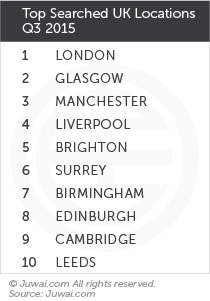 London – with its prestige, educational and lifestyle opportunities, and rich retail market – remains the top choice for Chinese investors.
Increasingly, however, locations such as Manchester, Liverpool, Brighton, and Birmingham are attracting a lot of interest as improved infrastructure, new developments, and keener pricing are making alternative UK locations more viable.
The factors outlined above: easier visas, the UK's cultural allure, the expansion of Chinese companies' presence in the UK, plus an infrastructure revamp, are adding extra credence to the UK's already solid investment case of excellent higher education opportunities, tourism options, and retail attractions.
With these factors in mind, and with potential overseas property investment from Chinese buyers estimated at around US$661 billion20, Xi's trip has given the market a boost, so get prepared to claim a share of this highly lucrative market.
Sources: 1: CNN; 2. Reuters; 3. Travel Weekly; 4. Lexology; 5. Britain's Higher Education Statistics Agency; 6. Barclays Research: UK Tourism Dynamics; 7. Pinsent & Masons, Centre for Economic and Business Research: China Invades West; 8. Ernst & Young: UK Investment Attractiveness Survey 2015; 9. Dalian Wanda: One Nine Elms Project: 10. Mingtiandi.com; 11. Financial Times; 12. The Telegraph; 13. The Daily Telegraph; 14. Wikipedia; 15. HS2 Route Map; 16. Red Cube Property; 17. Crossrail; 18. New York Times; 19. Corporate Livewire; 20. World Property Journal
Liked this article? Sign up for free to get Juwai Juwai Asia Market updates!