You've successfully copied this link.
Chinese tourists to spend $264 billion overseas by 2019
By Juwai, 29 April 2015

Since 2012, China has been the world's biggest outbound tourism market1, and their impressive growth rate is outstripping that of every other country's.
109 million Chinese globetrotters spent $164 billion overseas last year – a staggering jump from the 10 million Chinese that travelled abroad in 2000.2
And as China's burgeoning population (1.39 billion as of July 20143) becomes more and more sophisticated and urban, Chinese consumers are increasingly being bitten by the travel bug.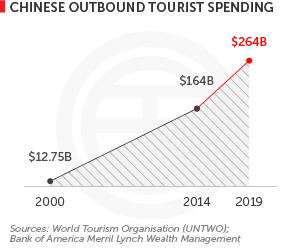 A recent report from Bank of America Merrill Lynch predicts there will be 174 million Chinese outbound travellers by 2019 – and that's to be accompanied by a prospective $264 billion financial outflow to other countries via overseas shopping!2
By 2020, CLSA forecasts outbound Chinese jetsetters will hit 200 million – projecting a whopping 26 million increase in just one short year.
Global brands catering to Chinese tourists
With so much tourism money going abroad, it's obvious that some international brands would want to cash in on the big bucks coming out of China's tourism boom.
World-famous British department store Harrod's for example, has been very active on this front.
From installing China UnionPay terminals at checkout counters and hiring Mandarin-speaking employees, to releasing a Chinese-language Harrods magazine and catering to Chinese palate with 3 Asian restaurants…it's no wonder that for every £5 spent by Chinese visitors in UK, £1 is spent in Harrods.4
Harrods even has social media factored in, having launched a WeChat campaign to disseminate product knowledge and promotions.4
WeChat is the #1 mobile app in China with over 500 million monthly active users.5
Chinese brands vie for Chinese dollars in new ways abroad
What's truly telling (and innovative), however, is that even local Chinese brands are heading abroad to target this transient yet big-spending Chinese audience. A case in point is Inner Mongolian dairy brand Yili Dairy, which splurged to feature its ads on over 400 of London's double-decker buses during the 2012 Olympics.6
Never mind the fact that the bus ads were in Chinese. The product itself wasn't even available in the UK.
This probably have a lot of British citizens a bit confused, but what Yili Dairy was doing was forking out a fortune on ad spend abroad to raise their brand prestige in the eyes of Chinese travellers overseas by associating its brand with the well-respected international destination.
Subsequently, Yili Dairy deduced that the brand consciousness built in the minds of these Chinese tourists would carry over back to China, and these consumers would become more inclined to purchase Yili Dairy products at home.
Now that's what we call forward thinking!
What this means for real estate and international agents
With the massive amount of capital outflow from Chinese consumers, exemplified by the impressive spending by Chinese on international tourism, as well as luxury, you can deduce by now that this trend translates to an increased allocation of money towards international real estate investment as well.
With a burgeoning reputation as Fly 'n Buy clients, 66% of deep-pocketed Chinese buyers have no qualms about investing anywhere between ¥3 million – ¥12 million (approx. US$4.82 million – US$19.3 million) on overseas property.7
Most recently, a Sydney luxury waterfront mansion listed on Juwai.com captivated a Chinese investor couple. They contacted the property agent from LJ Hooker Seaforth, flew over to view the property, and promptly paid over A$7 million (approx. US$5.47 million) for it after the visit.
Chinese are the world's biggest spenders, and they're the world's fastest-growing group of foreign property investors. They have the cash, and they are willing to spend it. With the right Chinese marketing strategy, you too can capture some of this market.
New to the Chinese market? Sign up now, and get the latest news about China and real estate news on our Juwai blog.
Sources: 1. United Nations World Tourism Organisation (UNWTO); 2. Bank of America Merrill Lynch Wealth Management; 3. World of Meters; 4. WSJ; 5. SCMP; 6. CKGSB Knowledge; 7. Hurun Report "Immigration and the Chinese HNWI 2014"
Loved this article? Sign up for free to get Juwai China Market updates!