In the past few years, Chinese buyers have started to make their presence felt on the global property market, snapping up everything from luxurious trophy homes and vineyards, to more modest condominiums and investment opportunities. For many Chinese, global property investment is an emerging opportunity which until recently was out of reach.

Second only to the US in terms of international buying power, Chinese buyers represent a tremendous new market opportunity for property sellers around the world. Yet, new opportunity brings new challenges in reaching, communicating and engaging this new market.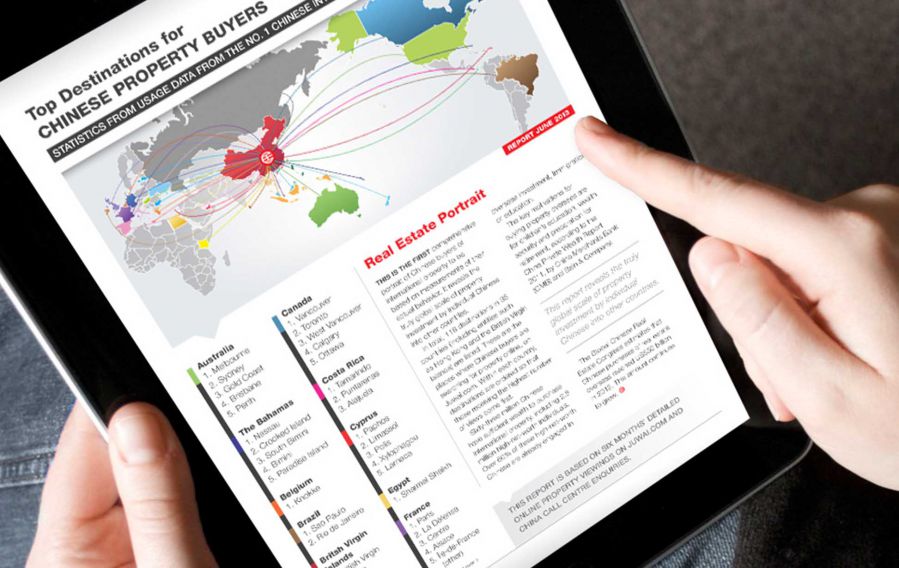 Great rise of the Chinese consumer
China boasts some of the wealthiest people on the planet, most whose personal fortunes can dwarf treasuries of medium-sized countries, and the growing population of upper-middle-class Chinese now also has their eyes set on international property.
100 million
upper-middle-class Chinese by 2020
3.88 million
high-net-worth Chinese by 2020
280 million
affluent Chinese by 2020
Source: The Boston Consulting Group & AliResearch "The New China Playbook"; The Boston Consulting Group & China Industrial Bank "2016 China Wealth Report"; The Boston Consulting Group "The Dynamics of China's Next Consumption Engine: The Age of the Affluent"
Motivations for Chinese global property investment
OWN USE
of rich Chinese
buy property abroad to live in - 52% who prefer schools districts, 23% in CBD, and 17% near Chinese communities
Emigration
of wealthy Chinese
have either migrated or are planning to move overseas
Investment
of China's HNWIs
intend to invest abroad in next 3 years - 66% who plan to buy residential properties
Education
of wealthy Chinese
intend to educate their children overseas
Sources: NAR: 2017 Profile of International Activity in U.S. Residential Real Estate; Hurun Report "Chinese Luxury Consumer Survey 2017"; Hurun Report "Immigration and the Chinese HNWI 2016"; Hurun Report "Immigration and the Chinese HNWI 2015";
---
How Chinese search for property
For international purchases, Chinese buyers conduct as much research as possible about a property listing, the company selling the property, the country property laws, immigration requirements, education standards, and many other personal criteria each individual may have. They favour famous brands (Chinese or Western), or companies that can display their professionalism and good reputation. Most confer
with family both offline and online via Chinese social media, and naturally, information not in Chinese is difficult to consider. Some Chinese buyers will establish early contact about a property, whilst others will take the time to research your company before making contact. For many Chinese, they often wait for their China travel visa approval and will call about the listing from the airport.
of Mainland Chinese
speaks fluent English
of China's HNWIs
are active WeChat users
of affluent Chinese
access the internet each day
91 million
online property seekers
753 million
mobile internet users
772 million
Chinese online users
Sources: China Internet Network Information Center (CNNIC), January 2018; Hurun Report "The Chinese Luxury Consumer Survey 2017"; Hurun Report "The Chinese Luxury Consumer Survey 2015"