You've successfully copied this link.
9 reasons why Seattle is firing up Chinese buyer interest
By Juwai, 25 April 2017

2016 saw Chinese buyer enquiries for Seattle rising 83% y-o-y on Juwai.com, following a 118% y-o-y increase in 2015.1
Seattle has seen an enduring surge in popularity with Chinese property investors in recent years, but what lies behind this lasting fascination with America's 3rd-best tech city2 that saw it surpass New York City to become one of Chinese homebuyer's most enquired US cities last year?1
Seattle is the #4 top enquired US city on Juwai.com in 2016, just behind Los Angeles (#3), Houston (#2), and Orlando (#1).1
Chinese investment fever for Seattle continues
Chinese first became more aware of Seattle back around three to four years ago, thanks to the 2013 Chinese box office hit titled "Finding Mr. Right" – or "Beijing Meets Seattle" in Chinese – which drove massive Chinese buyer attention to Seattle in 2014.
In fact, Chinese buyer enquiries for Seattle leapt 803% y-o-y on Juwai.com in 2014, and Seattle's popularity eventually saw Chinese buyers spending an estimated $1.5 billion on residential properties in the state during 2015 alone.3
It's no wonder that Seattle, also hailed as the Emerald City, is Washington state's jewel in the crown. Most recently, though, a flurry of construction projects within the city – driven by a spate of Chinese investment – has led to the rise of a new moniker that crowns Seattle as the 'Crane capital of the United States'.4
Seattle had 62 cranes at work in Q1 2017 – that's 18 more than Los Angeles, and three times as many as New York, and that construction boom is partly being driven by Chinese investors and developers.4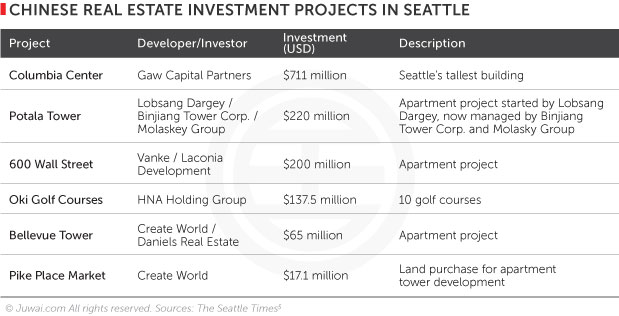 Interestingly, one of the main drivers behind Seattle's burgeoning real estate development pipeline is thanks to myriad Chinese investment through the US government's EB-5 residency visa programme.5
Rough estimates by The Seattle Times put total investment funnelled into Seattle projects through the EB-5 programme at $2 billion, with Chinese investors accounting for the majority.5
Indeed, growing demand for Seattle property, particularly from Chinese buyers, has significantly improved prospects and long-term growth potential for the Seattle market, and the 15% foreign buyer tax imposed in nearby British Columbia in July 2016 has helped propel this surge in demand for Seattle property among Chinese real estate investors as well.
Chinese buyers searches for Seattle grew 125% y-o-y on Juwai.com in November 2016 – following a 71% increase in October – before growing another 1.8% in December. In contrast, Vancouver saw Chinese buyer searches for dropping 37% y-o-y in December on Juwai.com.1
9 reasons why Seattle is winning over Chinese buyers:
What lies behind Seattle's appeal to real estate investors from China? We delve into Seattle's unique appeal as a highly attractive market, and share 9 factors that make Seattle a compelling alternative to other real estate hotspots in the US:

#1 Lifestyle choices
Hailed as one of the top US cities for millennials to live in6, 18, Seattle boasts a diverse choice of neighbourhoods – think Bellevue, Redmond, Mercer Island, and Carnation – as well as a range of waterfront properties that open out onto the picturesque Lake Washington and Puget Sound. Compared to most of the housing stock in China's dense and highly-urbanised cities, that's a stark contrast that greatly appeals to many Chinese real estate buyers. Beyond that, Seattle also offers a simpler, down-to-earth lifestyle that is far from the opulence in bigger cities, which may suit Chinese buyers looking for a more serene city to relocate to.7

#2 Affordable prices
Boasting average housing prices in Q1 20178 some 14% cheaper than Los Angeles9, 18% lower than Vancouver10, and a considerable 26% cheaper than San Francisco11, Seattle property prices compare favourably to other real estate hotspots in the US and Canada. For Chinese property investors who are increasingly on the lookout for better value for money, this is a no brainer factor driving them towards Seattle.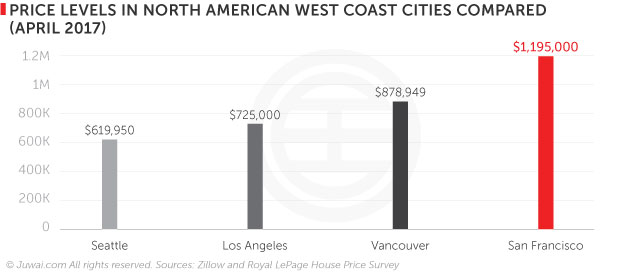 #3 Prospects
Ranked as one of the hottest US real estate markets in 2017 just slightly behind Orlando, Seattle offers excellent prospects for price growth, with forecasts of a 5.6% y-o-y rise in real estate prices during 2017.12 That makes Seattle a highly attractive prospect for real estate investors, particularly Chinese buyers who are always on the lookout for a bargain, and would consider Seattle properties a steal when compared with property prices back home in China.


#4 Connectivity convenience
With the Seattle-Tacoma International Airport (Sea-Tac) being one of the closest US airports to China, direct flight links between Sea-Tac and China have been growing steadily in recent years. Now that Xiamen Airlines, a subsidiary of state-backed China Southern Airlines, have launched a new direct route between Xiamen and Seattle13, this takes the number of weekly direct flights between China and Seattle to six, making it easier and faster for Chinese to travel to Seattle.

#5 Excellent education
Education is a massive motivation for Chinese to purchase property abroad, and Seattle boasts some of the best public schools in the US. Three of its high schools rank within the top 200 public high schools in the US14, and Seattle's University of Washington ranks 25th in the World University Rankings 2017.15 It also helps that Seattle is one of the top tech cities in the US and the world16, which brings us to the next point.

#6 Tech haven
As one of the top tech cities in the US and the world16, Seattle is a tech job haven that offers consistent job opportunities, thanks to the presence of Microsoft and Amazon there. It's also one of the most dynamic and rapidly-changing cities – Seattle has weathered the recession better than most regions in the past decade, and has surpassed the Silicon Valley to post a 43% increase in tech employment from 2001-2011, as well as 12% tech job growth over the past two years, according to Forbes.17 Tech aside, Seattle also offers much job opportunities in manufacturing, thanks to Boeing, as well as healthcare and maritime.18

#7 Chinese community
With nearly 99,000 Chinese-Americans accounting for 2.7% of its total population even back in 2015, Seattle is home to one of the larger Chinese-American population in the US19, and we've yet to even include Chinese students and new immigrants who have becomes new residents in recent years. Such a significant Chinese population will weigh heavily with Chinese homebuyers, as many would be enticed and comforted by the fact that they will have access to Chinese culture, food, and people speaking the same language.

#8 Cultural heritage
Being the birthplace of Jimi Hendrix, Kurt Cobain, and Starbucks, Seattle scores highly for cultural appeal. The city boasts outstanding museums as well, such as the Seattle Art Museum, plus quirky retail options like Pike Place to keep Chinese culture vultures occupied.

#9 Natural attractions
Sandwiched between water and mountains, Seattle offers much in terms of nature. Seattle's city centre scores highly on the Urban Land Institute's walkability scale20, but it's also a short ride away from some of the US's most beautiful natural attractions, including Olympic National Park, Mount Rainier National Park, and Port Angeles.
Seattle, a long-term growth investment pick for Chinese
With cumulative Chinese foreign direct investment in Washington state businesses growing to $681 billion in 2016 – up 48.4% y-o-y21 – it's clear that Chinese investors are building an increasingly large presence in Seattle and its surrounding area.
According to Dean Jones, owner of Realogics Sotheby's International Realty in Seattle, Chinese buyers now account for over 50% of buyers in Seattle's most popular neighbourhoods, compared to 35% of buyers in 2015 and less than 25% of buyers in 2014.22
Suffice to say, this further reinforces the case for Seattle's long-term potential as an investment hotspot for Chinese real estate buyers. Together with the fact that Chinese buyer searches for US properties grew 42.7% y-o-y on Juwai.com in February 2017, there has never been a better time to market Seattle properties to Chinese buyers than now.
Sources: 1. Juwai IQ Data 2016; 2. CBRE: Scoring Tech Talent Report 2016; 3. Real Deal: US National Market Report; 4. Financial Times: Construction boom makes Seattle 'crane capital of US'; 5. The Seattle Times: Foreign investors pouring billions into Seattle commercial real estate; 6. Nestpick: Millenials Cities Ranking 2017; 7. The Seattle Globalist: Are Chinese international students feeding Seattle's real estate crisis?; 8. Zillow: Seattle Home Prices & Values; 9. Zillow: Los Angeles Home Prices & Values; 10. CTV News: In charts: Tracking house prices in Canada's hottest housing markets; 11. Zillow: San Francisco Home Prices & Values; 12. Patch: Seattle market will be No. 2 hottest in 2017; 13. CNBC: China's Xiamen Airlines makes first US touchdown, with hopes for many more; 14. U.S. News Best High Schools Rankings 2017; 15. Times Higher Education: University of Washington; 16. Savills Tech Cities 2017; 17. Forbes: The best cities for tech jobs; 18. Business Insider: America's 12 best cities to live in right now; 19. 2011-2015 American Community Survey; 20. ULI Northwest: Seattle ranks in top ten walkable US cities; 21. Rhodium Group: China Investment Monitor; 22. Forbes: Seattle real estate sees surge in Chinese interest after Vancouver enacts 15% tax;
喜欢这篇文章?免费注册,获取居外亚洲市场的最新资讯!