You've successfully copied this link.
3 ways Chinese buyers are adapting to China's new capital rules
By Juwai, 30 March 2017

Despite tightened money transfer policy effective 1 January 2017, Chinese overseas property buyers remain undeterred.1
Although the policy tightening was meant to curb the overseas property investment binge, Chinese buyer views have shown robust growth for top destinations on Juwai.com in February 2017, especially rising investment destinations like Thailand and Malaysia, which grew 89.3% and 69.4% y-o-y, respectively.2
Chinese buyer views for Canada, the US, and the UK saw a 47.2%, 42.7%, and 32.5% y-o-y increase, respectively, on Juwai.com during the same period as well.2
This surge in Chinese buyer interest correlates with data from WeChat Index as well, which revealed that Chinese searches for investment hotspots, such as Australia and Thailand, actually saw more searches in February and March 2017.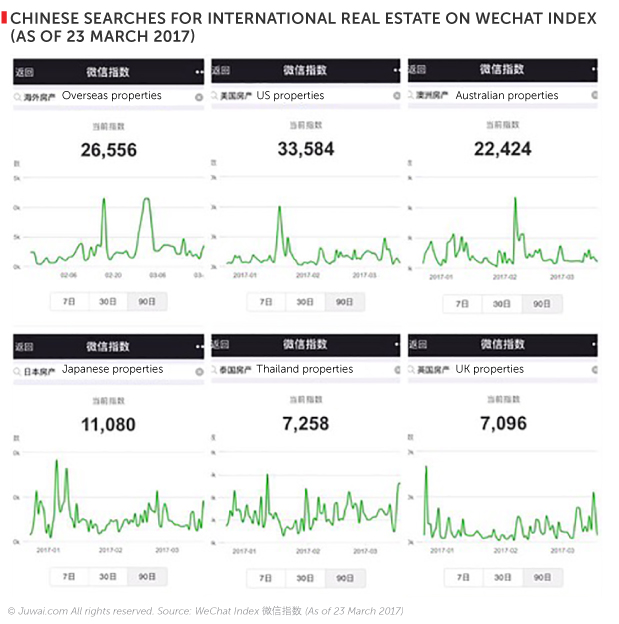 WeChat Index is a trial mobile search data product recently launched by Tencent, which leverages the massive 889 million users of WeChat, China's most popular social app.3
By providing a review perspective of historically popular keywords searched over the past seven, 30, and 90 days, WeChat Index offers insights into wider trends that Chinese internet users pay the most attention to, thus allowing companies to better market to Chinese by analysing Chinese user interests.3
3 ways eager Chinese buyers are working around tightened policy
Ever resourceful, Chinese buyers are rolling with the punches, acclimatising to the new capital controls and finding ways to sidestep it amidst rising demand for international property. A recent report from The Real Deal looking at New York – one of Chinese buyers favourite real estate markets – shows how Chinese buyers are adapting to get deals signed.4

#1 Adjusting the focus
With forex rules of Chinese individuals being only allowed to buy up to $50,000 of foreign exchange per year5 being more strictly enforced, many Chinese buyers have switched focus to now target lower-priced properties around $1 million to $5 million, as it's easier for them to put together a deposit.
"The real sweet spot is $1 million to $2 million……….for people who aren't super wealthy….it's a number that makes sense," says Pam Liebman, CEO of Corcoran, a New York-based realtor and Juwai partner.4
This chimes with Juwai IQ Data – 20.7% of Chinese buyers on Juwai.com looked for property ranging between $1 million – $5 million last year.2

#2 Making use of mortgages
While most Chinese buyers have a preference for paying all in cash – 71% of Chinese investors who purchased in the US paid in cash last year6 – a growing number of Chinese are now making more use of loans finance to get deals done.
In fact, 50% of Chinese buyers completing deals so far in 2017 have financed with a loan, according to a realtor cited by The Real Deal. That said, American banks have been quick on the uptake, with many adapting to the changing market by increasing their offerings of loans geared towards foreign buyers.
Well-known banks, including the East-West Bank, Bank of China, the Industrial and Commercial Bank of China (ICBC), Guardhill Financial, and Abacus Federal Savings Bank have all spotted the potential of the Chinese market and adapted their loan products accordingly.4

#3 Huge markets remain unaffected
Strangely enough, purchases for education, travel, and medical care are still allowed by the Chinese government, and that means a huge market left untouched by government controls.
Education stands as one of Chinese buyers main motivations for buying overseas property – 52% of Chinese buyers look for property in school districts7, and 83% of rich Cihinese intend to send their children abroad for education.8
With more Chinese travelling overseas than ever before – 200 million Chinese are expected to head overseas by 20209 – buyers are looking for holiday homes also, with the US, Europe, and Southeast Asia well and truly in their sights.
Medical care overseas is increasingly attractive to Chinese, and a growing driver of property demand. Chinese spent an estimated $10 billion on overseas medical care in 2015, and are looking for properties in medical care hotspots such as the US, Japan, Canada, Thailand, the UK, and Singapore.
Chinese buyer outlook remains positive
With Chinese real estate investors increasingly readjusting to new government rules, and huge parts of the market for overseas property still open for investment, the outlook for Chinese demand remains positive.
Strategy is key, though, to maximise your appeal to real estate buyers from China, so bone up on how to launch an effective online strategy, such as via the right Chinese social media; target peak sales seasons, including Golden Week; and build trust with a prospective client.
Sources: 1. SCMP: Buyers shrug as China tightens forex rules for overseas property binge; 2. Juwai IQ Data 2016-2017; 3. Sixth Tone: 'WeChat Index' opens opaque social network up to marketers; 4. The Real Deal: Suddenly less liquid Chinese buyers shift strategies in NYC; 5. Reuters: China's new rules on yuan transfers are not capital controls: Xinhua; 6. NAR "2016 Profile of International Activity in U.S. Residential Real Estate"; 7. Hurun Report: Immigration and the Chinese HNWI 2016; 8. Hurun Report: Immigration and the Chinese HNWI 2015; 9. CLSA: Chinese outbound tourism remains on track to reach 200 million by 2020;
Liked this article? Sign up for free to get Juwai Juwai Asia Market updates!