You've successfully copied this link.
China's outbound medical tourism spurs global property investment
By Juwai, 11 October 2016
Chinese tourists spent $215 billion overseas last year – $10 billion that went towards overseas medical tourism alone.1
Chinese currently reign as the world's biggest spenders when travelling abroad, and judging from recent news, their splurging abroad has now extended towards health, wellness, and medical care as well.
Indeed, China is on the rise to become one of the world's largest outbound medical tourism markets2, and this strong prospect for future Chinese demand is set to drive the global market for medical tourism up to $678.5 billion by 20173 – an impressive 54.7% growth from the $438.6 billion charted in 2015.3
3 factors compelling Chinese to seek healthcare abroad
Chinese residents – spurred by rising income and growing awareness – are increasingly demanding better quality private healthcare, a key factor underpinning Boston Consulting Group's forecast that private health insurance spending in China will grow to RMB 1.1 trillion in 2020 from last year's RMB 241 billion.4
We share 3 fundamental, ongoing trends that will drive Chinese overseas medical tourism in the coming years:

#1 China's widening market of HNWIs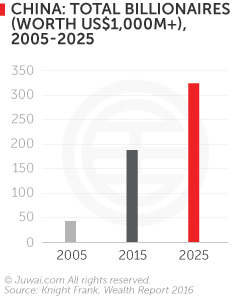 China's high-growth economy has produced a huge market of high net worth individuals (HNWIs).
In 2015, 30,500 Chinese were classed as multi-millionaires (worth $10m+ each) by Knight Frank's Wealth Report.5
That's a quadruple increase on the 7,090 ranked in 2005, and this population is expected to have grown to 53,380 by 20255, with similar trends across other HNWI classes.
With this fast growth in the HNWI population, the slow catch-up in supply of domestic medical services, and the accessibility of high-quality alternatives abroad, this troika is fuelling Chinese demand for VIP medical services.
This trend mirrors trends seen in other high-end markets, including housing and luxury goods, in recent years.

#2 Burgeoning ageing and urban population
By 2020, China's rapidly-ageing population (citizens aged 60+) is projected to reach 240 million.6
This, combined with China's increasingly urban population that measured at 780 million in 20157, has driven stronger demand for specialised, urban healthcare services.
However, despite the government's effort to increase it, government health spending in China remains low by international standards.
This means that as demand has skyrocketed in China, waiting times and service standards, on the other hand, have frequently fallen behind those in overseas locations.8

#3 Increased emphasis on health and fitness
Inevitably, the first two factors comes along with a stronger awareness and mindfulness over their own health, as most Chinese HNWIs' quest for business success usually comes at the expense of their own health, while the elderly naturally would have higher rates of chronic diseases.
50% of China's HNWIs ranked healthcare as their #1 topic of interest out of a list of 10 topics, followed by sports (44%) and financial investment (39%).9
Having taken note of this, China's rich and wealthy are beginning to factor healthcare into their overseas investment strategies.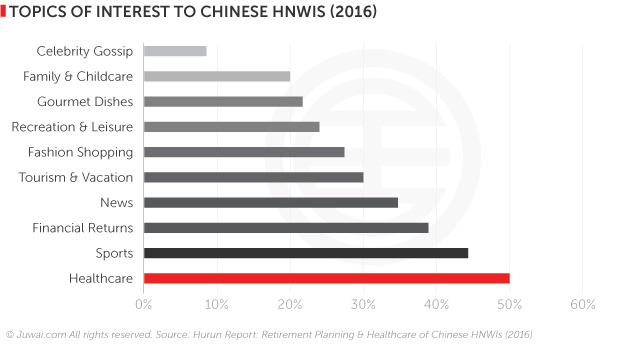 Cashing in on this rising trend
With such a compelling growth story, even Chinese firms are trying to get in onto the opportunity – Dalian Wanda invested $2.3 billion to build hospitals targeted at both Chinese HNWIs in Shanghai, Chengdu, and Qingdao, as well as foreigners looking towards China as a medical tourism destination itself.10
Nevertheless, overseas medical services remain more enticing for most well-heeled Chinese, and even China's middle-class are jumping onto the bandwagon.
More importantly, medical services across the world have caught on to this trend, with many now directly marketing their services to meet the upsurge in Chinese patient demand. A stellar example is the famed Cedars-Sinai Medical Center in Los Angeles.
Recently profiled as 'Hollywood's Glamour Hospital'11 and ranked as the 13th best hospital in the US12, Cedars-Sinai recently opened an office in Shanghai to help arrange US treatments for Chinese clients.13
How does this impact Chinese global property investment?
While you may be thinking that such information is nice and dandy but remains unrelated to you as a property agent or broker, think again.
Because just as how China's booming outbound tourism drives more Chinese to invest in property abroad, these three factors boosting outbound medical tourism are propelling international property investment by Chinese homebuyers as well.
After all, many Chinese seeking medical services abroad – especially those seeking treatment for surgery or chronic diseases – are mostly ones who will either be staying in their medical tourism destination of choice for a longer period of time or be recurring visitors who would travel there repeatedly for treatments.
And with Chinese finding overseas property to be a bargain compared to back home, say, in Shanghai or Beijing, most would consider it better value for money to just buy a home to stay in while seeking treatment, rather than renting a place or staying in a hotel for an indefinite period of time.
It's also considered a sound investment for Chinese, who generally think long-term in terms of investment. To them, even when their medical treatment is over, they can just keep the property purely for investment, as a holiday home, or let it out for rent.
66% of Chinese HNWIs believe that residential properties are the most worthwhile investments.14
More importantly, even developers are already taking note of this rising trend, and are manoeuvering to leverage this wave of potential property investment stemming from medical tourism, and a prime example is Miracle Enterprise, a company based in Maine, US.15
Miracle Enterprise is developing a new medical project with treatment facilities, which is coupled with condominiums and timeshares that patients may invest in to give them easy access to healthcare.15
What this means is that we can now add healthcare facilities and availability along to the list of important considerations for Chinese investors when considering an overseas purchase.
In other words, asides from highlighting education, retirement, travel, and visa policies when you market to Chinese, be sure to feature medical or healthcare options within the vicinity as a focal point too, as this could help sweeten the deal for your Chinese buyer.
The burning question that remains, though, is where are Chinese heading for overseas medical tourism, and subsequent potential property investment? Find out in here.
Sources: 1. Caixin: 'Medical tourism' continues to grow in China, as new website offers services; 2. PR Newswire: Outsourcing in China: Medical Tourism Association® joins forces to launch Asia-Pacific 2015 Global Healthcare Congress; 3. Financial Times: Chinese tourism spending leaps 53% in a year; 4. Hollywood Reporter: The secrets of Cedars-Sinai, Hollywood's glamour hospital; 5. Knight Frank "Wealth Report 2016"; 6. Brookings Institution: Racing towards the precipice; 7. Worldometers: China population; 8. World Bank: Health expenditure per capita (current US$); 9. Hurun Report "Retirement Planning and Healthcare of Chinese HNWIs 2016"; 10. Jing Daily: Dalian Wanda's new hospital aims to keep China's rich medical tourists at home; 11. SCMP: A thriving ¥1 trillion Chinese market? Private health insurance tipped to flourish as middle class grows; 12. Wikipedia: Cedars Sinai Hospital; 13. China Daily: Chinese spur medical tourism in US; 14. Hurun Report "Immigration and the Chinese HNWI 2015"; 15. Press Herald: Flow of medical tourists from China to start early;
Liked this article? Sign up for free to get Juwai Juwai Asia Market updates!