You've successfully copied this link.
Will EB-5 reforms affect Chinese interest in the US?
By Juwai, 20 September 2017

$14 billion – that's how much Chinese are estimated to have invested into the US via the EB-5 visa programme.1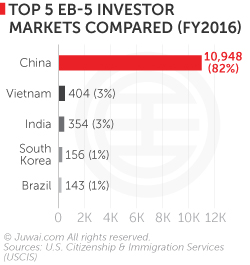 The Chinese have long favoured the EB-5 programme, reigning as the largest group of immigrant investors in the US in recent years.2
82% of the 13,237 EB-5 visas awarded in 2016 went to mainland Chinese applicants alone.3
And while the EB-5's uncertain fate has led to many Chinese rushing to submit their EB-5 applications amidst fears that the programme may be phased out in the future, scores of aspiring Chinese investor immigrants to the US can now heave a temporary sigh of relief as the EB-5 visa's 30 September 2017 deadline has once again been extended to 8 December 2017.4
Chinese demand undimmed despite looming EB-5 changes
Currently, EB-5 reforms are still being debated by lawmakers who want to improve governance of the EB-5 programme. This includes proposed changes to tackle the backlog in applications, limit the number of family visas, and possibly raise the minimum required investment – currently set at $500,000 – to boost the amount of money being channelled by the programme.
One of the biggest questions surrounding these possible changes, though, is whether higher thresholds would deter rich Chinese from investing into the US through the EB-5 programme.
Having examined this question earlier this year here, our take on this issue remains the same, and that is Chinese investors are unlikely to be put off by higher thresholds.
Why? It's because the American Dream is very much alive for many Chinese. The US has been the #1 investment and emigration destination for Chinese for years, and the EB-5 is a tried and tested path to US citizenship – something that countless Chinese aspire for.
Another reason is because the pool of people able to afford the visa fee in China is huge, with a massive HNW population – estimated at 1.87 million at the end of 2017 – who not only has the funds to invest in the EB-5, but are also increasingly keen on emigrating overseas.
EB-5 not the only route to American citizenship
Still, as popular as the EB-5 is, it's also to vital to note that it's not the only route to US citizenship for Chinese investors.
Already, Chinese are beginning to explore other visa classes, such as L1 and EB-1 visas, which can also help Chinese emigrate to the US.
12,597 total EB-1 visas were issued to mainland China applicants in 2016 alone, which is twice the 6,239 issued in 2015.5, 6
In fact, under current proposals, the number of EB-1 visas – an option for Chinese aspiring to work or start businesses in the US – issued per year is expected to grow by 28.6%.5, 6
Besides that, other viable options for Chinese emigrants include the EB-2 and EB-3 visas, both of which are targeted at skilled candidates looking to move to the US for work and business opportunities, but come with different conditions and qualification criteria.
As for the L1 visa, which is targeted more towards senior-level managers and entrepreneurs, successful L1 applicants will not only gain the right to live and work in the US for up to seven years, but also gain an alternative route to a US green card or residency through the EB1C visa.
Considering the L1 visa doesn't come with minimum required investments, nor require a lengthy wait for visa processing, this is yet another attractive option for rich Chinese who find themselves unwilling to wait out the current backlog of several years to attain the EB-5 visa.
US emigration door remains open
On a whole, the EB-5 visas look set to remain a key emigration route for Chinese because the EB-5 is a rigorous system that thoroughly screens all applicants and favours quality migrants, such as foreign high net worth individuals (HNWIs) or highly-skilled professionals, and China is definitely not short on people who meet such criteria.
So, despite Trump's election rhetoric, the US retains a welcoming attitude to Chinese investors, and that bodes well for Chinese who still see the US as their most preferred overseas emigration destination.7
That said, it's good news for US real estate agents as well, because with more Chinese striving to move to the US, that could herald another bumper year of Chinese investment in US property – following the record $31.7 billion tracked in 2016 – in 2017 and the coming years.
Sources: 1. Rosen Consulting Group and the Asia Society; 2. U.S. Citizenship & Immigration Services (USCIS); 3. Geckoboard: EB-5 industry statistics; 4. The National Law Review: H.R. 601 extends EB-5 program and provides $15.25B of disaster relief funds; 5. Forbes: Tired of waitlists and uncertainty, some Chinese favor U.S. visa over green card; 6. US State Department: Report of the Visa Office 2016; 7. Hurun Report: Immigration and the Chinese HNWI 2017;
喜欢这篇文章?免费注册,获取居外亚洲市场的最新资讯!