You've successfully copied this link.
Chinese appetite for US real estate swells to $31.7 billion
By Juwai, 20 July 2017

Chinese bought a record $31.7 billion worth of US residential property between April 2016 and March 2017, a 16.1% increase from the preceding year.1
Despite capital controls being introduced by the Chinese government in late 2016, a latest report by US-based National Association of Realtors (NAR)1 indicate that the Chinese passion for American real estate remains fervent.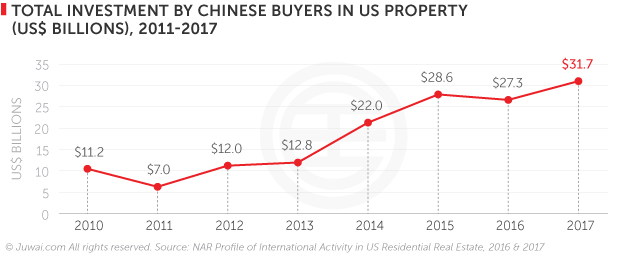 This finding was further supported by another recent survey by Hurun Report, which focused on high net worth Chinese and their emigration outlook.2
According to Hurun Report's "Immigration and the Chinese HNWI 2017" Report, the US remains the top investment emigration and property purchasing destination for China's rich and wealthy for the third consecutive year, followed by Canada, the UK, and Australia.2
We examine both reports, and break them down for you below:
Primary residence and long-term investment are prime motivators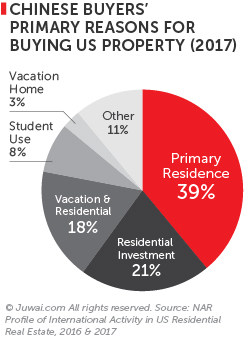 According to NAR, Chinese property buyers are mostly looking to invest in American homes as a primary residence (39%).1
However, buying property as a residential investment (21%) or for vacation & residential use (18%) are also popular motivating factors.1
That matches with data from the Hurun Report, which revealed that five of the top 10 preferred emigration and property purchase locations for Chinese high net worth individuals (HNWIs) are in the US.
Los Angeles reigns as the #1 investment destination for Chinese, followed by Seattle (#2), San Francisco (#3), New York City (#4), and Boston (#6).2
That's because numerous key factors make the US a highly attractive investment destination for Chinese, including:
Investment security: The strong legal system in the US, paired with the assurance of having private property rights, such as freehold tenure, are attractive to Chinese investors because it offers security and stability for a long-term investment.

Housing quality: Construction standards in China leave a lot to be desired with a 33-year expected lifespan, compared to 74 years in the US, making US real estate look a better long-term investment prospect.

Outstanding educational choices: With institutions like MIT, Harvard, Berkeley, and Columbia, the US has some of the best educational choices in the world not only for higher education, but also for primary and secondary schooling. These options put the US well and truly in Chinese investors' sights, since education is one of the prime motivators for overseas real estate investment.

Visa access: The US has revamped its visa policy towards to China in recent years, offering Chinese with long-term investor and emigration visas, as well as shorter-term 2-year multiple entry visas. This makes the American lifestyle more feasible and attractive than ever for mainland Chinese.
Detached units and townhouses top the list
Detached-single family homes rank as the most favoured property type, accounting for 67% of survey responses, down slightly from 74% in 2016.1
Most notably, townhouses have nearly doubled in popularity with Chinese real estate investors.
Chinese penchant for townhouses grew from 8% in 2016 to 14% in 2017, surpassing condominiums to rank as the next most-preferred choice of property type in the US for Chinese real estate buyers.1

Chinese increasingly turning towards mortgage financing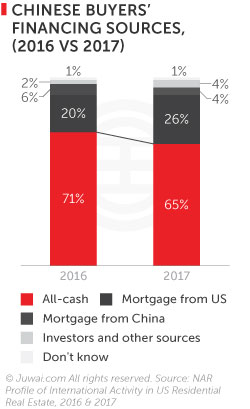 Without a doubt, cash remains king for most Chinese property buyers.
65% of Chinese respondents paid all-cash for their property investment in the US, slightly down from the 71% charted the year before1, which could possibly be attributed to China's tighter capital controls on outbound investment.
That said, China's tightened monetary policy has also led to mortgages becoming a more popular source of funding for Chinese buyers last year.
30% of survey respondents cited mortgages as the main financing source in 2017, compared to 26% in 2016.1
In fact, 26% of Chinese respondents cited mortgages raised with US banks as the main funding source, vs. the 20% in 2016.1
Where Chinese are looking to buy in the US
California ranks as the top state for Chinese buyers in the NAR survey.1
This is in line with the findings from Hurun Report, which put Los Angeles and San Francisco in the top five overseas locations for property purchases and emigration, taking a combined 27.6% share of buyers' top choices.2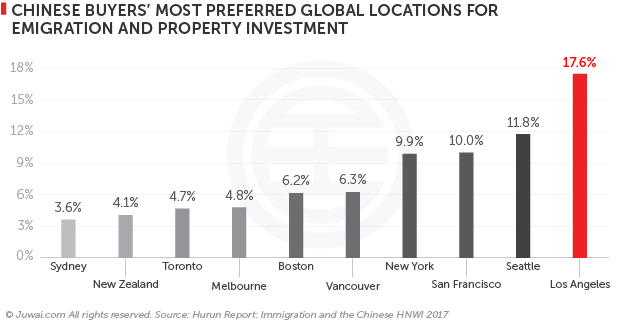 Seattle is a strong contender that has risen fast, displacing San Francisco as the second-most preferred destination for Chinese HNWIs2, who are no doubt attracted by Seattle's affordable prices, excellent growth prospects, and outstanding education choices.
"Many international buyers are hoping for an American university education for their child, so easy access to UW (University of Washington) is a frequent request. Over the last two years, at least 60% of my listings buyers have been Chinese," said Juwai customer Anna Riley, Managing Broker and Premier Properties Director with Windermere Real Estate.
Chinese buyer demand in the US set to stay strong
All these add up to a compelling case for Chinese demand for US property, which continues a long-term trend of significant investments that, prior to the latest figures, saw Chinese buyers purchasing $120.9 billion worth of residential real estate in the US between 2010 and 2016.1
Against this backdrop of sustained investment from Chinese buyers in hotspots like Los Angeles and Seattle, plus emerging demand in alternative locations like Florida, agents and brokers in the know would be wise to target this dynamic and massive market, just like Gino Blefari, CEO of Berkshire Hathaway HomeServices (BHHS).
"We believe Chinese buyer activity will remain at a high level in the U.S. Whether Chinese buying activity goes up or down into 2017, we are confident the Chinese will be engaged at a significant level in the U.S. market for the long-term. Because we are approaching it strategically, the agents and offices in our network have advantage in helping sellers obtain the best possible price for their property," said Blefari.
Last April saw BHHS announcing a marketing partnership with Juwai.com, which will facilitate the exposure of BHHS's listings in China, and attract Chinese homebuyers seeking to invest in the US, which is the #1 investment destination for Chinese on Juwai.com.
"The Chinese are a significant factor in the U.S. real estate market. We want to make it as easy as possible for these buyers to find our listings and purchase property. We believe this is a key differentiator for us and it will benefit our sellers," he adds.
And while present trends seem to point towards a slight dip in international property investment this year from 2016, the US is highly likely to remain a top investment destination for homebuyers from China.
"Chinese buyers trust the American market and believe it is a long-term safe bet. Despite a likely drop this year, investment levels are still in the foothills, but expect higher peaks ahead," said Juwai.com COO Sue Jong.
Need help getting your China plan into action? Here are some tips and strategies to help you market better to the China market, as well as to build up trust with Chinese buyers.
Sources: 1: National Association of Realtors: NAR Profile of International Activity in US Residential Real Estate, 2016 & 2017; 2. Hurun Report: Immigration and the Chinese HNWI 2017
Liked this article? Sign up for free to get Juwai Juwai Asia Market updates!