You've successfully copied this link.
4 factors why New Zealand will still draw Chinese buyers
By Juwai, 16 November 2017

Ranked as the #6 most popular investment destination on Juwai.com, New Zealand has long been a steady favourite with buyers from China.
Having gained a reputation as a haven for the world's rich and wealthy due to its remoteness at the edge of the world, New Zealand presents a solid case for Chinese homebuyers looking abroad.
After all, even Alibaba's founder and Chinese billionaire Jack Ma has professed his desire to own a home there1, so there must be something special about New Zealand that greatly appeals. We delve into this, and lay out 4 top reasons that entice Chinese property investors to New Zealand below:
#1 Liveability
New Zealand is also the world's 8th happiest country to live in, according to The World Happiness Report 2017. That's worlds apart from China's rank, which came in at the 79th spot.2
Findings from the 2017 OECD Better Life Index echoes this, as its research, which studied 34 countries across 11 parameters of wellbeing, revealed New Zealand as one of the top 10 countries to offer the best quality of life.3
By and large, what this means is that New Zealand offers good quality of living, with Auckland coming way ahead in terms of liveability.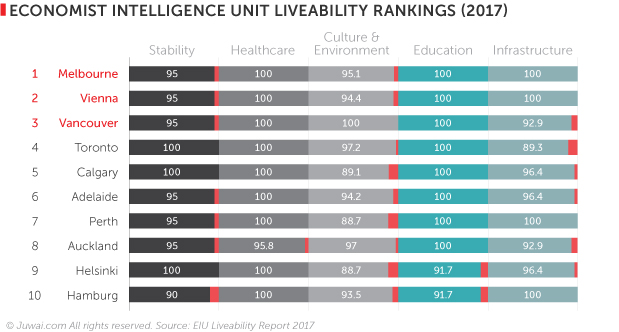 According to the EIU Liveability Report 2017, Auckland is one of the top 10 most liveable city in the world based.4 A different survey by Mercer ranked Auckland even higher, placing it third in its 19th Annual Quality of Living Survey, one of the most comprehensive and authoritative survey on worldwide quality of living.5
All in all, life in New Zealand offers a healthier work-life balance and at a slower pace, which is a huge contrast to the high-pressure lifestyle in China.
#2 Environmental health
Clean air and water quality is a matter that Chinese take very seriously, given the environmental conditions that they face in China.
In fact, nearly half of Chinese respondents in a 2017 survey by Shanghai Jiao Tong University – one of China's top universities – considered urban environmental pollution to be a 'relatively severe' or 'very severe'.6
This is one of the biggest drawcards attracting Chinese buyers to New Zealand, seeing as the windswept maritime country has one of the highest water quality standards in the world, as well as some of the cleanest (and safest) air in the world7, thanks to its low population density, proximity to the sea, and distance from other continents and sources of pollution.8
New Zealand air is so sought-after by Chinese that is has given birth to 'air farmers', such as Christchurch-based Breathe Ezy, who are literally making money out of thin air by harvesting fresh air from the mountains and valleys of New Zealand into cans to sell in China.9

#3 Food safety
77.3% of Chinese consider food safety their prime concern10, and although China's State Council has issued the 13th Five-Year Plan on Food Safety earlier this year to address the China's food safety issues11, they still have ways to go before they can re-instill confidence back into the Chinese public.
With New Zealand famed for their food quality, integrity, and stringent safety standards, it's no surprise that Chinese would mark this down as one of the top reasons for liking New Zealand.
Already, Chinese have made news for their massive cross-border retail consumption on Kiwi imported foods like dairy products, fresh produce, meat, honey, and health supplements.
According to a report from Shanghai-based DDMA China Market Research, 90% of Chinese consumers would definitely consider purchasing Kiwi food produce or brands, while 85% ranked New Zealand food companies to be trustworthy in placing quality over profit, compared to China, which rated a mere 8%.12
And as Chinese, particularly the rapidly-expanding middle-class, grow increasingly concerned over the food safety woes in China, more will consider moving abroad for the sake of having access to good, quality food and a safer peace of mind.

#4 Great outdoors
New Zealand is famed for their beautiful clear skies, fresh air, pristine waters, rolling mountains, and picture-perfect natural wonders like Milford Sound and Lake Taupo.
New Zealand's landscapes were so stunning that both The Lord of the Rings (LOTR) and The Hobbit Trilogy were filmed there entirely, with director Peter Jackson acclaiming New Zealand as the 'perfect Middle-earth'.
Beyond that, New Zealand is also renowned for its adrenaline-filled adventure tourism, as well as unforgettable wildlife experiences, such whale watching and swimming with dolphins.
All of these not only greatly appeal to China's fast-burgeoning outbound tourists, who are increasingly on the lookout for experiential tourism13, but also to Chinese seeking to connect with nature, and move away from the dense urban lifestyles shrouded in smog that they've experienced most of their lives in China's megacities.
There are more attractive reasons as to why New Zealand has been hailed as one of the best countries in the world to live in, such as its quality yet affordable healthcare, as well as its education offerings.
However, the above-mentioned 4 factors are more than enough to see why Chinese buyers, who increasingly desire a space to breathe and really live, are highly likely to continue be enchanted with New Zealand – even with the new foreign buyer ban looming in the future.
Sources: 1. New Zealand Herald: Chinese billionaire Jack Ma keen on buying a house in NZ; 2. World Happiness Report 2017; 3. OECD Better Life Index 2017; 4. EIU Liveability Report 2017; 5. Mercer 19th Quality of Living Survey; 6. Shanghai Jiao Tong University: [大洋网]上海交大发布2017年《中国城市居民环保意识调查》报告; 7. World Health Organisation (WHO); 8. New Zealand Ministry for the Environment: Air pollution and New Zealand's air; 9. SCMP: New Zealand air farmers are cashing in on China's air pollution; 10. China Youth Daily Survey; 11. USDA: China issues 13th Five-Year Plan on food safety; 12. Exporter Today: Why New Zealand Food is winning in China; 13. Financial Times: Shopping no longer the priority for Chinese tourists;
喜欢这篇文章?免费注册,获取居外亚洲市场的最新资讯!