You've successfully copied this link.
5 liveability factors Chinese look at when buying homes abroad
By Juwai, 16 October 2017

Chinese buyers are expected to spend close to $80 billion on overseas property in 2017, but how do we tell where they intend to invest in?
We look at the Economist Intelligence Unit's ranking of the world's most liveable cities, which gives an excellent indicator of where Chinese residential investors could be putting their capital into, and why.
Where are the world's most liveable cities?
Home to seven out of the top 10 most liveable cities in the world, Australia and Canada both dominate the EIU's rankings.1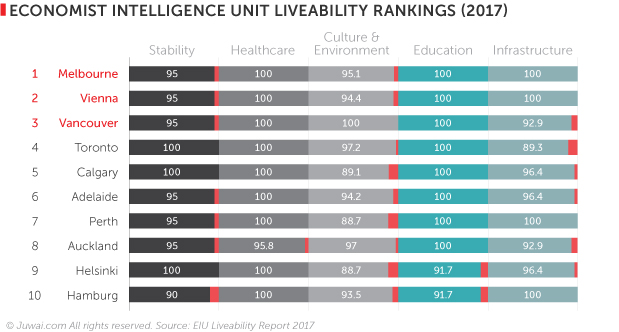 Australia's Melbourne reigned as the most liveable city in the world for the seventh year in a row, while Adelaide and Perth secured the sixth and seventh spots, respectively.
Canada's Vancouver ranked third, followed by Toronto and Calgary in fourth and fifth places, while New Zealand's Auckland also managed to grab one spot in the top 10.1
The remaining three cities are located in Europe, namely Austria's Vienna (#2), Finland's Helsinki (#9), and Germany's Hamburg (#10).1
5 deciding liveability factors for Chinese homebuyers
The factors that decide the EIU's liveability ranking are also those that are vital reasons for Chinese buyers to invest in overseas property, especially as seeing how these rankings sync with Juwai Data that puts Canada, Australia, and New Zealand as some of the most popular countries with Chinese buyers on Juwai.com.
We examine how liveability factors sway the purchase decisions of Chinese property investors below:

#1 Education
Education is a prime motivation in Chinese buyers' overseas investment plans, and cities in Australia, Canada, and New Zealand score a maximum 100 score in the EIU's education rankings that are based on both the quality and availability of both public and private education.1
This is a crucial element for agents to note, because the harsh enrollment qualifications and stiff competition for placement in good schools in China make the more varied curriculum overseas and better quality institutions available abroad doubly enticing.
Furthermore, an overseas education is seen by many Chinese students and families as a stepping stone to emigration abroad.

#2 Healthcare
Nine out of the top 10 most liveable cities in the world score a full marks on their healthcare rankings1, so that's definitely food for thought for agents and brokers targeting the Chinese market, who are growing more focused on healthcare issues and retirement planning.
50% of Chinese HNWIs ranked healthcare as their #1 topic of interest in a Hurun survey last year2, and Chinese heading overseas for health tourism grew by 500% in 2016 alone, according to China's leading online travel portal, Ctrip.3

#3 Culture & Environment
Chinese are increasingly driven by surrounding factors, such as living environment quality, climate, censorship, food and drink standards, as well as access to a range of goods and services. These are just some of the factors putting Vancouver, Toronto, Auckland, and Melbourne at the top of the EIU's global liveability rankings.1

#4 Stability and security
Investment security and stability counts, particularly for Chinese investors looking to venture overseas. Chinese buyers are big on safety, hence most look for the security of private, freehold property rights, political stability, and safe living environments.
That's where cities like Toronto and Calgary scored highly, seeing as they have some of the lowest crime rates in the world, which could greatly resonate with Chinese homebuyers who put safety as one of their top priorities when selecting where to purchase property.
82% of Chinese respondents in a Juwai survey last year cited a safe neighbourhood as their most important criteria when investing in overseas property.4

#5 Infrastructure
Chinese buyers are mostly generational investors, and that means most want houses that last for a lifetime, if possible. However, new buildings in China generally only have an average life span of 20-30 years – compared to 74 years in the US and 132 years in the UK5 – which brings us to the reason why many Chinese buyers are fixated on housing quality when looking overseas.
This factor, plus the standard of roads and public transport, is where Melbourne and Perth have scored full points for, and was the deciding factor that helped Melbourne trump over other cities to settle comfortable at the top as the most liveable city in the world for 2017.
Low urban density is a unifying factor
Beyond the five liveability elements mentioned above, the cities in the top index all have something in common, and that is that their urban density is notably low by international standards.
With China currently home to 15 megacities6 – cities with over 10 million residents – and a total urban population of 771 million people even back in 20157, more and more Chinese are looking overseas as their solution to less crowded living environments, where there is not only more open spaces but also less competition for school places.
That said, these five liveability factors give you a good idea on what and how Chinese investors tend to assess when property hunting overseas, so be sure to tailor your pitch to market to these motivating factors.
Sources: 1. The Economist Intelligence Unit (EIU): The Global Liveability Report 2017; 2. Hurun Report: Retirement Planning and Healthcare of Chinese HNWIs 2016; 3. Jing Daily: Report: Chinese medical tourism grows by 500 percent in 2016; 4. Juwai Property Search Survey (March 2016); 5. City Metric: China's urban policy unit just met for the first time in 38 years. Here's what it recommended; 6. The Guardian: Endless cities: will China's new urbanisation just mean more sprawl?; 7. Statista: Urban and rural population of China from 2005 to 2015;
Liked this article? Sign up for free to get Juwai Juwai Asia Market updates!