You've successfully copied this link.
European golden visas continue to attract Chinese buyers
By Juwai, 27 March 2019

Wealthy Chinese property buyers and investors have been attracted to 'Golden Visa' investment schemes around the world for years.
A golden visa is provided when a person invests in a country and is given a visa that would not otherwise be available. In time, this can often lead to citizenship.
The real estate investment in these programs in Europe, depending on the country, can be as low as the equivalent of US$280,000.
Three countries – Greece, Spain and Portugal – account for 84% of the European golden visa market based on the latest available data. There were more than 8,000 applications for European golden visas during 2017.
European golden visa programs were recently in the spotlight when some members of the European parliament called for their abolition.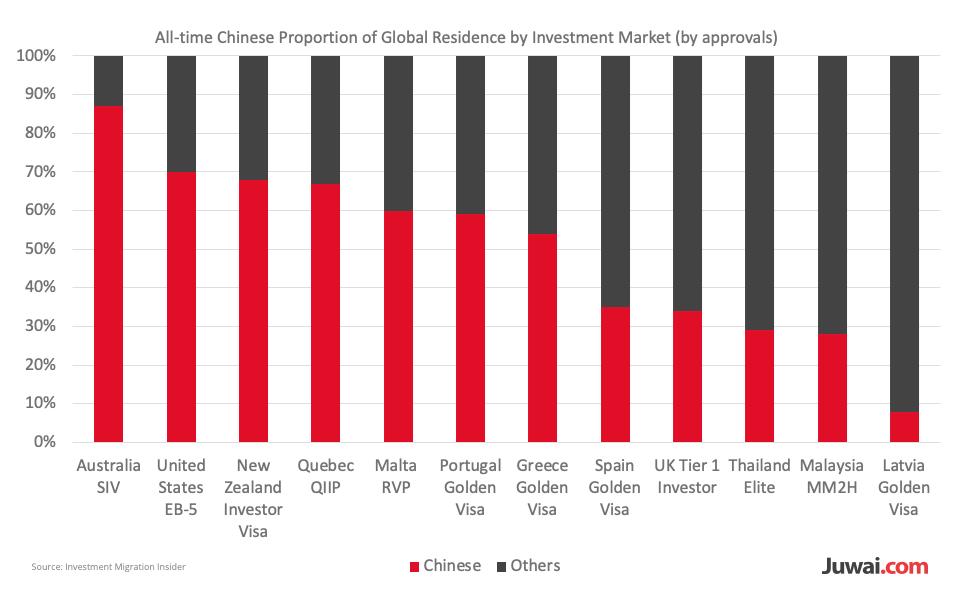 Christian Nesheim, Founding Editor of The Investment Migration Insider, a leading source of information about global citizenship and residency investment programs, said: "Chinese investors account for two-thirds of the global 'residence by investment' market, and a smaller share of the 'citizenship by investment' market."
There are many motivations that are driving Chinese property buyers to golden visa programs. Some are worried about economic issues at home whereas for others it's about enjoying an international lifestyle and providing more opportunities for their family.
Chinese nationals are a major factor for many of these programs around the world. Here, we focus on the requirements and benefits that are currently on offer in European countries that allow property investments as part of their golden visa programs to obtain residency.
GREECE
The golden visa program in Greece provides a renewable five-year residency visa in return for a real estate investment of €250,000. This can be individually or through a company where the applicant owns 100% of the shares of that company. There is no minimum stay requirement, and the visa offers its holders instant access to the Schengen area when granted. The residency visa can be renewed every five years provided the property investment is retained. Citizenship, however, can only be granted after seven years of residency in Greece. Even with additional taxes of around 24%, the Greek golden visa program is currently the lowest cost residency option within Europe. It is also fast compared with other programs at around 40 days between application and the issue of a residency permit.
PORTUGAL
An investment of €500,000 in real estate in Portugal can provide a residency permit for a family, including dependent children. This can be renewed every two years providing the applicant spends two weeks in the country every two years. Citizenship in Portugal can be granted without the applicant spending any time living in the country however, once the investor has gained residency through the golden visa program they will need to show ties to the country and pass a basic language test. Being a resident of Portugal allows travel throughout the Schengen zone.
SPAIN
A real estate investment of €500,000 in Spanish real estate will gain family residency. The Spanish investor visa can be renewed every two years. After five years it is possible to gain permanent residency and after ten years citizenship. It is not necessary to live in Spain in order to retain and renew the residency visa permit. The applicant must prove that they have an investment in real estate of €500,000 free of any charge. The part of the investment that exceeds the amount required may be subject to charge or lien.
MALTA
Malta is targeting high-net-worth individuals with its Individual Investor Program. Individuals who make a minimum contribution of €650,000 to the national development fund set up by the government. Some €150,000 of that needs to be invested in government approved financial instruments. In terms of property and real estate, the minimum investment must be €350,000. Family member also need to contribute €25,000 each to the development fund of each. The benefits after one years' residency are citizenship and a Maltese passport. This will provide European citizenship and the ability to live, work and study anywhere within the European Union.
CYPRUS
From May 2019, Cyprus will be introducing stricter criteria for its golden visa offering. Cyprus currently offers two programs through real estate investment, one for residency and the other for citizenship. Currently, an investment of €2.0 million is required, which can be reduced to €500,000 after three years. From 15 May this will increase to €2,150,000 and the investment will be needed for five years. Stricter background checks on applicants will also be instigated from May. Cyprus is attractive to high-net-worth investors due to the speed in which visas can be issued when investing in qualifying properties.
Carrie Law, Chief Executive Officer and Director of Juwai.com, said: "Rich Chinese are now flooding golden visa programs all over the world. In fact, there is only a handful of programs anywhere in which Chinese are not the most numerous applicants.
"Nearly all of the most successful investment migration programs around the world are seeing application booms. Chinese are driving it. There would not be a golden visa industry if it weren't for the Chinese.
She added that some see this as a sign that wealthy Chinese are fleeing their country, but that's not true.
"Most Chinese who get golden visas do not actually move overseas. They use their new visas and citizenships to make international travel and investment easier. They use it to obtain benefits at home such as simplifying their children's admission to international schools in China."
As with all real estate transaction, buyers are urged to obtain professional legal advice before entering into any binding agreement.
喜欢这篇文章?免费注册,获取居外亚洲市场的最新资讯!