You've successfully copied this link.
4 reasons why US properties are still attractive to Asian investors despite pandemic
By Juwai, 31 July 2020

Despite challenging conditions in the US due to tensions between Beijing and Washington, and a raging pandemic, investors from Asia are starting to purchase US properties once again.
As the Coronavirus pandemic continues to spread around the world, investors seem to be turning to US real estate as a good place to diversify their portfolio.
Here are four reasons why US real estate is still considered a safe investment
#1 Safe haven
Asian investor interest in US properties tend to follow a pattern. In times of crisis - economic, political or otherwise - they often turn to US assets, which are perceived as more stable than those in their own countries. US housing is one these assets that tends to perform quite well on a relative basis during times of market volatility.
The US real estate sector already has several advantages - continued low interest rates, a stable credit environment and modest inflation - when it comes to attracting foreign investors, according to a survey report released in February 2020 by the Association of Foreign Investors in Real Estate and the University of Wisconsin. Seventy per cent of the respondents, which consists of executives who represent foreign buyers of US real estate, said they had a positive outlook on US real estate in the long term.1
So far, according to some realtors and fintech companies in the US, single-family residential properties have shown the biggest uptick in interest, with foreign investors flocking to the sector. Juwai saw enquiries from Chinese buyers on US properties jump 32.8 per cent in Q2 this year compared to Q1.
According to the National Association of Realtors (NAR), which tracked transaction activity between April 2019 and March 2020, 50 per cent of foreign investors purchased property for primary residence, 74 per cent purchased a detached single-family home or town home and 48 per cent purchased in a suburban area.2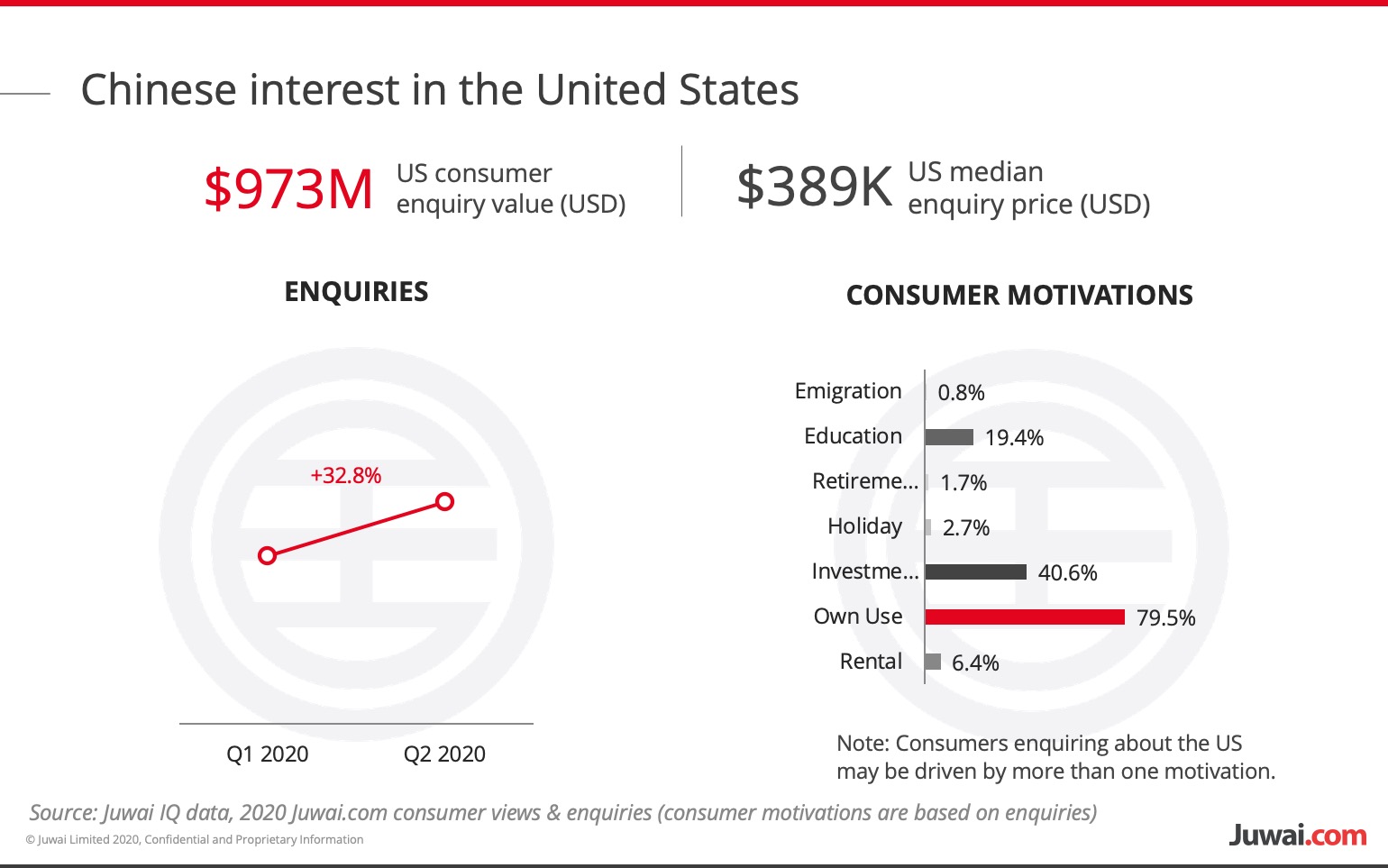 The NAR study also revealed that foreign buyers bought 154,000 existing homes, or three per cent of total existing home sales and 39 per cent of foreign buyers paid all-cash.3
During the first quarter of this year, the National Association of Realtors (NAR) reported that US housing market in the upper end was facing a softening because of travel restrictions. But thanks to IoT and technology, this has led many Asian and Chinese investors going online to search and buy properties without leaving their country.
Chinese currently tops the list when it comes to foreign transactions in US dollar:
China $11.5 billion, 15.5 per cent of total
Canada $9.5 billion, 12.8 per cent of total
Mexico $5.8 billion, 7.8 per cent of total
India $5.4 billion, 7.3 per cent of total
Columbia $1.3 billion, 1.8 per cent of total4
The NAR's study also shows luxury buyers (spending USD1 million or more) account for eight per cent of foreign buyers, compared to three per cent among all existing home buyers.5
Many real estate advertising platforms have also been hosting live events on popular social media channels for developers and agents to promote their listings. This has helped improved the situation as it allows an alternative way for buyers to peruse and buy foreign properties. A May survey conducted by the NAR found that 35 per cent of US realtors seeing sellers rely on virtual tours.6
#2 Low mortgage rates
US mortgage rates have been falling since the Coronavirus started roiling global markets. The average for a 30-year fixed-rate loan was 3.15 per cent in July, down from 3.24 per cent in May, its lowest since 1972, according to data from Freddie Mac.7
The Federal Reserve is holding its benchmark rate at near zero and buying mortgage bonds as part of its plan to stimulate the economy with cheap credit. The purchases have helped stabilise the secondary market for home loans and enabled lenders to pass lower costs on to customers.
For property investors, this presents a major windfall as low mortgage rates are one of the drivers for purchasing foreign real estate. At the current 30-year average rate, the monthly payment on a USD300,000 mortgage would be USD1,289. Compared to US$D1,443 a year ago, when the rate was 4.06 per cent, this makes US properties more affordable for those seeking loans. Shrewd high-net-worth (HNW) investors are taking advantage of the huge savings by purchasing under current conditions.
#3 Dollar dips
The US dollar is at a two-year low against a basket of currencies and the Federal Reserve has stated on 29 July this year that the Fed will continue to keep monetary policy very loose, at least until the end of the year, due to worries that a recovery in the US economy would be hampered by the country's struggle to stem the Coronavirus epidemic.8
This presents another incentive for foreign investors to consider investing in US real estate. A weaker dollar makes buying US properties cheaper for those paying in other currencies – meaning this is a prime moment for them to swoop in.
According to the NAR study, luxury buyers (spending USD1 million or more) account for eight per cent of foreign buyers, compared to three per cent among all existing home buyers.9
#4 Foreign students
Asian and Chinese buyers also play a big role in the residential-real-estate markets of college towns such as Orlando, Seattle, Los Angeles, New York, etc., as many non-American students opt to study at US universities. There are more than one million international students currently studying in the US. According to research conducted by US Immigration and Customs Enforcement (ICE) , nearly 80 per cent of all international students in the US are from Asia, with China and India accounting for nearly half of them.10
The top five destinations currently preferred by foreign investors, according to the NAR study, are Florida, California, Texas, New York and New Jersey, in that order.11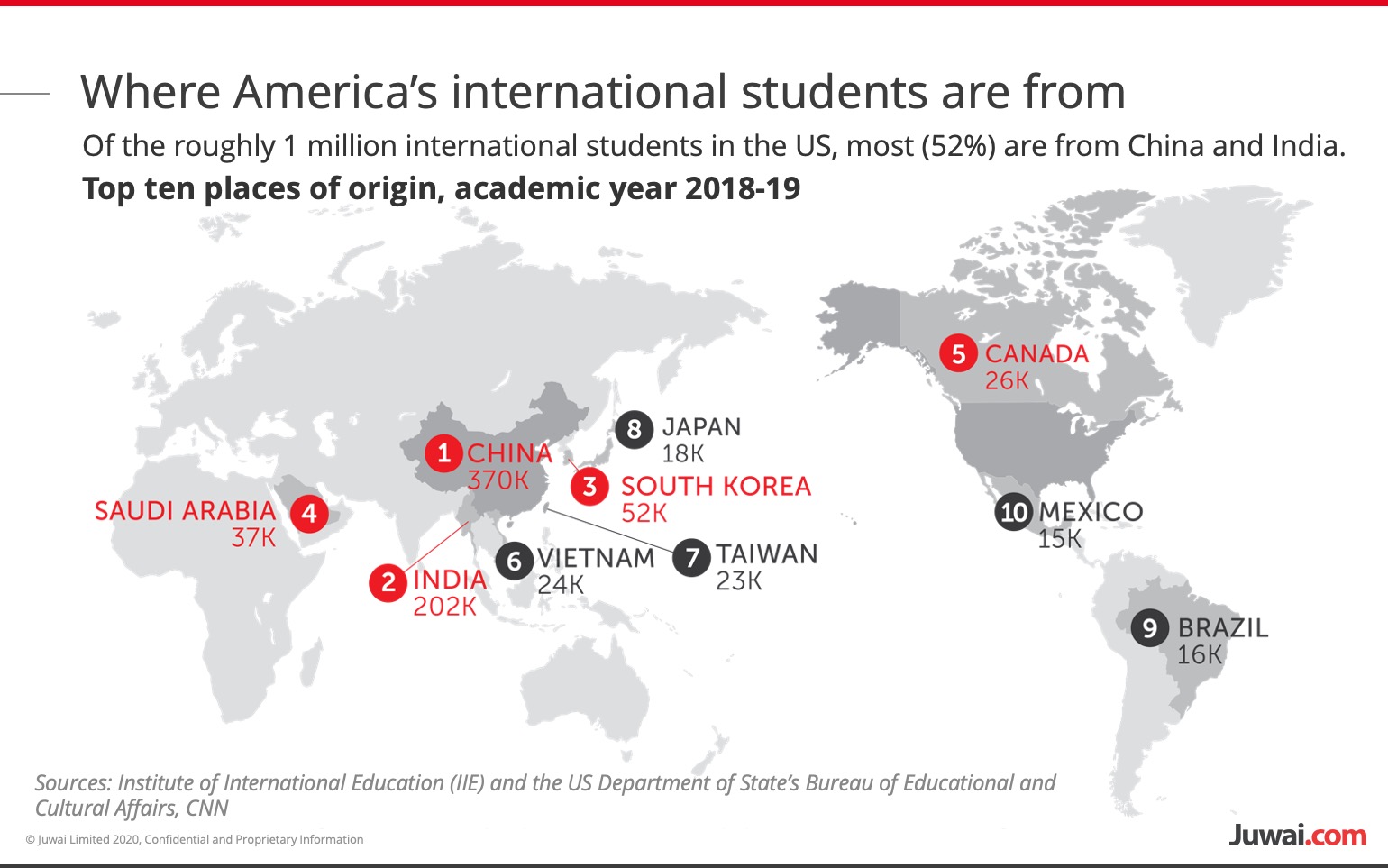 However the number of foreign students has been falling more recently due to more restrictive student visa policies imposed by the Trump administration, tense political climate and changing attitudes about studying there.
But analysts say though foreign students may be hesitant about studying in the US at the moment, they will return to the US once the pandemic subsides and if visa policies ease up. As such, investors who plan to send their children to the US for studies will always be looking at purchasing properties for own use or to accommodate their children.
Sources: 1.Bisnow: Investors See U.S. Real Estate As Safe Haven During Coronavirus Scare; 2, 3,4, 5, 9 & 11.NAR: Profile of International Transactions in U.S. Residential Real Estate 2020; 6: CNBC: Home buying and selling went virtual during the pandemic; 7. Bloomberg: U.S. mortgage rates tumble to a record 3.15% for 30-year loans; 8. CNBC: Dollar on course for worst month in decade as epidemic hobbles U.S. economy; 10. Aljazeera: New US visa rule leaves Indian, Chinese students in panic
喜欢这篇文章?免费注册,获取居外亚洲市场的最新资讯!