You've successfully copied this link.
US residential real estate still popular with Chinese middle class
By Juwai, 28 May 2019

Chinese middle-class buyers seek out lower-priced homes in the US East Coast and in the South and using mortgages more often.
Escalating Sino-US trade war tensions and China government's effort to curb capital outflows from its citizens may have cooled down the appetite of many heavyweight Chinese investors of US real estate but Chinese citizens still represent the largest share of foreign buyers in the US real estate market.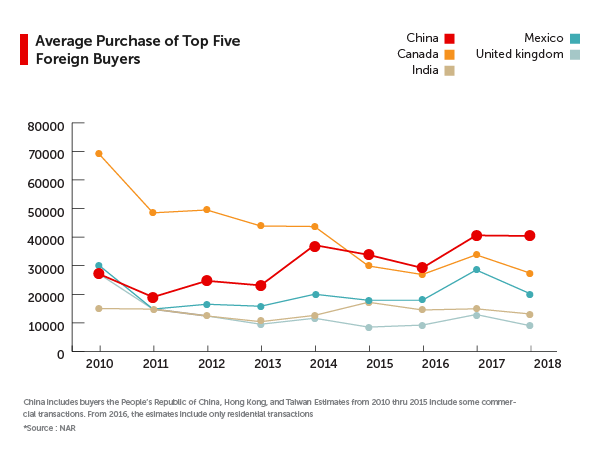 For the last six years, China has outpaced every other country by both number of residential units purchased and total dollar amount spent. Buyers from China bought 40,400 units totalling US$30.4 billion between April 2017 and March 2018.1
Purchasers of million-dollar trophy homes may have retreated but middle-class Chinese seeking less pricey properties are gaining momentum, often financing them with mortgages. To get a loan approved, foreign buyers need to put 50 percent or more down on a home but several lenders have started specialising in this area, making financing easier for overseas buyers.2
Why Chinese buyers are still interested in US real estate
A number of factors contribute to the Chinese buyers' continued confidence in the US property market. As with investors anywhere, the Chinese are looking at diversifying their asset portfolio outside of their homeland, especially given the slowly eroding value of the Chinese renminbi versus the dollar.
The US is considered a safe haven to park and grow their money when compared to other overseas opportunities such as Europe where volatility in the wake of Brexit has made investing there riskier. The US economy, on the other hand, is still expected to grow and interest rates remain low.
The acquisition of foreign real estate is also an abiding ambition for rich people in China, partly because these homes serve as ideal long-term investments for their children's future, especially those who have been placed in US universities and colleges.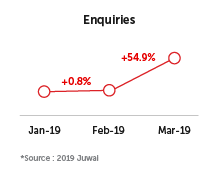 Real estate brokers who have been wooing potential Chinese buyers also show no sign of letting up in their efforts and are still aggressively marketing American homes through Chinese-language websites. Warren Buffett's Berkshire Hathaway HomeServices, a subsidiary of HomeServices - the second largest residential brokerage in the US, is just one of the major agency networks that syndicates their franchisees' residential listings to Juwai.com.
Key US areas attracting Chinese property buyers
California remains a top location for Chinese buyers, with a specific demand for the San Francisco Bay Area. Local real estate agents say good weather, schools and several international airports are drawing points. Traditionally, wealthy Chinese, such as corporate executives, come here to invest in expensive properties; these days it is more likey to see Chinese parents buying homes for their children who study or work here. Many have turned to lower-priced properties that are priced around US$500,000.3
Middle-class Chinese buyers are also expanding their horizons toward the East Coast and to the South. New York, Florida, Texas and Georgia, for instance, are seeing more real estate enquiries, according to Juwai.com's latest data.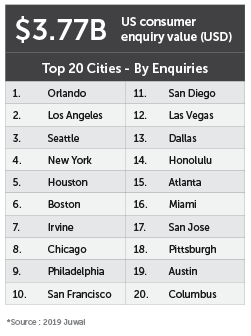 New York being a gateway city has always been an attractive destination. The city has top-performing public schools and thriving Chinese communities in Flushing, Queens, Brooklyn and Manhattan. The area also boasts waterfront access and the promise of fresh air. But rather than pursuing soaring skyscrapers or trophy homes in Manhattan as in the past, Chinese buyers are now focused on more low-key home-use properties. Queens, for instance, is already seeing a 34 percent rise in enquiries on Juwai.com from H2 2018 to H1 2019.
Florida is attractive to the Chinese because home prices are still relatively low but provide strong returns. The Sunshine State is also a world-class metropolis boasting a quality lifestyle and many stellar universities. In Orlando and Miami, for instance, enquiries about properties that are priced around US300K-US350K reflected an uptick. The upswing shows that the Sunshine State is still a coveted destination for the Chinese.
Texas too has seen a slight lift in enquiries in the Dallas and Fort Worth area in the first quarter of this year. Though most enquiries on Juwai.com are looking for homes for own use under the US300K price range, Chinese buyers also want properties that can provide an income opportunity. Nearly 60 percent of Chinese buyers prefer detached, single-family homes in the suburbs.
The state of Georgia is home to many universities. China accounts for 30.4 percent of foreign students out of the 22,789 students enrolled in 2017-18.4 This may have spurred enquiries for family properties, priced around US400K as Chinese buyers look for homes for their children who are studying there.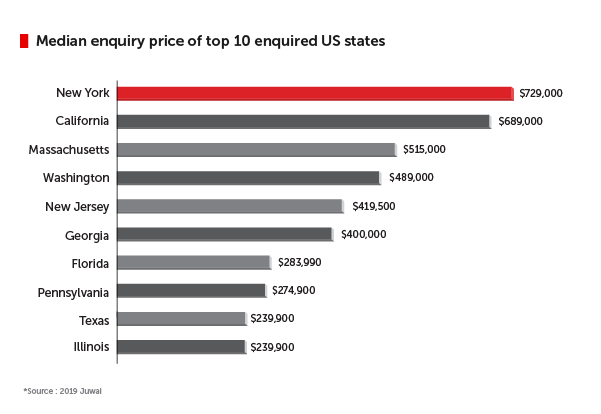 What property experts say
Property analysts say that at the end of the day, in spite of current sensitive political situation and other concerns, many Chinese buyers still want to push ahead as they do not want to miss out on the chance to invest in the US.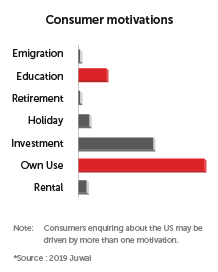 "For many investors, the stock market volatility and the trade war just reinforce a preference for keeping a significant share of their wealth in property. Property also can deliver yields that rival the best dividend-producing blue chips. Property is also the investment that you can live in and show off to your friends. For many Chinese, it's their favourite way to invest overseas," Carrie Law, director and CEO of Juwai.com in an SCMP report.5
Regardless of the motivation for individual investors, it's likely that China will continue to be a heavy hitter in the US real estate market for years to come.
Sources: 1. Data from the National Association of Realtors; 2. CNBC.com; 3. China.org.com; 4. Global Atlanta; 5. South China Morning Post
Liked this article? Sign up for free to get Juwai Juwai Asia Market updates!