You've successfully copied this link.
Juwai reveals 'Top 10 Chinese Buyer Picks for 2017' report
By Juwai, 28 February 2018

Despite stricter outbound investment rules, Chinese investment abroad stayed robust in 2017.
In fact, Bloomberg reported back in September that Chinese property transactions had risen in 2017, although prices and sizes of the properties eyed by Chinese buyers were lower as they changed their investment strategies to opt for more affordable properties in emerging investment destinations.
That said, where were China homebuyers looking to buy abroad last year?
We look back at the most sought-after investment destinations for real estate investors from China last year, and examine the factors behind their popularity with mainland Chinese in 2017 below.
Top 10 favourite countries for Chinese property buyers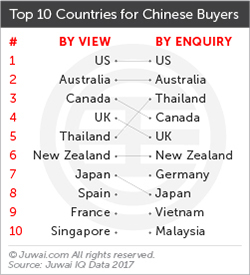 The US remained unshaken at the top as the most-viewed and most asked-for investment destination on Juwai.com for Chinese buying real estate abroad, followed by second-placed Australia.
However, while Canada and the UK nabbed the third and fourth places, respectively, in terms of Chinese buyer views on Juwai.com, it was Thailand that triumphed to become the third most enquired country by real estate investors from China, pushing Canada and the UK down to the fourth and fifth spot, respectively.
Likewise, Spain, France, and Singapore were favoured by China buyers in the initial stage of searching on Juwai.com, but eventually slipped out of the top 10 list to be replaced by Germany, Vietnam, and Malaysia when it came down to the actual requests and demands from Chinese homebuyers.
The biggest dark horse in 2017, however, was Vietnam, who charted a 483% y-o-y increase in Chinese buyer enquiries1 to leapfrog from its 19th position in 2016 to take the ninth spot in the list.
Other dark horses that saw a y-o-y boom in demand last year were Thailand (+114%) and Malaysia (+64%).1
This is testament to how the Chinese outbound investment is an ever-fluid market that changes at a rapid pace, as mainland Chinese have increasingly become sophisticated international property buyers who tend to research thoroughly – either by asking for information online and via social media or by asking friends and families for recommendations – before narrowing down their options to decide on their final international property investment destination.
Top 10 most-viewed cities by Chinese buyers
We go beyond country level, and lay out the top 10 locations most checked out by Juwai Chinese consumers in the following hotspots:

United States (US)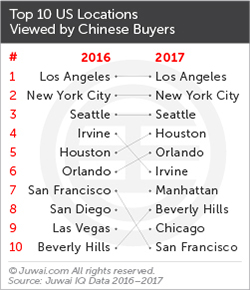 While Sino-US relations remained somewhat ambivalent throughout 2017, Chinese homebuyers were undeterred as they continued to snap up homes in the US last year, albeit at a slower pace.
On Juwai.com, Los Angeles (LA), New York City (NYC), and Seattle remained the top three hottest destinations in the US viewed by China property hunters on Juwai.com.
This ranking correlates with findings from Hurun Report's 'Immigration and the Chinese HNWI 2017 Report', which revealed Los Angeles as the #1 emigration and property purchase location in the US for China's high net worth population, followed by Seattle (#2), while New York City came in at #4.2
Elsewhere in the US, the cities of Houston, Orlando, and Beverly Hills steadily rose in ranks last year, even as 2017 welcomed two newcomers to the list – Manhattan and Chicago.
With the fate of the EB-5 visa scheme still uncertain, as well as recent tensions over trade between the two countries, how will Chinese buyer interest in the US fare in 2018?
While it's early days yet, we perceive that the Chinese demand for US real estate is likely to be sustained into the new year, seeing as the US is a 'near-perfect' market for Chinese, thanks to myriad factors such as its top-notched education and strong growth prospects.
Like this report sneak peek? Sign in now to download the full report to see the top 10 picks for Chinese buyers in other popular hotspots, including Australia, Asia, Canada, New Zealand, UK, and Europe!
Sources: 1. Juwai IQ Data 2016-2017; 2. Hurun Report: Immigration and the Chinese HNWI 2017;
Liked this article? Sign up for free to get Juwai Juwai Asia Market updates!