You've successfully copied this link.
China easing on outbound investment policies
By Juwai, 15 April 2015

With China ramping up its offshore investments, countries worldwide are rejoicing.
And as China continues its push for global outbound investment diversification via policy liberalisations, they have even more reasons to cheer.
So far, one of China's biggest changes was last year's overseas investment reforms by China's National Development and Reform Commission (NDRC) for Chinese corporations.
Under these new policies, Chinese investment projects abroad now no longer need approval from the ministry, except for projects in industries and countries that are considered sensitive by China's central government.
That astute move, which sparked an outbound investment boom by major Chinese companies (particularly with real estate giants), propelled overseas asset acquisitions by Chinese corporations to hit a record $102.9 billion in 2014.1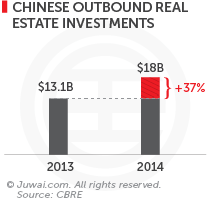 In real estate alone, property investments abroad by Chinese companies leapt 37% to a chart-topping $18 billion2 – including such investments like Ping An Insurance's acquisition of the Tower Place in London, and the sudden surge of commercial property investments in Sydney by Chinese developer megacorps.
With the burgeoning numbers of outbound Chinese travellers, hotel luxury and commercial investments by Chinese conglomerates are predicted to escalate this year too.
Click here for more iconic building and hotel deals snapped up around the world by Chinese investors.
What next, China?
According to Yi Gang, Deputy Governor of the People's Bank of China and also Director of China's State Administration of Foreign Exchange, China is studying regulatory amendments to relax limits on outbound investments for Chinese individuals too.3
The China Central Government has not formally announced any plans to change existing rules, but investors worldwide are abuzz about the prospect of such an easing, as it could potentially mean $1 million – $2 million worth of international capital outflow for Chinese individuals.2
Currently, Chinese citizens are allowed to invest overseas via funds licensed under the Qualified Domestic Institutional Investor programme, as well as exchange the equivalent of $50,000 a year into foreign currency.4
Potential global impact and payoff
If approved, this new ruling would not only allow greater access to international markets for Chinese individuals, but it would also further increase property investments abroad by Chinese individuals and remove demand from domestic housing market.4
A Barclays report last November predicts that almost half of China's millionaires are on the hunt for property investment opportunities overseas within the next 5 years.7
Already, the Shanghai Free Trade Zone – a testing ground for economic policies – reported that a trial programme might start this year to allow Chinese individuals exchange an annual limit of over $50,000 for investments abroad.5
Upon sanction, this groundbreaking programme could effectively eliminate a major regulatory hitch presently hindering rich Chinese from investing more in international property and other assets.
Judging from these new developments – which dovetail nicely with China's mutual 10-year visa agreements recently struck between Canada and the US – we only have one piece of advice for real estate agents and developers worldwide:
Get ready, because a deluge of Chinese outbound investments may be just around the corner!
Sources: 1. World Resource Institute; 2. CBRE; 3. Mingtiandi; 4. Bloomberg; 5. The Pudong Times; 6. Mingtiandi; 7. SCMP
喜欢这篇文章?免费注册,获取居外亚洲市场的最新资讯!