You've successfully copied this link.
New China policy impacts on outbound property investment
By Juwai, 06 October 2014

Last May, new overseas investment rules by the National Development and Reform Commission (NDRC) of China unleashed a wave of outbound investments by major Chinese real estate companies.
Now, the latest policy update by China's Ministry of Commerce knocks down yet another hurdle for Chinese companies investing abroad.1
Under this new policy, going into effect on 6 October, investment projects abroad no longer require approval from the ministry – save for those in industries and countries deemed sensitive by the Chinese government.1
Not surprisingly, astute developers have been watching policy changes closely to capitalise on such new guidelines.
Investments by Chinese developers have charted a 17% increase since the NDRC increased the threshold last December from $100 million to $1 billion for overseas investments required to obtain approval.2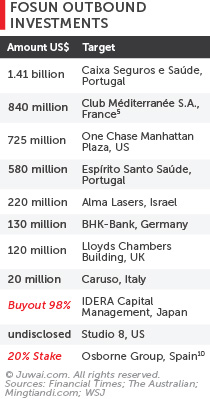 One such developer is Shanghai-based Fosun Group, which has taken bold steps in recent years to steadily expand overseas – spending over $3.7 billion on foreign acquisitions since 2010.9
Who is Fosun?
One of the biggest privately-held conglomerates in China, Fosun made waves when it brokered a $725-million deal for the One Chase Manhattan Plaza in the Big Apple – one of the biggest purchases for a New York building by a Chinese company.3
Fosun has undergone its fair share of successes, challenges and fierce competition, but they've only grown from strength to strength.
With the new policy going into effect today, the world is its oyster.
Hear Fosun's Dennis Ye share Fosun's global growth story at the upcoming Juwai China Agent Summit (Beijing –19 October). Sign up while seats are still available!
Sources: 1. Mingtiandi.com; 2. Jones Lang LaSalle; 3. Bloomberg; 4. WSJ; 5. Financial Times; 6. Financial Times; 7. The Australian; 8. Mingtiandi.com; 9. Bloomberg; 10. WSJ
Loved this article? Sign up for free to get Juwai China Market updates!