You've successfully copied this link.
Top 10 holiday hotspots for Chinese this Chinese New Year 2017
By Juwai, 24 January 2017

This Chinese New Year (27 January – 2 February), get ready for more than 6 million Chinese outbound travellers to be heading your way.1
2016 saw approximately 6 million Chinese spending ¥90 billion ($13.13 billion) overseas during the Lunar New Year Golden Week holidays2, and 2017 promises to be bigger than ever, thanks to relaxed visa policies for Chinese travellers, increased flights, and growing Chinese purchasing power.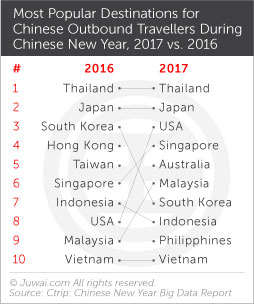 Ctrip – China's biggest online travel agency – predicts over 6 million Chinese will travel out of China this Spring Festival, and spend ¥100 billion ($14.5 billion) overseas – a 11.5% increase y-o-y.3
With Chinese New Year being a peak period for Chinese to travel out of China – and the fact that 42% of Chinese buyers intend to property hunt during their trips abroad – this makes for a potential windfall for global real estate markets.
We take a closer look at the top 10 holiday (and potential investment) destinations for Chinese outbound tourists this Golden Week.
Southeast Asia on the rise, with Thailand leading the pack
Southeast Asia is hotter than ever with Chinese travellers this Chinese New Year, and this is in line with findings in our recent Juwai Southeast Asia Chinese Property Report that show Southeast Asia to be the next darling destination for Chinese real estate buyers as well.
Top of the list is Thailand, which expects to welcome some 240,000 mainland Chinese visitors during the Chinese New Year holiday period, as well as another 149,000 Chinese tourists from Hong Kong, Taiwan, Singapore, and Malaysia.4
This bodes well for Thai real estate agents, as Chinese buyers have shown a marked preference for investing in their favourite holiday destinations.
Juwai Data showed a 118.5% increase in searches by Chinese buyers for Thai property in H1 2016 – a period that coincided with a 20.5% y-o-y increase in Chinese tourist arrivals.5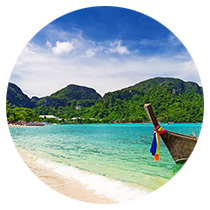 With Chinese buyers having shown strong interest in Thai property in Pattaya, Bangkok, Phuket, Chiang Mai, and Koh Samui on Juwai.com throughout 2016, we perceive a potential boost in Chinese buyer demand in these popular vacation hotspots this Chinese New Year.
Other Southeast Asian countries, including Singapore, Malaysia, Indonesia, Vietnam, and the Philippines feature prominently on the list of top ten holiday destinations as well, and this is largely because of increased flights, easier visa processes, close proximity, and cultural similarity – all which make Southeast Asia a compelling choice for Chinese travellers this Chinese New Year.
Japan's appeal carries through and stays strong
Elsewhere in Asia, Japan continues to score highly as a Chinese New Year travel hotspot, which heralds good news for the Japanese property market this Golden Week.
Despite China's economic slowdown, the sudden rise of the Japanese yen, and the Kumamoto earthquakes, a record 6.37 million Chinese visited Japan last year and spent an estimated ¥1.48 trillion yen there.6
Accounting for 26.5% of Japan's total number of foreign visitors, that makes mainland Chinese the largest group of foreign travellers to Japan in 2016.7
That boom in Chinese arrivals has led to a surge in Chinese buyer interest in Japan properties as well, as Japan offers a unique value proposition of an attractive lifestyle, easy visa application processes, convenient flight connections, and the prospect of strong returns generated by the upcoming Olympics in 2020.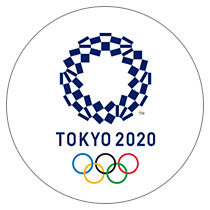 Over 80% of Chinese real estate buyers keen to purchase in Japan on Juwai.com are motivated by investment purposes.
Seeing as Chinese buyer enquiries for Japan property on Juwai.com surged more than 100% y-o-y in 2016, we expect this robust interest for the Land of the Rising Sun to continue well into 2017.
US popularity to surge in 2017
It's not all about Asia, though, because the US has become more popular than ever for outbound travellers from China this Spring Festival 2017.
2016 saw a record number of 2.17 million Chinese visitors to the US between January and August 2016 – up 15.5%, says China's National Tourism Administration.8 This upsurge in Chinese arrivals to the US ties in with Juwai Data, which shows the US continuing its reign as the #1 investment destination for Chinese buyers.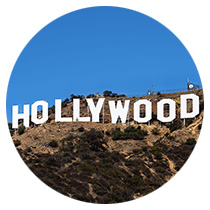 Los Angeles, which saw visits by Chinese grow 21% y-o-y to more than one million in 20169 to become the most popular destination for Chinese travellers in the US, is also the top most-viewed US city on Juwai.com for 2016, and the most preferred immigration destination for China's high net worth individuals (HNWIs).10
Property search for US listings were also on a tear in the lead-up to this year's Chinese New Year holiday – Chinese buyer views for US property on Juwai.com were up 47.7% in the first two weeks of December 2016, compared to the same period in 2015.
Combined with its enduring appeal and the strong Chinese demand for trips to the US this Spring Festival, the US looks set to benefit from this year's Chinese New Year Golden Week too.
Time to leverage Chinese New Year 2017
All these indicate that the 2017 Chinese New Year Golden Week is shaping up to be bigger than ever, and this is prime time to capitalise as Chinese travellers head overseas in greater numbers than before.
With this in mind, it's time to take a proactive approach to maximise your appeal and reach into the China market for the coming Chinese New Year sales season.
Read 11 tips to boost sales to Chinese real estate buyers this Chinese New Year Golden Week!
Sources: 1. Forbes: This Chinese New Year, more people than ever expected to travel; 2. Caixin Global: Chinese travelers to spend $14 billion overseas during Spring Festival, Ctrip says; 3. China Travel Outbound: Is Chinese New Year 2017 set to be the biggest ever?; 4. Bangkok Post: TAT expects rise in tourists during Chinese New Year; 5. Thailand Business News: Chinese arrivals reach record numbers; 6. The Japan Times: Japan saw record foreign visitors, tourist spending in 2016; 7. Japan National Tourism Organization; 8. Global Times: Record number of Chinese, US tourists visit each other's country in 2016; 9. China Daily: 1 million Chinese tourists visited LA in 2016; 10. Hurun Report "Immigration and Chinese HNWI 2016"
喜欢这篇文章?免费注册,获取居外亚洲市场的最新资讯!