You've successfully copied this link.
Juwai releases Southeast Asia Chinese Property Report
By Juwai, 11 January 2017

According to Hurun Report, 60% of China's rich and wealthy plan to invest in overseas property within the next three years.1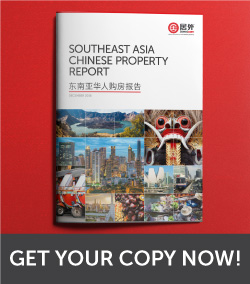 Seeing as Chinese high net worth individuals (HNWIs) are estimated to allocate 24% of their wealth to real estate investment2, this bodes well for international property markets indeed.
The biggest question, though, is where will Chinese real estate buyers choose to invest in 2017?
While it's still early days, we believe that Southeast Asia (SEA) is where Chinese will be stamping their mark next with their surging property investment demands.
Why Southeast Asia?
First, we take an overall look at the Asia-Pacific region. By 2020, 150 million Chinese are expected to travel to the Asia-Pacific region and spend an estimated $230 billion on their travels there.3
That's a 47% increase in Chinese visitor arrivals from the 102 million Chinese travellers who spent $157 billion in the region during 20153, which makes for a solid case that something big is afoot in Asia.
And judging by the 33% growth in Chinese visitor arrivals to Southeast Asia – Singapore, Thailand, Malaysia, Indonesia, the Philippines, Cambodia, and Myanmar – that hit 14 million arrivals in 2015, Chinese interest in Southeast Asian countries are definitely on the rise.
In other words, these countries are well positioned to reap the benefits that come with the projected 47% surge in mainland China travellers to Asia over the next three years – including the property markets of this region, which offer unbeatable value for money and robust ROI when compared to the domestic property market in China.
Read 5 factors driving Chinese property demand towards Southeast Asia.
Where are Chinese buyers looking in Southeast Asia?
We shed light on the five most popular picks for Chinese buyers in Southeast Asia on Juwai.com:

#1 Thailand
Thailand is hands down one of the top playgrounds for both middle-class and high-net-worth Chinese – whether as a tourist, an investor, a retiree migrant, or an expatriate. Driving factors are plenty, including its holiday and lifestyle appeal, steady rental demand, and an economy that is known to weather global headwinds fairly well.

#2 Singapore
As the country that famed Chinese celebrities like Jackie Chan, Gong Li, Vicky Zhao Wei, and Jet Li migrated to, Singapore's appeal to mainland Chinese is seemingly evergreen. Even with foreign buyer taxes, and the fact that they can only invest in private condominiums or apartments without government approval, Chinese buyers ranked Singapore as one of their top investment destinations in Southeast Asia.

#3 Malaysia
Following the MH370 flight disaster in 2014 that saw a sharp decline in Chinese arrivals, the Malaysian government ramped up efforts to woo Chinese visitors, including visa-free entry for Chinese from early 2016 till end 2017.4 This strategy has worked, seeing as Chinese travellers and property hunters are now returning in droves, and Malaysia – home to the renowned Petronas Twin Towers – is once again a rising hotspot in the eyes of Chinese property hunters.

#4 Indonesia
Home to 238 million people, Indonesia is the fourth-most populous nation in the world – just behind China, India, and the US. Recent REIT reforms and relaxed foreign ownership rules5, alongside rapid urbanisation6 and dynamic demographics7, 8, have made Indonesia a land of huge, untapped opportunity for Chinese investors.

#5 Vietnam
A record 2.7 million Chinese visited Vietnam in 2016, accounting for 30% of Vietnam's total number of international visitors during that period – and this 55% y-o-y surge reflects growing Chinese interest in Vietnam.9 Thanks to its amended Law on Residential Housing (LRH)10, visa-friendly policies11, and its close proximity to China12, Chinese buyers are beginning to eye Vietnam as well.

Liked this article? Read the full version in our Juwai Southeast Asia Chinese Property Report (January 2017)!
Sources: 1. Hurun Report "Immigration and the Chinese HNWI 2016"; 2. Knight Frank: Global Wealth Report 2016; 3. Pacific Asia Travel Association: China outbound wave dominates tourist arrivals across Asia Pacific to 2020; 4. Oxford Business Group: Malaysia looks to attract more Chinese tourists; 5. Indonesia Investments: New regulation: Foreigners can own landed houses in Indonesia; 6. The Guardian: 'Biggest invisible thing on earth?' – It's called Indonesia, and it's waking up; 7. JLL Real Views: Is Indonesia's real estate set for a new chapter?; 8. ASEAN Up: Southeast Asia real estate review; 9. VN Express International: Vietnam named a favourite destination for Chinese tourists; 10. Luxuryproperty.sg: Vietnam foreign property ownership guide; 11. VN Express International: Vietnam to launch e-visas in tourism drive; 12. Vietnam Net: Vietnam has potential to make money from Chinese tourists;
Liked this article? Sign up for free to get Juwai Juwai Asia Market updates!