You've successfully copied this link.
7 reasons why Asian property buyers love investing in Cambodia
By Juwai, 09 October 2020

Despite the ongoing pandemic, several reasons still make Cambodia attractive to foreign property buyers, especially those from China and the Southeast Asia region.
This Southeast kingdom has consistently performed well in residential property, especially in the expat-friendly capital of Phnom Penh, with an increasing number of investors from Hong Kong, mainland China and the Southeast Asia region.
Here are the seven reasons why cross-border property investors are betting on Cambodia.
#1 Economic growth
Over the past two decades, Cambodia has undergone a significant transition, reaching lower-middle-income status in 2015 and aspiring to attain upper-middle-income status by 2030. Cambodia's economy has sustained an average growth rate of 8 per cent between 1998 and 2018, making it one of the fastest-growing economies in the world.1
However, like every country in the world ravaged by the coronavirus pandemic, Cambodia's economic growth will dip in 2020 to around 2.3 per cent, according to the Asian Development Bank's (ADB) flagship annual economic publication, Asian Development Outlook (ADO) 2020, released in April this year. But the government is optimistic and expects the economy to rebound to 5.7 per cent in 2021, assuming that the pandemic ends and economic activity normalises.2
This has garnered the attention of residential investors and Juwai's data shows that Chinese enquiries for Cambodian properties rose a whopping 463.6 per cent from July to August this year. Most were looking in the USD20 to USD250K price range and cited investment as their prime motivation.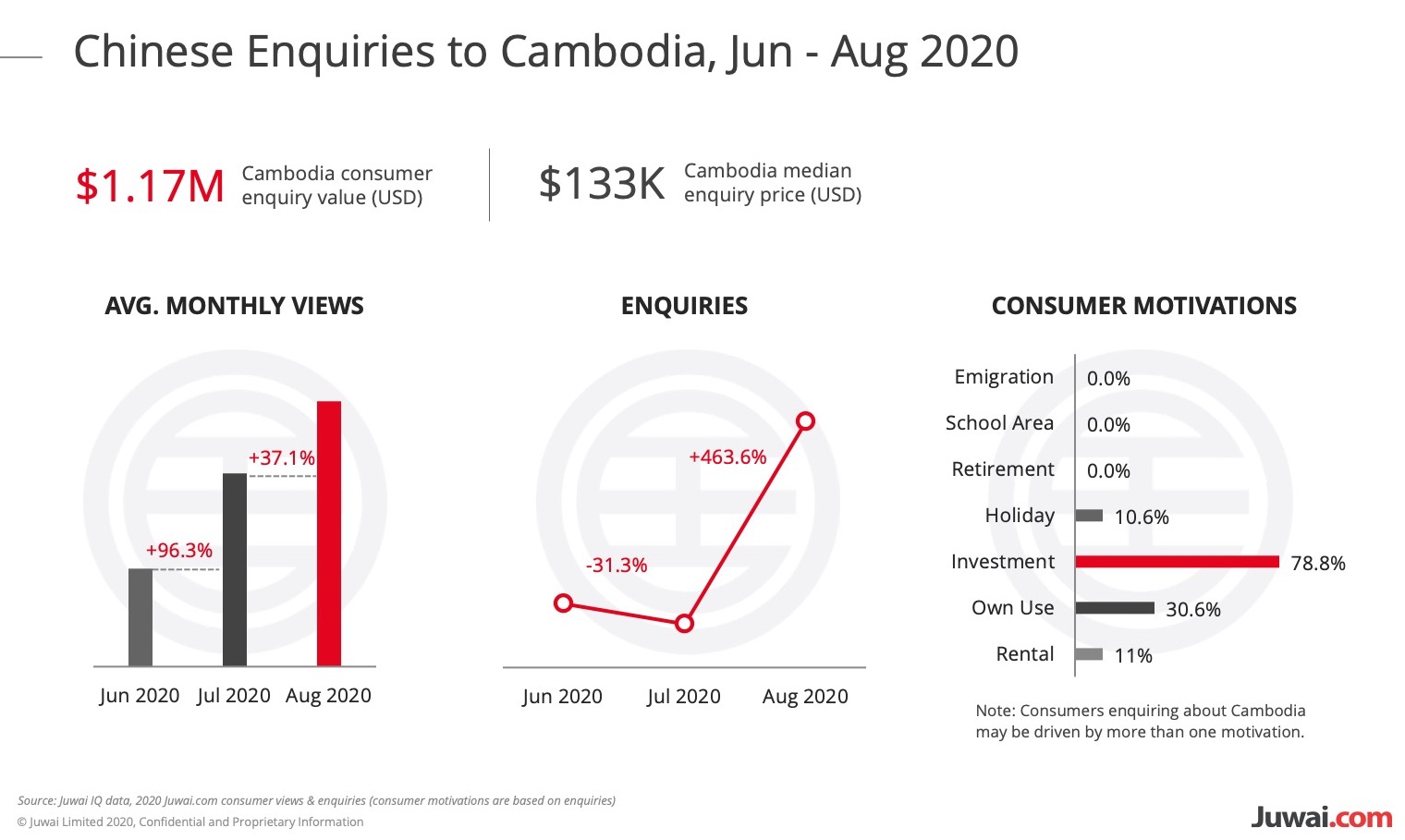 #2 Foreign investments made easier
Phnom Penh, as the capital of Cambodia, had attracted about USD3.6 billion in foreign investment (FDI) last year, an increase of nearly 12 per cent over 2018 with Chinese investors accounting for 43 per cent of investment in the city.3 The National Bank of Cambodia – the country's central bank - predicted that the kingdom's economic growth will be maintained at 7 per cent with an inflation rate of 2.3 per cent in 2020.4
Cambodia's Chamber of Commerce said more FDIs are pouring into all sectors and the growth of real estate and construction, in general, is also on the rise. As the government is amending investment laws, this has resulted in less red tape to facilitate trade and make it more attractive for investors. Consistently high GDP growth and tax benefits for industrial investors will in turn create a thriving job market which will boost demand for the housing market.
Phnom Penh has also been earmarked as one of the cities to have a station for the Pan Asian Rail System which is part of China's Belt and Road Initiative.5, This is good news for investors, as Chinese-led projects tend to lead to more Chinese nationals moving to the country to work and they will need a place to live and often have a higher housing budget than the typical locals. For developers, this will lead to higher demand for housing and pushed up asset appreciation for property owners.
In 2019, according to Juwai's data, Cambodia's popularity among Chinese investors looking to buy overseas property had jumped to 12th place, from 17th in 2018. Based on enquiries it received on its website, the top four most-enquired cities are Phnom Penh, Sihanoukville, Ta Khmau and Siam Reap.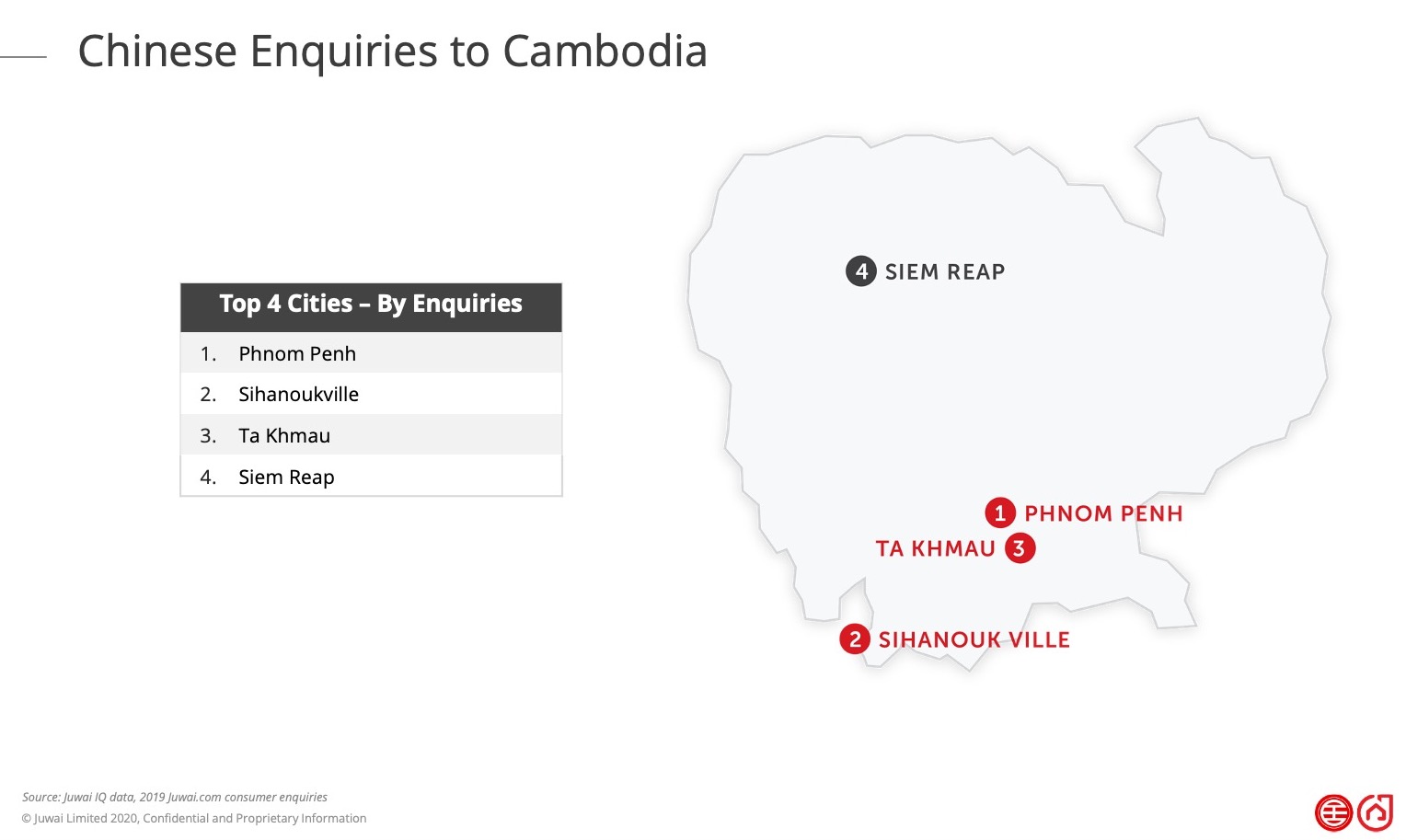 # 3 China's recovery
The beginning of China's recovery from COVID-19 signals a positive comeback for property investors from China, according to CBRE Cambodia. The firm in its Q2 report noted that while global travel restrictions have delayed transactions, it seems international interest has begun to return, especially to both Sihanoukville and Phnom Penh. The firm also expects to see a resurgence of Chinese developers who had been particularly active in Cambodia's condominium sector to restart their operations which had been held back for the past 12 months by the pandemic. The firm is also expecting a total of 28,000 condominium units to be completed by end of the year, up from current supply of 21,000 units as of Q2.6 Developers recognise that savvy buyers will always bet on property as one of the best ways to profit from Cambodia's "unparalleled" economic growth since the Khmer Rouge disbanded more than 20 years ago and those who get in early may be well rewarded in the future.
#4 Growing tourism
Cambodia has ambitious tourism plans. Prime Minister Hun Sen claimed that the number of tourists visiting Cambodia had increased substantially over the years and now the country expects 12 million tourists by 2025.7 More tourists will drive the real estate industry once the world is cleared of COVID-19.
#5 Dollarised economy
The USD is the common currency used in the country. The US-China trade war has impacted the global economic picture for the past two years and Cambodia has benefitted from aspects of the conflict, with China increasing its reliance on the nation as a trading base. An eventual resolution may provide a long-term platform for Cambodia to develop its power as an exporter, with a weaker US dollar consequently improving the purchasing power of foreign property investors looking for bargain real estate investments in the country. Prices range around USD1,800-2,000 per square metre net area for a good quality project8 will look attractive to buyers with a long-term view to growing their investments.
#6 Growing population
Cambodia's demographic is young with an average age of 25 and the population is expected to increase by over 20 per cent by 2030 and as the workforce increases to keep up with economic growth, urbanised cities will see more housing being developed to house workers. Cambodia now has about 16 million people with 1.5 million living in Phnom Penh.9
Developers that focus more on mid-range and affordable projects from local investors will likely see an increase in demand from foreign property buyers who intend to purchase for rental yields or to house their employees.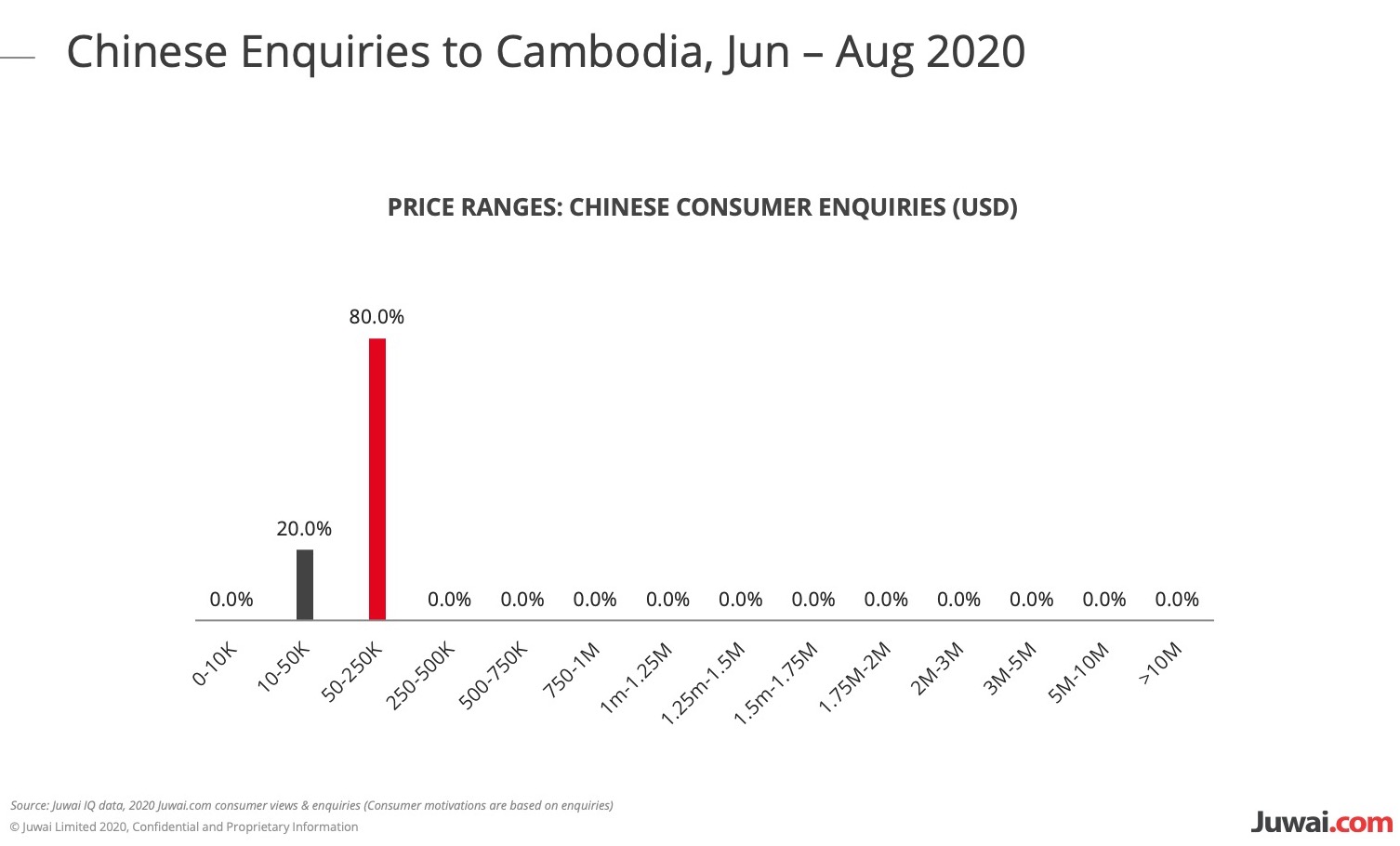 #7 High-end projects can still reap rewards
Before the pandemic, the cost of a typical mid-sized condo in the Phnom Penh was around USD110K, yielding at least 8 per cent a year. Compared to yields of less than 2 per cent in Beijing and Shanghai, this is a big draw for Chinese investors. While rentals have softened since the pandemic and prices have gone down between 8 and 15 per cent, market watchers say investors can still expect a return of 5.5 to 6 per cent for a quality condo in a good location.10 Developers say this is still an attractive offer for buyers.
Moving along the development path, particularly over the past 18 months, CBRE Cambodia says developers are now more attuned to residents' expectations and are coming up with better-designed buildings that are safer and offer more modern amenities.
For developers of high-end condominiums, they see wealthy locals are now buying in as well as they recognise that there is a unique investment opportunity in condominiums. They can generate a solid revenue stream and increase hugely in value over time.
Developers are also diverging into alternative secondary districts that would allow them to offer better pricing that enables more foreign and local buyers to access the market.
Sources: 1. The World Bank in Cambodia; 2. Asian Development Bank: Cambodia GDP growth forecasts; 3&4: Xinghua: Cambodia attracts 3.6-bln-USD FDI in 2019, 43 pct from China; 5: Railway Technology: Singapore-Kunming Rail Link (SKRL); 6. CBRE Cambodia: Marketview Update Q2 2020; 7. The ASEAN Post: Cambodia's ambitious tourism plans; 8 &10. South China Morning Post: Cambodia's property boom continues despite pandemic – is Phnom Penh real estate a good investment?; 9. Khmer Times: Cambodia's population will reach 20 million by 2030: PM
喜欢这篇文章?免费注册,获取居外亚洲市场的最新资讯!