You've successfully copied this link.
Juwai top 10 Chinese buyers picks: Q1 2016
By Juwai, 10 June 2016

That said, where are Chinese buyers looking lately to invest? Here's a look at the top 10 countries and cities most popular with Chinese buyers on Juwai.com during Q1 2016, compared to Juwai.com Q4 2015 rankings.
Top 10 hottest countries with Chinese buyers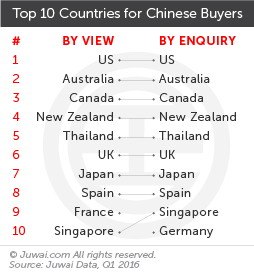 The top 10 countries most viewed and enquired by Chinese buyers remained stable from Q4 to Q1, except those in the last two spots.
The US remains at the top as country most viewed and enquired by Chinese buyers, followed by Australia, Canada, New Zealand, Thailand, the UK, Japan, and Spain.
Interestingly, while France took the ninth spot ahead of Singapore in terms of views by Chinese buyer, Singapore pulled in more enquires, putting it at ninth most-enquired country.
Germany also made a debut in Q1 as #10 most enquired on country.
Top 10 most-viewed cities by Chinese buyers
Breaking it down further, let's look at the top 10 cities receiving the most Chinese perusal these top countries and regions on Juwai.com.
United States (US)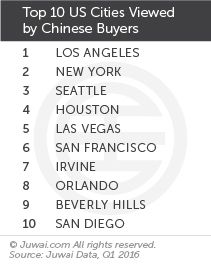 Chinese are charting an all-time high in terms of property investments in the US – CNBC reported the Asia Society and Rosen Consulting Group's latest study charting and forecasting Chinese investment in the US revealed Chinese investors spent $8.5 billion on commercial property in 2015 alone.
Combined with the $28.6 billion in US residential property as reported by the National Association of Realtors (NAR), that makes a combined $37.1 billion spent by Chinese investors on US residential and commercial real estate in 2015.1
The study also predicts that by 2025, Chinese residential investments could potentially hit $50 billion, while Chinese commercial purchase could peak at $20 billion.1
This suggests that Chinese overseas property investment is largely unaffected by the economic slowdown back home.
Where are Chinese buying in the US, though? Unsurprisingly, Los Angeles and New York City (NYC) both retained their ranks as the #1 and #2 most-viewed US cities. New US cities appearing in the top ten in Q1 2016 include Las Vegas (#5), Beverly Hills (#9), and San Diego (#10).
Australia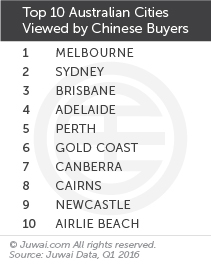 According to the Foreign Investment Review Board (FIRB), Chinese invested A$24 billion (US$17.6 billion) in Australian property last year.
And now, with a new 10-year visitor visa for Chinese combined with another new visa for foreign students set to go into effect from 1 July 2016 onwards, Chinese buyer interest in Australia should be getting off on the right foot.
Already, Australia is the second favourite property investment destination for wealthy Chinese, and this trend should continue, with the ever-popular cities of Melbourne, Sydney, and Brisbane being the top three cities.
Interestingly, Adelaide and Canberra experienced a jump in Chinese popularity in Q1 quarter, while Airlie Beach was the sole newcomer to the list.
New Zealand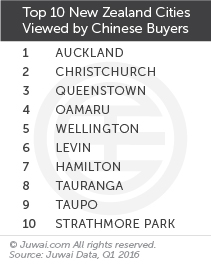 While Chinese investment interest in Kiwi properties dipped slightly in Q4 2015, possibly due to new requirements of IRD numbers and bank accounts for foreign investors, real estate experts predict Chinese buyer interest in New Zealand homes will rise this year.
This prediction is further bolstered by two factors: New Zealand Prime Minister John Key's recent state visit to China in April, which has helped raised New Zealand's profile in the minds of Chinese, as well as the New Zealand government's strong efforts to draw more Chinese tourists arrivals.
400,000 Chinese visited New Zealand in 2015, a 42% growth that makes China the second largest tourism source for New Zealand.2
In fact, Chinese tourist arrivals are projected to grow 30% each year, according to Key2 – a growth that will most likely stimulate New Zealand's property market as well.
This quarter, we see three new Kiwi cities enter the fray: Strathmore Park, as well as Levin and Hamilton – two of the biggest jumpers on the list.
United Kingdom (UK)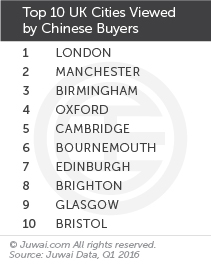 Could 2016 be a year in which the UK monopolises Chinese buyer interest? Some might say it's not impossible, given its new China-friendly visa policies, as well as its enduring allure as a top educational destination for Chinese students.
(Oxford and Cambridge, need we say more?)
While London will no doubt remain the most popular city, a number of up-and-coming new infrastructure projects have seen other UK cities emerging on the radar to contend for Chinese buyers.
Among some of the biggest surprises in the first four months of 2016 were former #3 Liverpool's shocking exit from the list, and Glasgow's (formerly #2 in Q3 2015 and #5 in Q4 2015) continued downward spiral to the ninth spot.
Certain fringe cities however, are basking in increased Chinese buyer attention, including Birmingham, Oxford, Cambridge, and Brighton, as well as newcomers Bournemouth and Bristol.
Europe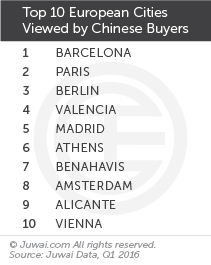 As in the US, Chinese buyers in Europe have been on a property shopping spree. In the first four months of 2016 though, we note the emergence of a rising star and a major overhaul in top European cities garnering Chinese investor activity.
As Berlin (Germany) dropped to third, Barcelona (Spain) made a giant leap from #7 to take the top spot, while Valencia (Spain) clambered up a rank to claim fourth.
Besides that, three other new Spanish cities make their presence known in the list: Madrid, Benahavis, and Alicante. Without a doubt, Spain is the Chinese hotspot in Europe for the first quarter of 2016.
As for the other cities, asides from Paris (France) which retained its spot as #2 on the list, Athens (Greece), Amsterdam (the Netherlands), and Vienna (Austria) all played backseat roles compared to Spain.
Chinese buyers grow increasingly adventurous
Rather than merely focusing on gateway cities, many Chinese buyers are now opting for relatively uncharted territories as they continue growing in terms of wealth, sophistication, and opportunities.
What's more, countries all over the world – in hopes of cashing in on the Chinese tourism wave – are increasingly opening up their borders by revamping their visa policies to offer Chinese travellers easier and faster visa applications with longer duration.
This, in return, will not only drive more and more wealthy Chinese to flock overseas to broaden their horizons, but increase property shopping abroad as well.
Find out how Chinese tourism drives outbound property investment.
As to where the future investment hotspots would be for the rest of 2016, we look forward to updating you in our next quarterly update, as we continue to monitor the ever-fluid China market.
Sources: 1. The Asia Society and Rosen Consulting Group; 2. China Daily;
喜欢这篇文章?免费注册,获取居外亚洲市场的最新资讯!