You've successfully copied this link.
Australia beckons Chinese with 10-year visa
By Juwai, 23 June 2015

China has just locked down another multiple-entry 10-year visa deal – this time with sunny Australia!1
This follows previous similar treaties with the US, Canada, and Singapore. Considering that Chinese travellers are the biggest source of tourism for Australia – and worth well over $5 billion buckaroos – this new deal bodes well for the land down under.
Break out the champagne, Australia!
In case you haven't heard, 174 million Chinese tourists are expected to splurge about $264 billion overseas by 2019.3
That's partially thanks to the fact that China is home to a massive and fast-growing middle class, comprised of people who are now coming into an income bracket that allows them venture out more.
75% of China's urban population – that's about 630 million Chinese – will be classified as middle-class by 2022.4
Add on the fact that Australia ranks #1 as the most popular travel destination for ultra-rich Chinese travellers2 for two consecutive years…well, let's just say that Australia stands to get a pretty big slice of the pie.
The near immediate 68% spike in Chinese visitors to the US just after the China-USA 10-year visa agreement went into effect last year is a good indicator of how this new China-Australia free trade agreement is set to boost Australia's economy.
On Juwai.com, Australia ranks as the second most popular country for Chinese buyers looking at international property, just after the US and ahead of Canada. This appears to be even more so with Australian property now roughly 30% cheaper due to the Australian dollar's decline against the RMB.
A recent Foreign Investment Review Board (FIRB) annual report reveals that Chinese buyers spent $12.4 billion on Australian real estate in 2014 – close to half of the $27.7 billion invested by foreign investors in total.5
With several such factors coming together, Chinese investment into Australian real estate is no doubt going to keep going up.
"China is just beginning to deregulate its capital export controls, its economy is still growing at something like twice the rate of developed economies, and its people are big believers in real estate as an asset class," says Andrew Taylor, Co-CEO of Juwai.com.
Where are Chinese looking in Australia?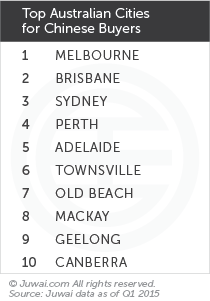 At #3, Sydney has been a favourite with China's high net worth individuals (HNWIs) and Chinese developers alike.
Hotspots range from luxury neigbourhoods like Point Piper, to CBD areas as well as up-and-coming suburbs like Liverpool, Camden, and Penrith.
Second-place Brisbane is a perennial favourite with Chinese buyers, although some of which are beginning to branch off to other Northern Australian cities, such as Townsville and Mackay.
Australia's cultural capital, Melbourne, reigns at the very top of the list, though. Home to the world's oldest Chinatown, the arty and cosmopolitan city of Melbourne holds such attraction for Chinese buyers that they snapped up 20% of new homes sold in Melbourne last year.6
In fact, a Chinese businessman recently made international headlines when he paid $25 million for an 800sqm penthouse in the yet-to-be-completed Australia 108 tower at Southbank, Melbourne – making it Australia's most expensive luxury apartment.7
Nevertheless, seeing as China has surpassed the US to become the biggest source for foreign investment in Australia, it seems that nearly all parts of Australia is fair game for Chinese investors.
Sources: 1. ABC News; 2. Hurun Report "The Chinese Luxury Traveller" 2015; 3. Bank of America Merrill Lynch Wealth Management; 4. United Nations Statistical Division & The Globalist Research Center; 5. Foreign Investment Review Board (FIRB); 6. Credit Suisse; 7. ABC News
Liked this article? Sign up for free to get Juwai Juwai Asia Market updates!