You've successfully copied this link.
New PR visa rules could fire up Chinese demand for Japan property
By Juwai, 14 March 2017

Chinese will now be able to become Japan permanent residents in just under one year.1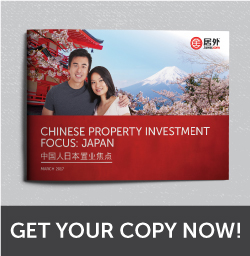 The Japan government has just made it possible for foreigners to gain permanent residency in just one year, and this could mean a new wave of Chinese buyers in Japan.
Effective March 2017, highly skilled and educated foreign professionals are eligible to apply for permanent residency (PR) under a new fast-track system, which allocates permanent resident visas based on a point system that could cut waiting time by YEARS.2
Typically, foreigners can only apply to become permanent residents after living in Japan for a minimum duration of at least 10 years.2
A point-based system introduced by the Japanese government in 2012, however, allowed highly skilled applicants in certain categories secure permanent residency within 5 years.3
And now, in a bid to resolve their predicament of demographic pressures and a dire labour shortage – 86% of Japanese employees face difficulties in filling vacancies, according to a 2016 Manpower survey4 – the Japan government has revised the point system to further shorten the required period to an unprecedented 1-3 years.3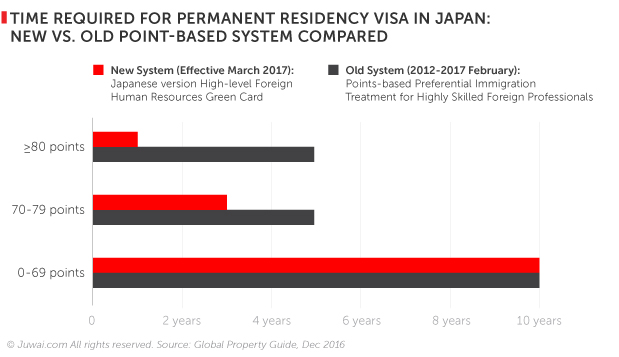 This could be music to the ears of many Chinese professionals, especially young professionals, given the stiff competition they face in securing a good job in China amidst the massive sea of graduates churned out by universities each year.
96% of Chinese professionals would consider a move overseas to further their career, according to a recent survey by Hays.5
More Chinese heading towards the Land of the Rising Sun
Japan is already extremely popular with Chinese as a holiday destination – 6.4 million Chinese visited Japan in 2016 alone, up 27.6% y-o-y6 – but this newly relaxed permanent residency ruling could bring its popularity with Chinese to new heights, and turn it into a new favourite for Chinese seeking to migrate or work abroad.
Not only would this new point system potentially propel Chinese expatriates and emigrants towards Japan, but its spillover effects could also strengthen the appeal of Japanese real estate to a huge market of Chinese property investors, who are already beginning to seriously eye property in Japan.
2016 saw a 103% y-o-y increase in Chinese buyer enquiries for Japan property on Juwai.com, and that's following a 117% y-o-y growth charted the year before in 2015.7
For starters, Japan is already home to 674,879 Chinese, which is ten times the total in 1984.8 Chinese also account for over a third of the more than 1 million foreigners working in Japan right now4, and this number could grow exponentially as more Chinese begin to discover the perks of living in Japan.
Already, a Chinatown is emerging in Tokyo's Ikebukuro district, where Chinese is oft heard and plenty of Chinese fares, such as Shanghai dumplings, can be found.9 According to two Chinese in their mid-20s, who were interviewed by Bloomberg over their recent move to Tokyo from Nanjing, China, they love everything about Japan. In fact, life in Japan is 'wonderful' that they plan to stay forever in Japan.9
Let's not forget the Chinese students. Back in mid-2015, there were already 94,111 Chinese students in Japan10, and this number would have risen by now, seeing as many Chinese students are turning towards Japan universities as a better opportunity for them, compared to the zealous competition they face when sitting the gruelling, infamous entrance examination in China's universities.11
Chinese student enrollment in Waseda and University of Tokyo – two of the most prestigious universities in Japan – grew 40% over the past five years to now account for over half of the international student population there.11
Additionally, the Japanese government aims to attract 300,000 foreign students by 2020 under its G30 project that was launched in 2008, so this bodes well for the growth of Chinese students in Japan.12
Considering education-linked real estate investment has supported continued demand in other countries – Canada, the US, and the UK – this new policy has the potential to support demand in Japan too, as Chinese students in Japan may tap this huge opportunity to stay on after their studies to gain work experience, and then eventually settle in Japan.
As a matter of fact, more foreign students are choosing to stay in Japan upon their graduation, and Chinese students are at the forefront – Chinese accounted for 63% of the 15,657 work visas issued to foreign graduates in 2015.13
After all, Japan's points-based system for highly-skilled professionals allocates bonus points for applicants who earned a degree at a higher education institution in Japan, as well as for those who have passed the Japanese Language Proficiency Test.14
Younger applicants aged up to 29 years old are also allocated more points compared to those aged between 30 and 39 years of age14, so it simply makes sense for them to leverage those bonus points and consider applying to become a PR in Japan upon graduation.
As for China-based professionals, the policy change could be highly enticing as well. Already, Chinese professionals are becoming increasingly international in their outlook, particularly in the face of fierce competition for jobs in China. Now with the Japanese government striving to entice skilled professionals to Japan, it's highly likely that many Chinese executives and specialists would seriously consider giving it a shot by moving to Japan to establish a new career and life there.
All these point towards a possible upsurge in real estate investment from China in the years to come, as more Chinese will now have more incentive to consider a permanent relocation to Japan under this fast-tracked permanent residency option.
4 other factors behind Japan's allure for Chinese
Fact is, even without this new PR ruling change, Japan is already plenty attractive in the eyes of Chinese real estate buyers, as we've laid out before a while back ago here. Nevertheless, we share a recap and give you four reasons why Japan is enticing in the eyes of Chinese homebuyers.

#1 Close to home
Tokyo is a mere three hours flight from Shanghai, and three-and-a half hours from Beijing. Combined with a slew of new flights from companies like China Southern and Spring Airlines connecting Japan with China's fast-growing regional cities like Hangzhou, Tianjin, and Wuhan, Japan is now closer and more accessible than ever to Chinese buyers.

#2 Quality of life
Many Chinese are in love with Japan's rich and diverse culture, food, and outstanding customer service. That, in addition with Japan's rigorous standards for food, hygiene and safety makes it eminently desirable for Chinese, who are increasingly on the lookout for access to quality healthcare, clean water, fresh air, and a safe neighbourhood. That's why Chinese are making their way to Japan in recent years to look for homes there.

#3 Tokyo Olympics 2020
The upcoming Olympics will channel billions into infrastructure projects and urban regeneration and, just like other host cities such as London and Beijing that experienced the 'Olympic effect', the event is expected to drive property prices and have a positive effect on its real estate market. As such, Japanese property looks an increasingly attractive investment to Chinese buyers, many of whom are currently facing curbs on property investment in mainland China.

#4 Strong RMB against the JPY
The added strength of the Chinese Yuan – up 9.4% against the Japanese Yen since 1 October 2016 – has made Japanese property even more attractive for real estate investors from China. This, together with attractive yields of 3.4% to 5.4% in Tokyo15, compared with 2.8% in Hong Kong, 2.5% in Singapore and 1.57% in Taipei16, make Japan an even more compelling investment proposition for Chinese property hunters, who greatly value yields and return on investments (ROIs).
Japan set to rise in popularity with Chinese
Based on all the above, it seems highly likely that Japan is well poised to bask in an increase of Chinese buyer demand this year.
Already, we've noted growing interest from Chinese homebuyers – Tokyo, the most enquired Japanese city on Juwai.com, saw a 312.2% y-o-y surge in Chinese buyer views last year.7
Could this new and revised permanent residency ruling be the catalyst that triggers a bigger boom in Chinese buyer demand for Japan property? We can't wait to find out.
Sources: 1. Business Insider: Forget moving to Canada — it just got easier to become a permanent resident of Japan; 2. Nikkei Asian Review: Japan looks to March start of 1-year path to permanent residency; 3. The Asahi Shimbun: Permanent residency soon possible after 1 year in Japan; 4. Bloomberg: Why immigrant-shy Japan is luring foreign workers: QuickTake Q&A; . BBC: The rise of the Asian expat; 6. JTB Tourism Statistics; 7. Juwai IQ Data, 2015-2016; 8. Medill: In Japan, Chinese takes jobs to serve Chinese visitors; 9. Bloomberg: Japan quietly accepting foreign workers — just don't call it immigration; 10. Japan Student Services Organization (JASSO): International Students in Japan 2015; 11. Nikkei Asian Review: Japan's top schools draw Chinese seeking fresh start; 12. CRIENGLISH; Japan's Border Entry Inspection stricter for students from 5 countries including China; 13. Nikkei Asian Review: More foreign students finding jobs in Japan after graduation; 14. Immigration Bureau of Japan: Points-based Preferential Immigration Treatment for Highly Skilled Foreign Professionals; 15. Wealth in Asia: Best cities for high rental property yields; 16. Japan Times: Asian Investors snapping up Japanese properties;
喜欢这篇文章?免费注册,获取居外亚洲市场的最新资讯!