You've successfully copied this link.
4 reasons Chinese investors still love UK property
By Juwai, 24 June 2016

Latest UK trends are keeping Chinese property buyer demand strong.
The UK has long been a favorite for Chinese investors purchasing property overseas. What accounts for the continued attraction of the UK for Chinese investors? Here are four key factors underlining the UK's enduring allure:
#1 China-friendly policies
UK visas for Chinese are incredibly China-friendly now, thanks to the UK government's recent introduction of a new 2-year duration tourist visa, reduced fees, and simplified application process to boost the inflow of Chinese visitors.1
With policies aimed at opening opportunities for property investment and long-term settlement in the UK for thousands, if not millions, of Chinese, the UK is now seeing the results of these efforts – Chinese visitor arrivals in the UK grew 26% y-o-y in January and February 2016.2
The new visa policy also supplements its Tier 1 (Investor) Visa – a specialised visa programme for foreign HNWIs, which offers a UK visa for investors prepared to make a £2 million (US$2.83 million) investment in the UK.3 Though more expensive than other visa programmes in Europe, such as in Portugal and Spain, the visa scheme opens a door that previously didn't exist, and remains enticing for rich Chinese investors.
In addition to the positive spillover effects from China President Xi Jinping's visit to the UK, the UK government's progressively open attitude to Chinese investment is spurring an increase in business activity from Chinese commercial investors too.
Chinese conglomerates, such as Huawei, Geely, China Capital Investment Group, and BYD, have all invested in mega-projects in the UK4, and this performance is expected to grow further.
The UK's Centre for Economics and Business Research forecasts an additional £126 billion (US$191 billion) in investment from China into the UK between 2015 and 2025.5
#2 First-rate educational offerings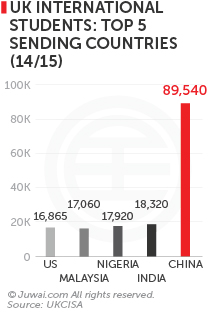 With a total of 89,540 Chinese students in the UK in the 2014/2015 academic year6, Chinese make up the largest group of international students in the UK.
Clearly, education is a major driver for Chinese heading to the UK. After all, the UK is home to some of the oldest, best, and most well-known universities in the world, including Oxford, Cambridge, Imperial, and four other universities that rank within the top 30 in the world.7
Additionally, the chance to attend a university with a global cachet – in an English-speaking environment whilst being located at Europe's doorstep to boot – is a huge motivation, particularly for Chinese students seeking unique educational experiences and the opportunity to travel to a range of different countries.
It's no wonder that Hurun Report says China's HNW population regard the UK as their second favourite education destination for their children, and why UK cities offering access to world-class educational institutions are in high demand with Chinese.
More importantly, the ages of Chinese students heading to the UK are getting younger and younger as Chinese parents now prefer sending their children over earlier for primary or secondary education to lay down better foundations. As of January 2016, there are 7,303 Chinese primary or high school students in the UK – a 28.5% y-o-y growth from the year before.8
Case in point: Cambridge, the #5 most-viewed UK cities on Juwai.com.9 Housing prices in Cambridge have risen 50% since 201010, thanks to Chinese property investors who purchase with the intent of integrating their children into local schools before aiming for a future at Cambridge.
Already, Cambridge University currently numbers 900 Chinese students – the largest group of international students there10 – and this number looks set to grow.

#3 Connectivity convenience
With 351 direct connections to destinations all over the world – more than any other capital in the world – London is the best-connected city on the planet.11 Coupled with fast-developing international train services, this makes the UK a great starting point for both leisure and business.
Furthermore, domestic connectivity is also steadily improving in the UK, and its new infrastructure projects and extra capacity are opening up a realm of new residential possibilities. Already ranked 9th out of 140 countries in the world for infrastructure quality by the World Economic Forum12, the UK has even taken steps to further enhance its transportation network.
Beyond boasting new transport links stemming from the 2012 London Olympics, the UK has also set into motion several high-profile projects, such as the Crossrail and High Speed 2 (HS2) railway projects – all which not only are reducing commute times across the nation but also opening up new property markets.
According to a study by the Cass Business School of City University London, infrastructure projects associated with the 2012 Olympics boosted London property prices by a total of £1.2 billion.13
This connectivity significantlly adds to the appeal of regional cities in the UK as emerging property hotspots, such as Bournemouth. At a 2-hour train ride from London, the vibrant coastal resort town of Bournemouth offers beautiful weather, award-winning beaches, 2,000 acres of parks and gardens, cosmopolitan shopping, a range of educational options, and the fastest-growing digital economy in the UK.
It's no wonder that Bournemouth property value and popularity are on the rise. In fact, Chinese buyer views on Bournemouth property on Juwai.com surged 119% in Q1 2016.14
#4 Lifestyle sophistication and prestige
In the minds of Chinese, the UK is synonymous with cultured sophistication. From the posh British accent to the elegant lifestyle of the UK's rich and famous, all these appeal greatly to Chinese, particularly those looking for better quality of life abroad.
That's also why properties in exclusive locations oozing prestige and historical significance are eminently popular with Chinese buyers – think Knightsbridge, Chelsea, Hampstead, Notting Hill, and Mayfair.
On a similar note, major celebrities can have a great deal of influence on Chinese interest overseas as well. From A-listers to athletes, politicians to reality show stars and celebrity influencers in Asia – particularly in China, Japan, and South Korea – can significantly impact consumer trends as they are looked upon as symbols of aspiration and credible trust.
Just last year, Taiwanese singer Jay Chou, considered to be one of the most influential celebrities in China,19 was wed in Yorkshire. The media attention around the event in Selby, Yorkshire was followed with hundreds of fans swarming to this historical landmark that was little known to many Chinese before.15
Besides that, the UK is also a retail heaven. For China's luxury consumers – the world's largest and fastest-growing luxury consumers – the prospect of not only having a high-end international lifestyle within easy reach, but also access to luxury goods that are more affordable compared to China is enticing indeed.
Case in point: Oxford, the fourth most-viewed UK city by Chinese buyers on Juwai.com.9 Not only is it home to the University of Oxford, but it's also near Bicester Village – a premium outlet mall that is the most-visited tourist destination in the UK by Chinese tourists after Buckingham Palace.16
With Barclays Research estimating that Chinese visitors will splurge £1 billion (US$1.89 billion) per year in the UK by 201717, we can expect more Chinese to embark on shopping sprees in the UK, which could extend towards property shopping as well.
A compelling case for future growth
The above four factors certainly make the UK a compelling option for Chinese property investors, and recent data suggests that a new wave of Chinese buyers could be coming.
According to its Office for National Statistics, the UK welcomed 528,661 Chinese visitors who spent £939.5 million (US$1.33 billion) in the UK during 2015 – charting a 35% y-o-y increase in Chinese arrivals and a 16.5% y-o-y increase in tourist spending.18
Considering tourism is a key foundation for future real estate investment, as well as the fact that the British Pound has plunged to hit a 30-year low following the Brexit vote to leave the EU, Chinese investor demand for UK property has a solid outlook for the coming years.
Find out where Chinese buyers are looking in the UK. Download the Juwai UK Chinese Property Report now.
Sources: 1. UK Government: The Home Office launches new two-year Chinese visa pilot; 2. VisitBritain; 3. UK Government: Tier 1 Investor Overview; 4. Telegraph: China to invest £30bn in UK; 5. Centre for Economics and Business Research: Chinese Investment into UK Infrastructure; 6. UKCISA: International student statistics: UK higher education; 7. Times Higher Education World University Rankings; 8. UK ISC Census and Annual Report 2016 & 2015; 9. Juwai IQ Data Q1 2016; 10. The Guardian: Poetry or property punts: what's driving China's love affair with Cambridge?; 11. Rome2Rio: Global Connectivity Ranking; 12. World Economic Forum: UK Global Competitiveness Ranking; 13. Cass Business School: 'The Impact of the London Olympics Announcement on Property Prices' (2009); 14. Euromonitor International "Celebrity Power and Its Influence on Global Consumer Behaviour Report"; 15. South China Morning Post; 16. The Telegraph: How Bicester Village became the go-to place for Chinese tourists; 17. Barclays Research: UK Tourism Dynamics 2014; 18. Shanghai Daily: China figures among Britain's top 10 most valuable inbound tourism markets
Liked this article? Sign up for free to get Juwai Juwai Asia Market updates!