You've successfully copied this link.
4 factors why Portugal is a rising star for Chinese buyers
By Juwai, 23 May 2016

Chinese investors generated a record $23 billion in investment into Europe during 2015.1
That's nearly half of the US$51.6 billion (€46 billion) invested by Chinese in total between a span of 14 years from 2000-2014.2 Clearly, Chinese are increasingly seeing Europe as a lucrative investment destination but where are they heading?
According to the Rhodium Group, the top three countries that received the most Chinese Foreign Direct Investments (FDIs) are the UK, Germany, and France.2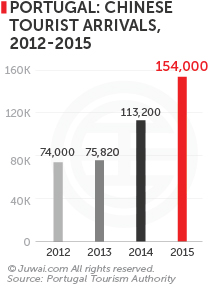 However, fourth-placed Portugal is now skyrocketing as a Chinese investment hotspot, and it's thanks to its unique appeal and welcoming attitude to investment from the Middle Kingdom – especially when it comes to real estate.
Chinese buyers have invested a total of US$1.94 billion (€1.74 billion) into Portuguese property since the launch of Portugal's Golden Visa investment programme in 2012.
And if Chinese tourist arrivals are any indication, this sum is set to rise. Portugal attracted 155,000 Chinese tourists in 2015 – up 36% y-o-y compared with 20143 – and the increasing number of Chinese visitors are making their presence felt on Portugal's property markets.
Juwai Data further corroborates this rising trend – Chinese buyer searches for Portuguese property on Juwai.com grew 36% q-o-q in Q1 2016.
Four key factors behind Portugal's appeal
What makes Portugal so alluring to Chinese buyers? We share four main drivers motivating Chinese to invest in Portugal.

#1 Affordable cost of living
Portugal is one of the most reasonably-priced places to live in Europe – its average price of local goods is 12.2% cheaper than in the UK and 19.4% cheaper than in France, according to Global Property Guide.4 This, together with the RMB's appreciation against the Euro during the past five years, makes Portugal an extremely attractive foothold into Europe.

#2 Appeal as a tourism hotspot
Portugal scores as one of Europe's most popular tourism hotspots as well. The classical architecture and retail offerings of Ribeira do Porto – a heritage location in Porto – helped it rank as one of the top 7 tourist attractions in Europe last year.5 Portugal also boasts the most stunning coastlines in Europe, with The Algarve6 a favourite with tourists for its pristine beaches, golf courses, and great weather.7

#3 Attractive property pricing
Property prices in Portugal look undervalued at present, according to both the OECD8 and IMF.9 Their measures of affordability, the ratio of house prices to rents, that were calculated for 2015 show that price levels in Portugal were 6% below their long-term average.
This compares favourably to other European destinations where property valuations are seen to be much higher, and Portugal's value proposition has been a hit with investors indeed – property prices rose 22.3% y-o-y in Lisbon in 2015 alone10, making it one of Europe's hottest growth markets.

#4 Enticing visa policy
Portugal's Golden Residence Permit Programme is one of the most accessible visa schemes for Chinese investors.
With either a €350,000 or €500,000 investment – depending on the property type – an investor can apply for residency for themselves and family members, allowing them to live and work in Portugal as well as have the Schengen visa-free travel rights across Europe.11
Since its 2012 launch, the programme has proved to be one of the most popular visa schemes open to Chinese investors in Europe, generating US$1.94 billion (€1.74 billion) in property investment since its launch, compared to the US$301 million (€268.4 million) invested in Spain between 2014-2015.12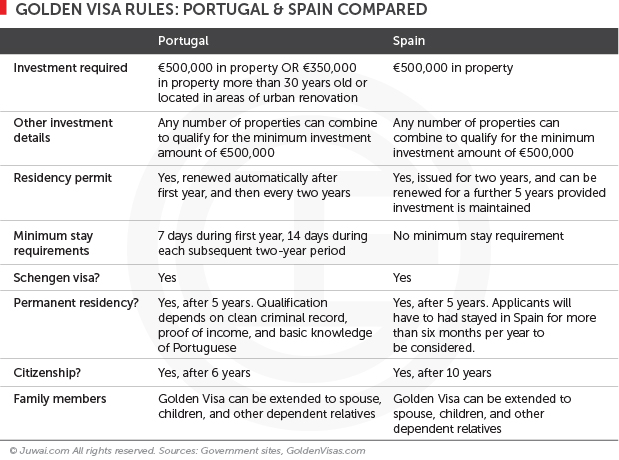 4 factors for a share of a $20 trillion market
The 4 factors mentioned above shows that Portugal, as one of the most popular targets for investment from China into Europe, is expected to feature prominently as Chinese businesses and individuals invest what the Rhodium Group estimates will be $20 trillion in overseas investment by 202013 – making China one of the most lucrative sources of investment right now.
And since the Portuguese government is getting increasingly smart to this dynamic market and making it easier for Chinese to grab an entry visa13 as a springboard to tourism and longer-term investment, one can expect to see more mainland-based buyers hitting the Portuguese market.
As such, putting a solid sales pitch together is absolutely vital and the four factors outlined here – Portugal's affordable lifestyle, attractive settings, comparatively cheap property prices, and its welcoming visa residency programme – should feature front and centre when marketing to Chinese buyers.
Sources: 1. FT: Chinese investment in Europe hits $23bn record; 2. China Daily: Mediterranean magic hopes to cast a spell over Chinese; 3. Global Property Guide: Local Price of Goods – Portugal vs. Rest of Europe; 4. Conde Nast Traveller: The Most Popular Tourist Attractions in Europe; 5. Wikipedia: The Algarve; 6. Savills: The Algarve at a Glance; 7. OECD: Focus on House Prices; 8. IMF: Global Housing Watch; 9. The Move Channel: Portugese house prices enjoy strong growth; 10. Galleon: Spanish Golden Visa and The International Citizenship Programs; 11. Visaguide.world: Schengen Visa; 12. LaVida; 13. Rhodium Group "Chinese FDI in Europe and Germany"
Liked this article? Sign up for free to get Juwai Juwai Asia Market updates!