You've successfully copied this link.
Top Chinese travel hotspots this October Golden Week 2017
By Juwai, 11 September 2017

6.15 million Chinese travelled abroad during Chinese New Year 2017, the first of two Golden Weeks each year.1
That marks a 2.5% y-o-y increase1, which bodes well for the National Day Golden Week – the second Golden Week of 2017 – that is coming up soon.
Already, Ctrip – China's largest online travel portal – is predicting more than 6 million Chinese travellers to head overseas this October Golden Week2, which set to happen on 1 October to 8 October this year.3
How well prepared are you to welcome this wave of Chinese outbound travellers, who are highly likely to property hunt while overseas?
Capitalising on the Golden Week bonanza
Golden Week has proven to be a business bonanza not just in China, but overseas as well. In fact, the 2015 National Day Golden Week saw businesses in Japan and the UK raking in an estimated $830 million and $770 million, respectively, from Chinese visitors.4, 5
This bonanza holds true for real estate as well, as the Golden Week holiday is a prime sales season when Chinese traditionally leverage the week-long holiday to property hunt, and is also a period that Chinese developers capitalise on to market new real estate projects.
Considering Chinese buyers are faced with domestic sales restrictions limiting buyer's opportunities in China, chances are high that many mainland property buyers will be looking overseas for investment opportunities.
Still, to fully leverage the Golden Week opportunity, it's still vital to find out where Chinese intend to travel to this Golden Week, and according to Ctrip, it's Asia that's going to be hot with Chinese outbound tourists this October 2017, with half of the top ten destinations being in Asia – four in Southeast Asia, and one in East Asia.2
Top 10 Golden Week 2017 holiday destinations for Chinese
Based on a recent study by Ctrip, the most popular destinations for Chinese this National Day Golden Week are Thailand, Japan, and the US, followed by Singapore, Australia, Canada, Vietnam, Italy, Russia, and Malaysia.2
We take a closer look at some of the standout locations, which happen to be also smack in the middle of a Chinese real estate investment boom.

Thailand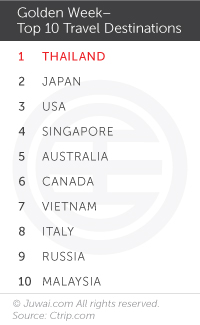 2016 saw 8.8 million Chinese tourists spending 430 million baht ($12.97 million), with 1 in 4 of all tourists hailing from China, according to statistics from the Tourism Authority of Thailand (TAT).6
In 2017, Chinese arrivals are projected to hit 9 million tourists, generating more than 480 million baht ($14.49 million) in revenue, an 8% increase that will make China account for 26.6% of Thailand's overall tourism revenue.6
Seeing as H1 2017 already has seen 5.65 million Chinese travellers lavishing 290 million baht ($8.75 million)6, this aim seems well achievable, particularly as Thailand is not only one of the most popular vacation spots for Chinese in general, but was also voted the #1 holiday destination for Chinese this National Day Golden Week by Ctrip.
Thailand's popularity with Chinese as a holiday destination has spilled over to its property market as well.
Thailand leapt from #6 last year to become the third-most enquired investment destination by Chinese buyers on Juwai.com in H1 2017.
Beyond the fact that Chinese adore the Thai lifestyle, Thailand is also raking in Chinese property investments thanks to its proximity to China, affordability, freehold ownership options, vibrant rental markets, and liberal culture.

United States (USA)
2.97 million Chinese visitors jetted to the US last year, a 15% y-o-y growth that saw Chinese spending increase 9% y-o-y to reach a staggering $33 billion.7
Unsurprisingly, Chinese tourists are the biggest spenders in the US, contributing over $9 million a day into the American economy.7 The Chinese reign as the biggest spenders in the US isn't only limited to tourism spending, though.
According to the National Association of Realtors (NAR), Chinese are also the largest group of foreign residential real estate investors in the US, which saw them spending a record-breaking $31.7 billion between April 2016 and March 2017.8
What drove this 16.1% y-o-y hike in Chinese residential property investment in the US?8 Among some of the very compelling reasons for Chinese include investment security, housing quality, excellent education options, and easier visas for Chinese.
And although traditional hotspots like New York, Los Angeles, and San Francisco remain popular investment destinations for mainland investors, an increasing number of Chinese investors are beginning to favour alternative markets, such as Miami and Seattle.

Vietnam
Vietnam is emerging as the latest darling for Chinese travellers, with Chinese arrivals up 51.4% y-o-y to reach 2,652,978 as of August 2017 – almost on par with the 2,696,848 total Chinese arrivals for the whole of 2016!9
It's no wonder that Vietnam was named as one of the fastest-growing travel destinations in the world by the United Nations World Tourism (UNWT) organization earlier this year.10
In part, this upsurge in Chinese arrivals is due to a series of visa easing measures launched in the beginning of 2017, which includes the availability of online e-visas for short-term Chinese visitors, as well as a 3-day visa-free entry for Chinese entering the northern province of Quang Ninh by car and in groups.11
Chinese interest in Vietnam properties exploded this year too – Chinese buyer enquiries for Vietnam properties grew 442% y-o-y on Juwai.com between January and May 2017, largely driven by its revised Law on Residential Housing (LRH) that now enables private ownership for foreign buyers.
Other compelling factors include Vietnam's improving economic outlook, affordable property prices, expanding transport links, and burgeoning education sector.
Other noteworthy vacation hotspots for Chinese
Asides from the above ten popular hotspots ranked by Ctrip, here are two other destinations that has seen bumper demand from Chinese tourists this year.

Greece
Home to the Parthenon and a wide array of breathtaking islands such as Santorini and Mykonos, Greece welcomed 150,000 Chinese tourists in 2016.12
More impressively, the number of Chinese tourists soar 10-fold to reach 1.5 million over the span of the next five years13, as more and more Chinese visitors take advantage of increasing travel links to the country, and newly-eased visa restrictions.
Besides Santorini and Mykonos, Athens is also coming up fast on Chinese tourists' itineraries.
According to the Hotels.com Chinese International Travel Monitor, Athens was recently voted third on the wish list of Chinese planning to travel to Europe, just behind Paris and London.14
With Air China set to launch a new direct route between Beijing and Athens at the end of September 2017 – just in time for Golden Week – we foresee Athens to rise in popularity with mainland tourists, especially as this new non-stop flight will slash flight time to merely 10.5 hours.15
All these bodes well for Chinese property investment in Greece too, as Chinese conglomerate Fosun International is already seeking to tap into this increase in Chinese tourism by building up Club Med throughout Greece, as well as taking part in the Helleniko property redevelopment project in Athens.12
The affordability of Greek property is also fuelling interest from Chinese residential buyers, who are already the biggest source of foreign property investors in Greece, bolstered predominantly by the Greek Golden Visa programme that launched in 2013.16

Cambodia
830,000 Chinese tourists visited Cambodia last year, a 19.5 y-o-y increase17 that was followed by another robust 40% y-o-y increase to reach 529,967 Chinese arrivals in H1 2017, accounting for 20% of all foreign visitors in Cambodia so far.18
This makes China the largest source of foreign tourists in Cambodia, with an 1 million Chinese visitors expected for 2017 alone, along with a forecast of 2 million mainland visitors by 2020.19
And even as Chinese make a bee-line for Angkor Wat, and Cambodia's newly emerging beach resort destinations20, many are making eyes at Cambodian property as well.
Not only is Cambodia one of the best retirement hotspots in Southeast Asia21, but Chinese developers are already leading the way, with Guangzhou R&F Properties already investing $3 billion over the next five years to build 6-star luxury hotels in Phnom Penh and the coastal Preah Sihanouk.22
Cambodia is so hot that there were even rumours in June 2017 that a subsidiary company of Alibaba's Jack Ma is planning to buy Otres Beach in Sihanoukville for a resort development, which subsequently sent land prices spiking from $350 million psm to $500 million psm.23
Up your game this Golden Week
With these travel trends in prospect, it's time to bring your 'A-game' to your Golden Week preparations before you lose out on the lucrative Chinese market. With three weeks to go, here are 11 tips to boost your sales during Golden Week.

Sources: 1. THZ: 2017年春节假期旅游大数据; 2. China News: 十一黄金周国内游将达6.5亿人次 业内建议错峰出游; 3. Ctrip on The Straits Times: 6m Chinese set to travel abroad during Golden Week; 4. China Daily, Chinese tourists spend over $830m in Japan during Golden Week; 5. Retail Gazette: Golden Week to bring £600m fortune to UK retailers; 6. Tourism Authority of Thailand (TAT); 7. US Commerce Department on China Daily: Chinese tourists spend most in US; 8. NAR: 2017 Profile of International Activity in U.S. Residential Real Estate; 9. Vietnam National Administration of Tourism on TTR Weekly: Vietnam's travel arrivals soar; 10. VN Express: Vietnam named among world's fastest growing travel destinations; 11. VN Express: Vietnam to launch e-visas in tourism drive; 12. Bloomberg: Number of Chinese tourists visiting Greece to rise 10-fold; 13. The Guardian: Santorini's popularity soars but locals say it has hit saturation point; 14. Greek Reporter: Athens in the top three 'wish list' of European places to travel for the Chinese; 15. Markets Insider: Air China launches Beijing-Athens non-stop route; 16. Greek Guru: Chinese appetite for Greek property seen rising; 17. Cambodian Tourism Ministry on China Daily: Chinese tourists to Cambodia up almost 20% in 2016; 18. Cambodian Tourism Ministry on Xinhuanet: Chinese tourist arrivals to Cambodia up 40 pct in H1; 19. COTRI: Chinese now largest tourist group in Cambodia; 20. Guardian: Undiscovered south-east Asia: remote towns and secret beaches; 21. International Living 2017 Global Retirement Index; 22. Khmer Times: China and investments it has made in Cambodia; 23. Khmer Times: Is Jack Ma buying Otres Beach?;
喜欢这篇文章?免费注册,获取居外亚洲市场的最新资讯!