You've successfully copied this link.
Singles' Day: China's online shopping spree that you need to know
By Juwai, 06 November 2017

Last year saw Alibaba's Singles' Day online shopping phenomenon rake in $17.8 billion in online retail sales.1
And 2017 promises to be another goliath success, with global consulting firm Oliver Wyman predicting Singles' Day online transactions will grow by 26% to reap a record-breaking $23 billion (152 billion yuan).2
What is Singles' Day and why should it matter to you? We give you a quick Singles' Day 101 below.
The story behind Singles' Day
Each year, on 11 November, Alibaba coordinates and promotes what's now the world's largest retail event – dubbed Singles' Day.
While Singles' Day first began as a student festival at Nanjing University to celebrate singlehood back in 1993 (a play on the four 1's in 11.11 representing singlehood)3, it has now evolved into a day that's promoted for China's single people shop for gifts as a treat for themselves.
The event generated $14.3 billion in sales in 20154, and $17.8 billion in 20161 – all in just 24 hours.
Popularly known as '双十一' (meaning 'Double Eleven' in Mandarin) or '11.11' in China, Singles' Day2 has now become the world's largest online retail event far surpassing Black Friday and Cyber Monday, which merely netted $3.34 billion and $3.45 billion, respectively, in 2016, compared to the $17.8 billion gleaned by Singles' Day.1, 5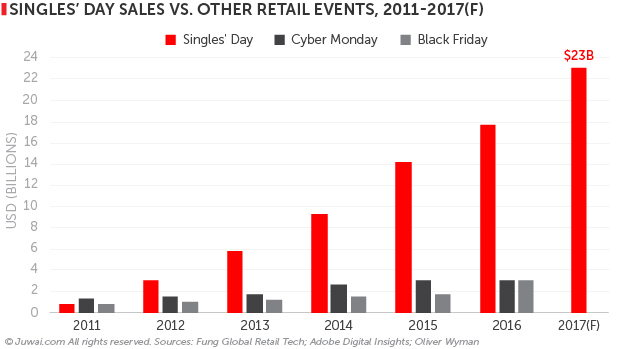 Leverage the power of Singles' Day
Today, retail brands from all over the world take advantage of Singles' Day to get in front of Chinese consumers online, and the growing numbers speak to the strength of Chinese consumers' increasing buying power and growing appetite for international products.
In fact, Alibaba alone received 657 million delivery orders during last year's Singles' Day – a 41% increase from Single's Day 2015 that only charted 467 million orders1 – because it targeted the event solely at China's rapidly-growing population of netizens, which now dominates as the world's largest online population with 751 million internet users as of July 2017, 96.3% (724 million) who go online via mobile.6
That said, Singles' Day is a perfect example how one can leverage the power of online to tap into the largest, most lucrative, and fastest-growing consumer base in the world.7
With China's online retail market projected to be worth $1.7 trillion by 2020, this is one market you cannot afford to ignore.
Read about what big retailers did in 2016 for Singles' Day here.
Sources: 1. Forbes: Singles' Day 2017 Preview; 2. SCMP: Alibaba's Singles' Day sales set to top 152b yuan this year, says Oliver Wyman; 3. Wikipedia: Singles' Day; 4. Fung Global Retail Tech: 2016 Singles' Day Preview: Aiming high as Alibaba pairs shopping with entertainment & social media; 5. Practical Ecommerce: Sales Report: 2016 Thanksgiving Day, Black Friday, Cyber Monday; 6. China Internet Network Information Center (CNNIC):40th China Statistical Report on Internet Development, July 2017; 7. China Daily: China retail sales grow 9.6% in 2016;
喜欢这篇文章?免费注册,获取居外亚洲市场的最新资讯!