You've successfully copied this link.
China's 10 hottest consumer stories of 2015
By Juwai, 04 January 2016

2015 was a year that saw China's consumers being active like never before.
We look back at ten weirdest yet wonderful snapshots of what the Chinese consumers have been up to in the past 12 months:
#1 Singles' Day dwarfs Black Friday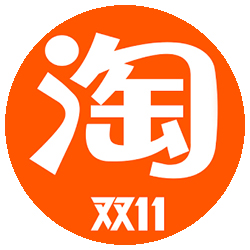 One day, more than 100 million customers, $14.3 billion in sales.1, 2
This year's "Double Eleven" – also known as "Eleven-Eleven" or "Singles' Day" as it happens on 11 November – in China was so much bigger than Black Friday3 and Cyber Monday that it attracted global brands and celebrities, including none other than Mr. James Bond himself, Daniel Craig.
Singles' Day, which originally started at Nanjing University as a celebration of singlehood, is now a nationwide shopping phenomenon involving millions.
Demonstrating mainland consumers' passion for buying foreign brands online, purchase of overseas sourced products accounted for 33% of total sales, according to Internet Retailer.4
#2 Blue Moon, the $48.4 million diamond
Joseph Lau, a Chinese billionaire from Hong Kong, spent a record $48.4 million on a massive 12.03-carat diamond in an auction in Geneva.5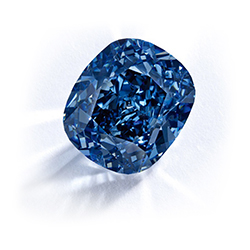 Dubbed "Blue Moon" for his seven-year-old daughter Josephine, this is a powerful illustration of Chinese buyers' love of luxury items and their eye for solid investments with the next generation in mind.
It's this very mentality that's propelling big spending from Chinese on overseas education and property investments, both of which have surged in 2015.
#3 Space, the next frontier
The Chinese passion for extraordinary travel experiences is breaking all boundaries, literally.
Bespoke holiday experiences are how China's elite are flaunting their wealth these days, and Chinese super tourists are now increasingly on the hunt for even more exotic and exciting travel experiences – including space travel.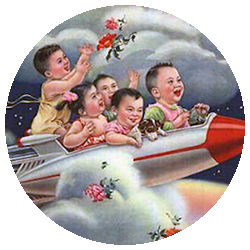 According to Hurun Report, 7% of China's super tourists have space travel in mind for their travel plans within the next 3 years.
Over 300 Chinese each paid US$96,000 on Taobao.com to be shot into space for a 5-minute cosmic adventure.
Sheng Tianxing, a successful tea trader from Zhejiang, is another case in point – Sheng paid $100,000 or about a third of his annual income with a single click online for a seat on a rocket that will carry him into space.6 With this prospect in mind, Chinese start-up Space Vision has already started charging space tourism tickets for $80,000.7
#4 Rose burger, anyone?
The Chinese reputation as indulgent foodies, as well as their fervour for the rare and unusual, is driving demand for outlandish delicacies, such as Vietnamese ball sea cucumbers8 and golden apple snails9, which has generated a bonanza for farmers and fisherman in Vietnam.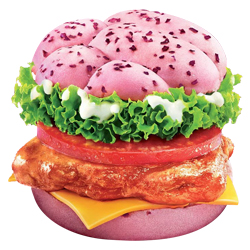 This not only depicts the inquisitiveness of Chinese consumers about products from abroad but also shows the high value that they place on health foods.
The Chinese hunger for the bizarre extends beyond healthy gourmet to influence China's fast food chains too – KFC marketed a pink 'Rose Cheese Roasted Chicken Burger' in China to great success in 2015.
#5 By the glass, or buy the vineyard?
319,670 tons of wine were imported into China between January and the end of October 2015 – a 37.5% increase compared with the same period in 2014.10
Wine's soaring popularity in China is not only because speaks to Chinese consumers' penchant for foreign and luxury goods, its much-touted health benefit appeals to Chinese too.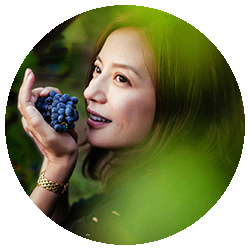 Wine is the perfect gift for Chinese, as it doubles up as a toast to the health of the recipient.
The Chinese thirst for wine is so strong that rich Chinese are increasingly trawling the globe in search of vineyards to acquire or invest in. By the end of 2015, Chinese companies and individual investors own approximately 100 wine chateaus in France's Bordeaux.11
Unsurprisingly, the US has also become a wine investment hotspot too, particularly the Napa Valley.12
#6 The descent of China's giant tour groups
Countries worldwide are clambering for Chinese tourism, particularly with more and more giant tour groups from China who prefer holidaying abroad, especially in hotspots including the US, Australia, and Europe.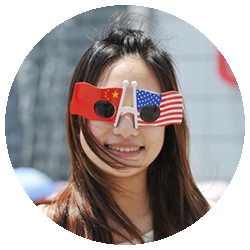 Who could forget the 6,400-strong delegation from the Tiens Group, who thronged Paris and formed the world's longest human chain in Côte d'Azur while on their 4-day company holiday?
The biggest tour group to visit France, the entire trip required 140 Parisian hotels, and 4,760 room reservations across 79 hotels between Cannes and Monaco.13
France is estimated to have pocketed total economic profits of up to US$20 million from the Tiens Group alone14, and other global tourism hotspots would undoubtedly be seeking to emulate France's success in luring in large Chinese tour groups – a phenomenon thanks to a custom of Chinese companies to treat their staff to an annual incentive holiday trip.
#7 Island lairs for China's wealthy
Following the footsteps of Leonard DiCaprio and Johnny Depp15, islands are increasingly becoming a must-have for China's super wealthy.
So much so, in fact, that they are they're snapping up whole islands as their very own private getaway.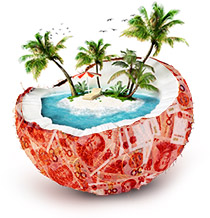 Chinese millionaire Lin Dong owns over 30 islands following years of island hunting.
Lin's love of islands is so profound that not only has he founded the first association of island owners in China, he has also led an exclusive group of 50 Chinese moguls and magnates to travel around the world together on a quest for more island investments.
Jumping aboard this bandwagon, Taobao – China's largest online shopping platform – launched an island auction last June that saw 48 Chinese bidding for islands in Fiji, Greece, and Canada.16
#8 Rewriting the Japanese dictionary
The rapid influx of Chinese tourists – combined with their mind-boggling shopping sprees in bulk – during 2015 have left Japanese locals speechless, so much so that they've had to introduce a new word to describe it – "Bakugai", which means 'explosive buying by Chinese tourists'.17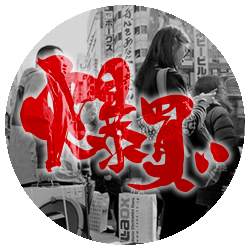 400,000 Chinese tourists visited Japan during the October Golden Week, spending more than 100 billion yen (US$830 million) in those seven days alone.
The Chinese yen (pardon the pun) for Japan is mainly propelled by the yuan's strength against the yen, Japan's top-quality retail sector, and expanding transport links between the two countries.
With the 2020 Tokyo Olympic just four years away, you can expect more and more Chinese jetting over to the land of the rising sun within the next few years.
#9 It's a pet's life in China
Pet love is raking in the big bucks as China's middle-class grows exponentially.
CNN Money sheds light on this trend, profiling Phoebe Yu and her husband, whose Shanghai household includes four cats and two dogs, which cost about $600 a month in pet food, litter, and baths.18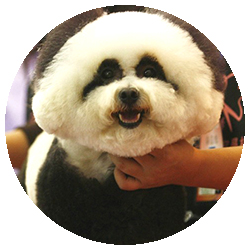 And then there are annual health checks at $245 per pet, soaks in Japanese hot springs, and pet sweaters for winter.
"I take my dogs and cats to the salon for beauty maintenance; in the summer, they relax in cooling baths, and sometimes get spa mud masks," adds Yu.
Phoebe's pampered pooches are not alone. The animal throng belonging to Wang Sicong, son of Wang Jianlin – China's richest man and Chairman of property giant Dalian Wanda – have recently been treated to a whole range of treats, including private swimming pool sessions in a five-star hotel for his pet sea lion19, as well as two Apple Watches and a Fendi handbag for his dog.20
#10 Celebrity wedding buzz
Chinese love a good wedding, especially celebrity weddings.
The most anticipated wedding of 2015 was of famed singer Jay Chou, who held his fairytale wedding in Yorkshire, sparking Chinese tourist and investor interest in that part of the UK that – prior to his wedding – was practically unknown to most Chinese.21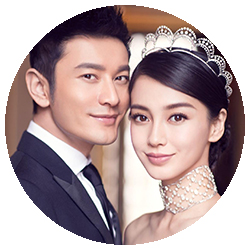 Model/actress Angelababy's 2015 glamour wedding in Shanghai, as well as her elaborate pre-wedding photoshoot in Paris, also generated a massive buzz on the mainland22, demonstrating the Chinese growing fascination for foreign luxury and conspicuous consumption.
Angelababy's wedding was a $31 million lavish affair, complete with a ten-foot-tall wedding cake and custom Dior gown.23
Weddings are big business in China too – the mainland wedding market accounts for $80 billion in annual revenue24, with wedding photography alone worth $30 billion.25
Sources: 1. The Guardian; 2. WSJ; 3. Business Insider; 4. Internet Retailer; 5. The Guardian; 6. Chinaskinny.com; 7. UFO and Alien Truth Network: Space Tourism; 8. Tuoitrenews; 9. Tuoitrenews; 10. Decanter China; 11. Daily Telegraph; 12. Luxury Properties Showcase; 13. BBC; 14. CNN; 15. Forbes; 16. International Business Times; 17. Daily Telegraph; 18. CNN Money; 19. Daily Mail; 20. Daily Mail; 21. The Straits Times; 22. CRJ English; 23. Forbes; 24. Advertising Age; 25. Vice.com
Loved this article? Sign up for free to get Juwai China Market updates!